A lawsuit filed against officials from the Department of Homeland Security and Customs and Border Protection (CBP) this week signals the increasingly invasive practices of border agents—as well as the pressing need for protections of our data.

In February, Rejhane Lazoja arrived at Newark Airport on a flight from Switzerland with her six-year-old daughter, according to a complaint filed in the United States District Court for the District of New Jersey. After passing through customs, Lazoja says a border agent brought her to a small, windowless room, where she was asked a series of questions, including if she was ever a refugee. Border agents then asked her to unlock her iPhone 6S Plus, which was protected by a passcode, according to the complaint. The complaint states that after Lazoja repeatedly refused—the agents didn't give her a reason for this search—they seized her phone and SIM card, and didn't return them for more than 120 days.
According to Ars Technica, Albert Fox Cahn, the legal director for the Council on American-Islamic Relations (CAIR), which is representing Lazoja, said that authorities "forensically cracked" her phone and copied its contents before returning it to her.
Lazoja's lawsuit, which is filed against a number of border officials, asks the court to force these officials to return the data they copied from her iPhone, delete the data afterwards, and disclose all third parties that have received any copies of the data. Lazoja's attorneys filed a Motion to Return Property, which has typically been applied to the return of physical property. "We think that it's going to be increasingly common in the months and years ahead to see people use this sort of tactic to target data," Cahn told Gizmodo, referring to the legal strategy of filing this particular motion.
G/O Media may get a commission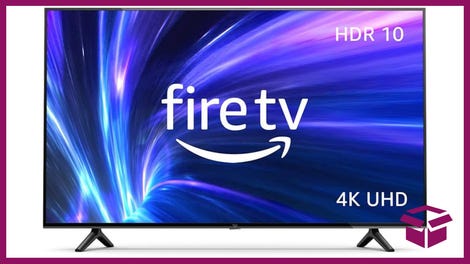 42% Off
Amazon Fire TV 50" 4K Smart TV
Cahn said that when the government gains access to our electronic devices, specifically our phones, "it's far more intrusive" than looking through our luggage or physical files. "We're talking about an entire lifetime's worth of records. We're talking about real time location data. We're talking about all the incredibly intimate information that we all have on our cell phones and any sort of attempt by the government to copy that information, to seize that information, should require a warrant because of how incredibly intrusive it is."
According to the complaint, the border officials didn't state why they needed Lazoja to unlock her cell phone, nor did they ever provide reasonable suspicion or probable cause, which the attorneys argue is a violation of the Fourth Amendment. Lazoja, a Muslim American woman, wears a hijab. She says there were photos of her without her hijab in her phone, as well as privileged legal messages with her counsel. According to the complaint, she informed CBP of this on July 9th, the day her device was returned to her, and asked the agency if they had any copies of her data, what the legal reason was for copying it, to get rid of any of the copies, and to let her know if they had shared these copies with any third parties. Lazoja says she never heard back.
"To be seen by strangers, strange men, without that head covering, even if it's in photographic form, that's an incredibly invasive and traumatic experience, and something that compounds the sense of invasion from this entire experience," Cahn said.
A CBP spokesperson said in an email to Gizmodo that "as a matter of policy, we do not comment on pending litigation. However, lack of comment should not be construed as agreement or stipulation with any of the allegations." They also noted that in fiscal year 2016, the agency processed more than 390 million arrivals and performed 23,877 electronic media searches, which represents .0061 percent of arrivals. That's an increase from the previous year, when they searched the electronic media of .0012 percent of arrivals.
Using what's known as the "border search exception," federal agents regularly conduct searches and seizures without a warrant or probable cause at the U.S. border. The Supreme Court has previously affirmed these searches as constitutional, but Lazoja's lawyers argue that taking an electronic device to second location to mine it for its wealth of data is a fundamentally different act—one that violates the Fourth Amendment.
Cahn characterized this case as "on the cutting edge," but said he believed that "the courts are recognizing that the Fourth Amendment doesn't disappear simply because you're at the border." He hopes that Lazoja's case will signal to customs officials that they can't just target travelers without a warrant and without reasonable suspicion.
[Ars Technica and BBC]