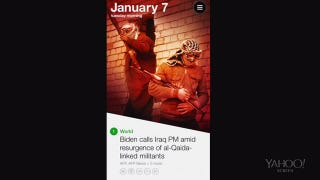 Yahoo has finally revealed what a certain newly purchased, industrious young entrepreneur has been working. Say hello to News Digest, a Summly-inspired app that offers bite-sized bits of news stories "blended" from a variety of sources.
The individual stories, called "atoms," are pulled together from a variety of news sites and even provide background info care of Wikipedia should you need it. But all that curating takes time, and Yahoo will only be spitting out about 10 of the collaged bits of text twice a day.
Supposedly Yahoo's goal with the app is to bring users "comprehensive, effortless, and complete" information, but it's hard to imagine how comprehensive anything with the express purpose of cutting facts to the bare minimum can really be. Though their goal might be counterintuitive to what they're actually offering, brining in supplementary information to provide context is, at the very least, a smart move. People already hop over to Wikipedia on their own time; this just makes the leap for you.