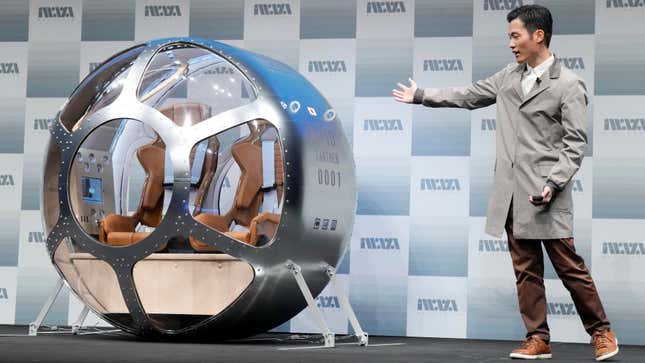 Balloons are so hot right now, and not just the ones getting shot down by military jets. A startup in Japan wants to send people to the edge of space using a helium-filled balloon, and to do so affordably, but the chosen passenger cabin leaves much to be desired.
Japanese company Iwaya Giken unveiled its small, round cabin during a press conference in Tokyo on Tuesday. The plan calls for a helium-filled balloon to lift the two-seater to the middle portion of Earth's atmosphere, from where the darkness of space is visible. Iwaya Giken is hoping to make this offering available by the end of this year, the Associated Press reported. Sounds nice, but the tiny plastic ball that is the crew cabin resembles those slingshot rides that get catapulted into the air at local fairs.
The concept calls for a pilot and a passenger to buckle-up and ascend to altitudes reaching 15 miles (25 kilometers) above Earth (for context, that's still 47 miles (76 km) shy of the internationally recognized boundary of space). From there, the brave travelers can view the curvature of our planet and stare into the celestial void. Since it's not a rocket or spaceplane, passengers won't have to go through any special training to hitch a ride inside one of these cabins. Nor do they have to be billionaires, as company CEO Keisuke Iwaya pointed out. 
It should take around two hours for the balloon to reach its target altitude, where it will cruise for roughly one hour before performing its descent. The initial price of the journey will cost about 24 million yen ($180,000), but Iwaya Giken wants to eventually bring it down to several million yen, which equates to tens of thousands of dollars, according to AP.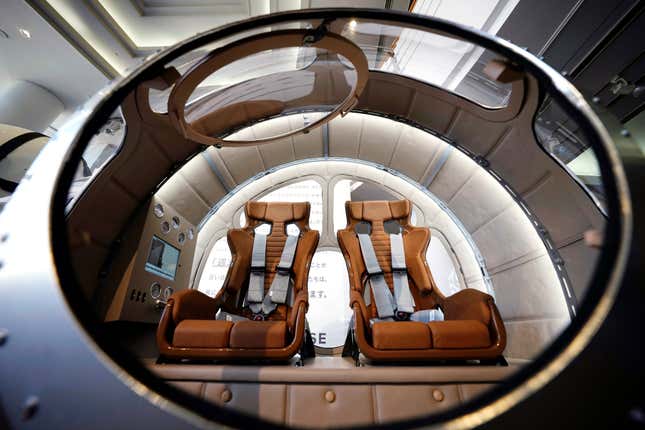 G/O Media may get a commission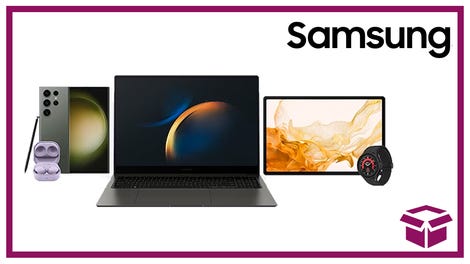 24 hour deals
Discover Samsung - Daily Deal
The Japanese startup isn't the first to come up with this kind of balloon-ride concept, but like its competitors' offerings, this project remains a work in progress. Moreover, it's also considerably less comfortable than the alternatives.
Arizona-based World View Enterprises is working on its own stratospheric balloon ride, with an expected cost of $50,000 per passenger. Instead of the claustrophobic two-seater, World View's capsule is far roomier and the journey will last from six to 12 hours, according to the company. On the higher end of balloon rides, Space Perspective is developing a luxury balloon-held capsule to transport passengers to the stratosphere at a hefty price of $125,000 per person. The concept design is lush, spacious, and very, very fancy, serving passengers cocktails as they marvel at the edge of space while lounging in their comfortable seats.
Compared to these balloon rides, the offering being developed by Iwaya Giken looks a bit rough. That said, the company could see a steady stream of customers should it mange to get the price down to its target price of a few thousand dollars. But the idea of being strapped into a tiny, pinball-looking capsule and getting lifted to such great heights does not agree with my claustrophobia—even if it is to view our planet from a life-altering perspective.
The Japanese company is currently accepting applications for its balloon rides from now until the end of August, and its first five passengers will be announced in October, according to AP.
More: Historic Virgin Galactic Flight Reminds Us That 'Space' Is Just a Concept, Man