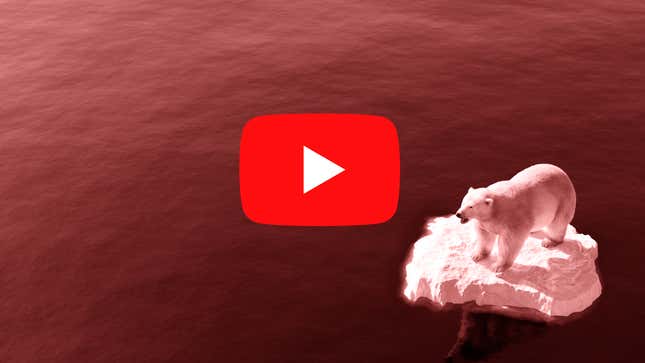 People like to tell lies about climate change on YouTube. That's bad enough, but worse is the fact that Google makes money by running ads for major brands against those videos, sometimes sharing profits with creators. In 2021, Google took a stand and promised to stop doing that. But two years later, according to a report released Tuesday, Google still makes ad money from climate misinformation and shares cash with liars. In some cases, the company even knows the videos violate its policies.
Google's Antitrust Case Is the Best Thing That Ever Happened to AI
The report from the Climate Action Against Disinformation coalition and the Center for Countering Digital Hate says Google is funding the climate denial industry and lining its pockets with ad dollars from misinformation. The report identified 200 monetized videos with climate misinformation that had racked up more than 73.8 million views as of April 17th, 2023. All of them featured ads. Those numbers are just the tip of the iceberg—hundreds of videos are uploaded to YouTube every minute—but from the outside, a comprehensive analysis of what's happening on YouTube is almost impossible.
Among the videos, the report found 100 in violation of Google's own narrow definition of climate denialism. YouTube's policy promises not to run ads on videos that contradict "authoritative scientific consensus on the existence of and causes behind climate change."

However, the researchers saw ads for major brands including Costco, Politico and Tommy Hilfiger running alongside videos making claims such as "There is no link between CO2 and temperature" and "Climate hysteria is just another rebrand, a Trojan horse for anti-white anti-Western communist tyranny."

Worst of all, the report says YouTube already added "context" boxes to some of the videos it found, which the site adds to inaccurate videos about important topics like climate change. That means Google recognized many of the videos purveyed misinformation, but continued to monetize them.
A YouTube spokesperson said this kind of feedback from third parties helps improve its policy enforcement.

"We do allow policy debate or discussions of climate-related initiatives, but when content crosses the line to climate change denial, we remove ads from serving on those videos," said Michael Aciman, a YouTube spokesperson. "While we enforce this policy rigorously, our enforcement is not always perfect, and we are constantly working to improve our systems to better detect and remove policy violating content." Aciman said the company welcomes feedback from third parties
According to Aciman, YouTube reviewed the list of videos identified in the report removed ads from some of them, but noted that a "significant number" of the videos didn't actually violate its misinformation policies. "There are always some challenges to identifying and accurately enforcing on every unreliable claim, especially those made in long-form videos," Aciman said.

"Despite Google's green grandstanding, its ads continue to fuel the climate denial industry," said Callum Hood, Head of Research at the Center for Countering Digital Hate, in a press release. "Whether it's taking cash to target users with climate disinformation, or running ads that make climate denial content profitable, the company is selling out."

The report identifies a persistent problem with online advertising. Before the rise of digital advertising, mediums like TV, radio, and magazines had human beings deciding what content to publish and whether and where the ads should run. User-generated content hosts like YouTube, TikTok, and Instagram democratize access to information and do away with gatekeepers, but they allow misinformation and other horrors to flourish. They also introduce a new problem: algorithms make billions of decisions about running ads every day, and they're far worse at responsible decision-making than their human predecessors.

"Tech companies make big promises on hate and misinformation because they know it's hard to see if they've kept them," Hood said. "We need to force Google to open up the black box of its advertising business."

Companies like Google can hide behind the difficulty of the process. Often, companies have no idea where ads run, and it's a constant game of whack-a-mole to keep up with the internet's misinformation peddlers.

When Google introduced its no ads for climate misinformation policy back in 2021, it took a victory lap to celebrate its own work. The effort "aligns strongly with the work we've done as a company over the past two decades to promote sustainability and confront climate change head-on," the company wrote in a blog post.

The report demonstrates that so far, that work has produced unimpressive results. During the course of the research, the report says Google demonetized just eight of the 200 videos spreading lies about human-led Earth destruction.
Update, May 3, 3:28 pm EST: This story has been updated with additional comments from YouTube.