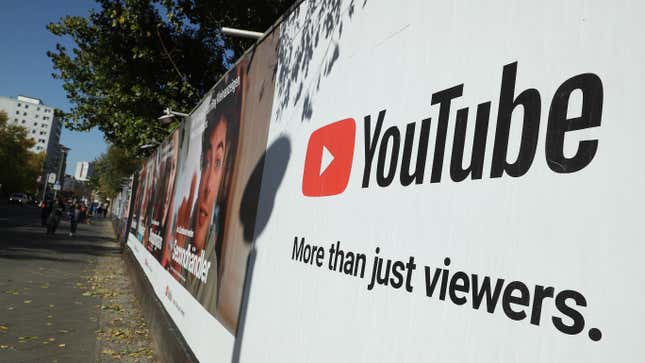 A US federal judge in California has dismissed a racial discrimination lawsuit brought against YouTube and its parent company Google by non-white YouTube content creators who alleged the platform's recommendation algorithms unfairly throttled and even removed their content. The judge, according to Reuters, said the plaintiffs in the case "do not come close" to proving discrimination on the part of Google.
The ruling brings an end to a three-year legal battle that began just months after the killing of George Floyd. Plaintiffs in the case were four YouTube video makers who alleged the company algorithms racially profiled their content, resulting in smaller audiences. In some cases, the creators claimed the company's algorithms would shadow-ban channels or remove content entirely without any clear explanations. Ultimately, they claimed those unequally distributed restrictions on their content amounted to a violation of YouTube's own policies guaranteeing race-neutral content moderation.
"Instead of 'fixing' the digital racism that pervades the filtering, restricting, and blocking of user content and access on YouTube, Defendants have decided to double down and continue their racist and identity-based practices because they are profitable," the creators argued in the original lawsuit.
Those arguments weren't enough to convince judge Vince Chhabria, who reportedly said the creators relied on examples that were too few and too weak. One instance involved a creator who said their make-up tutorial of how to look like Donald Trump was unjustly removed.
After reviewing the example, however, Chhabria said it was possible the company's algorithm flagged the video for removal because the creator mentioned the Klu Klux Klan and described the Trump makeup hue as colors of white supremacy. YouTube's algorithms may have made an incorrect choice, the judge said, but the attorneys could not prove the removal was the result of racial discrimination. Google and lawyers representing the creators did not immediately respond to Gizmodo's requests for comment.
The dismissal wasn't the first time the judge took shots at the plaintiffs' questionable supporting evidence. In a pretrial hearing earlier this year, one creator's attorney presented a chart created by a third party showcasing a variety of videos that had been taken down or demonetized and compared them to others that had not.
"If I got this chart and I did an apples-to-apples comparison, I would say I am not paying for this. It's a joke," Chhabria said according to Courthouse News Service. "You can see it's not an apples-to-apples comparison."