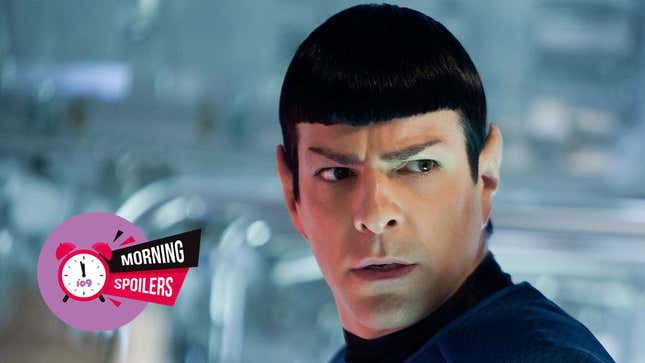 Dan Trachtenberg says he's had conversations about a sequel to Prey. Sydney Sweeney teases how Madame Web differs from most superhero movies. Plus, is Mephisto finally showing up in Agatha: Coven of Chaos? To me, my spoilers!

Will We See More of Uhura's Relationship with Spock? | io9 Interview

Star Trek 4
Appearing as a guest at Star Wars Las Vegas over the weekend, Zachary Quinto offered a disappointing update on a potential fourth Star Trek movie set within the Kelvin timeline.
I think there's a lot of other stuff, creative things. It's complicated. The fact that anything good gets made is kind of miracle. I think it's about different people having different agendas and ideas about what it will be. And I don't know if and when it will happen… And if coalesces again and we come back and we're able to do it, wonderful. If not, we had a great run.
---
The Dark Tower
Mike Flanagan revealed his planned adaptation of The Dark Tower—said to include two feature films and a five-season television series—will move full steam ahead once the writer's strike ends on the latest episode of The Kingcast.
I feel really good about where we are. Oddly, where we are at the moment is completely frozen, because of the strike, but we had a wonderful spring with it and we're making enormous progress on it. And I have every reason to believe that on the other side of the strike, it's gonna be priority #1

We have great partners on it that I can't talk about, and we've got some really exciting actors circling on it that I can't talk about, and we have some potentially groundbreaking approaches to the filmmaking of it that I just can't really talk about…but what I can say is that my fears that any momentum we had developed was gonna be obliterated [by the strike], well, I don't really worry about that.
---
Prey 2
Meanwhile, Dan Trachtenberg told The Playlist he's had "really exciting conversations" with Hulu about a potential sequel to Prey.
I can't really say anything about that right now, but I'll say while we were finishing the movie, we were having really exciting conversations. The studio, myself, the writer, and the producers about what crazy things could we do next. And I've never stopped, no one stopped thinking about how cool things could be going forward.
---
Madame Web
Sydney Sweeney also described the Madame Web movie as "different from what people expect a superhero movie to be" in a new interview with Variety.
I think it's different from what people expect a superhero movie to be. Quote that! That's a quote, because the tabloids will pick up everything else we talk about.
---
The Exorcist: Believer
Bloody-Disgusting reports The Exorcist: Believer has been rated "R" for "some violent content, disturbing images, language and sexual references."
---
Blue Beetle
Jaime Reyes shows his family the "world-destroying weapon" embedded in his spine in a new clip from Blue Beetle.
---
Metalocalypse: Army of the Doomstar
Elsewhere, Nathan Explosion handles a mob of unruly fans in a new clip from Metalocalypse: Army of the Doomstar.


---
To Fire You Come At Last
In 17th century England, a group of men carrying a coffin to their local graveyard are stalked by a supernatural hound in the trailer for To Fire You Come At Last.
---
Shadow Island
A meteorologist encounters "strange lights in the dark, eerie radio disturbances, and a hidden cave" while investigating his father's death in the trailer for Shadow Island, available On Demand this September 8.


---
Batwheels
According to Comic Book, the late Adam West will lend his voice to an anthropomorphic version of the 1966 Batmobile in an episode of Batwheels airing this September 11 on Cartoon Network.
---
Agatha: Coven of Chaos
Marvel insider CanWeGetToast alleges the extra-dimensional demon, Mephisto, "will not make an appearance in Agatha: Coven of Chaos," but "the character is mentioned in regards to Agatha's son: Nicolas Scratch."
---
Generation Z
Before a recent screening of Meg 2: The Trench, Ben Wheatley stated his next project will be Generation Z, a Brexit-themed zombie series for the UK's Channel 4.
What I'm doing next is six hours for Channel 4, [a] TV series, a horror-based thing [...] In the same way I did In The Earth after Rebecca, I'll do something that's back to [the] Kill List-y, Sightseers-y world.
[Fangoria]
---
The Continental: From the World of John Wick
Finally, Peacock has released a trailer for its John Wick prequel series, The Continental, premiering this September 22.
---
Want more io9 news? Check out when to expect the latest Marvel, Star Wars, and Star Trek releases, what's next for the DC Universe on film and TV, and everything you need to know about the future of Doctor Who.