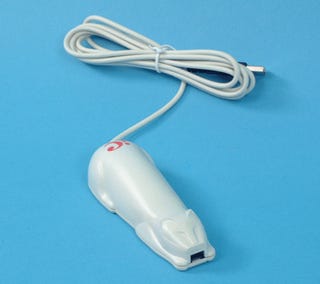 CueCat
If you subscribed to a magazine in 2000, there was a decent chance you were sent a CueCat, and an even better chance you never used it. The CueCat was a barcode scanner that you plugged into your computer. The idea was that users would scan ads in magazines and thus be shepherded magically to the advertiser's website. If it sounds like a needlessly cumbersome way to use the Internet, that's because it is! Fortunately, the CueCat was put down for good in 2001.

3Com Audrey
The 3Com Audrey, in many ways Chumby's precursor, had grand designs as an "internet appliance" when it was released back in 2000. It was a touchscreen device that could play music and video, check email, and sync with up to two Palm PDAs. Unfortunately, it also ended up costing more than a comparable notebook—and its usefulness was unclear in a home when more than one computer meant "buy an extra phone line." Audrey burst along with the Internet bubble in 2001.

Segway
I still remember the hype around Dean Kamen's Segway when it was code-named Ginger, and was supposed to change everything about the way we lived forever. Whoops! Turns out it was a $3000 scooter for mall cops and guided tours. It was a great feat of engineering, sure, and its tech probably has changed robotics and other fields forever. But the product itself never lived up to its enormous promise.

Sony Clié PEG-NZ90
The Clié was a "Personal Entertainment Organizer," which is a fancy way of saying that it was a multimedia PDA. An $800 multimedia PDA. What's the point of being the most advanced Palm OS PDA at a time when no one really wanted PDAs? Its death in 2005 was a harbinger of the demise of the personal digital assistant age.