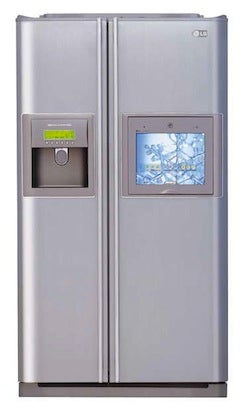 LG Internet Refrigerator
Back in 2001, LG got so excited about this whole internet thing that they decided to put it in as many appliances as they could find. There were also a microwave oven and washing machine, but the Internet Refrigerator gets special mention for integrating a videophone, making it a double dip of technologies no one ever wanted.

Beyond Microwave
Surprisingly enough, slapping the internet on an appliance isn't the only way to guarantee failure. You can also slap a bar code scanner on it! Fortunately, no one was prepared to spend up to $250 for the Beyond Microwave to tell them how long to nuke their popcorn. I personally would've wasted countless hours trying to find the bar code on my leftover pizza.
Game Boy Micro
The Game Boy Micro was an attempt to add some style to the Game Boy Advance, but the lack of backwards compatibility made the handheld a non-starter in the US. It was also puzzling that Nintendo released the little guy a full year after DS had hit North America—the cannibalistic competition was enough to land Micro on GamePro's list of worst-selling handhelds of all time.

Oakley MP3 Sunglasses
Introduced in 2004, Oakley's Thump line of MP3-player sunglasses are admittedly not terrible for what they are. But it's what they are that's the whole problem. Assuming these aren't your primary MP3 player—which, unless you're extremely sensitive to light both indoors and out, they really shouldn't be—is it really worth a few hundred dollars not to use your primary PMP headphones? If you answered "of course not, that would be crazy," you get a gold star. [Thanks, commenter PurpleMonkeyDishwasher!]