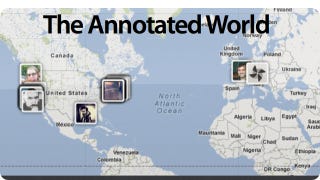 "We're doing things a little bit differently," Heather Champ told me.1
No, wait. That's not right. "We're trying to stay under the radar," is what she said, which I interpreted to mean she was doing something new and different that they didn't want anyone knowing about. We were sitting in my office, in a comfortable SAYL desk chair almost exactly two months ago. Or at least, I was sitting in the chair, alone, reading an email from Champ. I was about to learn about the hottest new service around. A highly-anticipated, stealth mode start up that I knew everyone would be talking about, and using, six months from now. The only question I had was, what is it?
I had been sent an email summons to preview the new thing from Caterina Fake, founder of Flickr and Hunch, and her team of incredibly talented developers, designers, and all around Web-based badasses (including Heather). I was to be under FrieNDA.2 This was new territory for me, and I think, for Fake. She is not exactly known for sharing details of as-yet-unannounced products. And of course, most people do not want to be my friend.