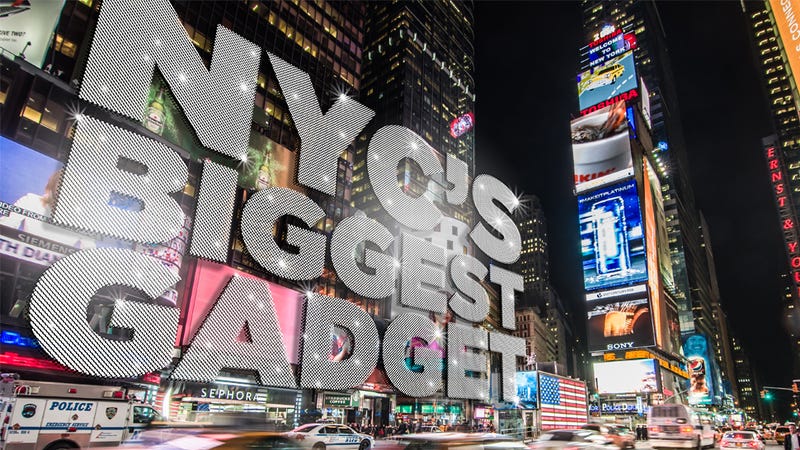 When we stepped out onto the roof, the wind whipped me sideways, and it took me a second to get my bearings. I was nine stories above Times Square, staring at the back of its biggest LED sign, and it was thrilling.
Of course, standing on a dirty rooftop shouting over the cacophony of Midtown Manhattan is not thrilling in and of itself. I was with an engineer from D3 LED, one of the leading digital display manufacturers in the world, who was explaining to me how the sign worked. Gizmodo's photo savant Michael Hession was wandering around, shutter snapping, and I was staring down into the guts of the 100-foot-wide LED display. As the engineer explained how the modular LED panels could be swapped out in seconds and the entire display switched with just a few key strokes, I straightened up.
"So you're saying it's just one big huge computer?" I asked.
He thought for a second and then nodded, "Pretty much."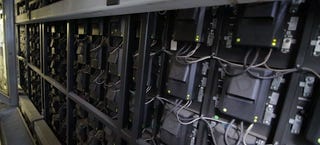 This is the back of the largest continuous surface LED display in Times Square. The blinking green lights mean that everything is working!
New York City's Biggest Gadget
Times Square is one big, busy machine. Powered by American ingenuity and more than a few megawatts of electricity, these six square blocks stay bright 24 hours a day, seven days a week. You've seen Times Square in movies and on TV a million times. A lot of you have probably seen it in real life, teeming with chaos and glowing with capitalism. But how exactly does all that work? The shops and restaurants are one thing, but what exactly makes Times Square such a functional, perpetual spectacle?
That's a complicated question. Obviously there are the workers themselves. Times Square supports some 385,000 jobs, a little over half of which are in that bright sliver of Midtown, while the other half are strewn across the country supporting Times Square operations from designing the content on the signs to keeping the power plants that power them on line. All together, they help generate about 11 percent of New York City's economic output, or about $110 billion annually, according to the latest figures. These are the men and women who man the ticket booths, who sell the T-shirts, who clean the hotel rooms, and who keep everyone safe. And since about 350,000 pedestrians pass through Times Square on an average day—that number jumps to 460,000 on the busiest days—that's no small task.
We actually got to climb inside the sign that sits on top of the Double Tree hotel. It was as precarious and scary as it looks.
But then there's the technology. Times Square is home to countless billboards, many of which are now digital, that make up some of the most expensive advertising real estate in the world. These signs are so central to the area's identity that there's actually a zoning code that requires all buildings on that stretch of Broadway to have at least one illuminated sign of a certain size. And while the buildings themselves aren't too different than those found throughout the rest of Manhattan, Times Square does have that big ball.