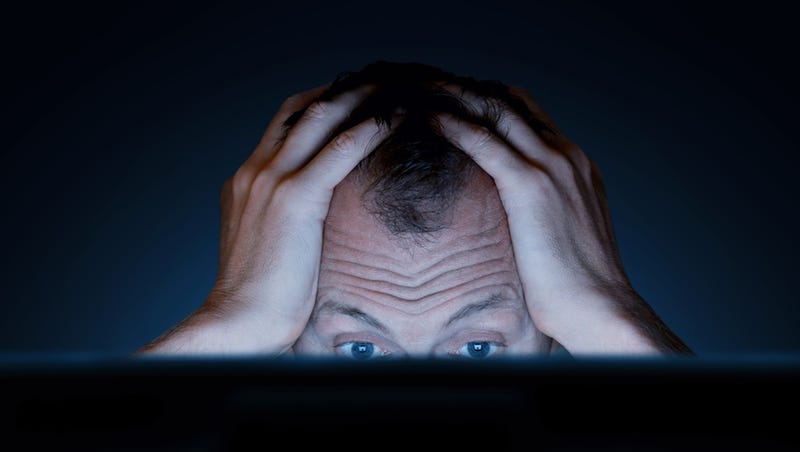 I noticed a pretty unnerving problem recently. It was a normal day at work. I, being a blogger, spend a lot of time pounding on a little keyboard and staring at a big screen. While working on an especially stressful post and a particularly challenging paragraph, I started getting lightheaded. I'd stopped breathing.
This was no medical emergency. I pulled my fingers off the keys, kicked back from my desk and took a gulp air. What was that about? I must've slipped a little too deeply into the zone. A head shake and a couple breaths later, and I was back at it. Within minutes, the same light-headed feeling was back. I'd stopped breathing, again!
Did I always do this? Why can't I breathe right? It's, like, the first thing you learn how to do when you're born. Am I going to die?
It turns out this is a thing. It's called "email apnea." According to one (very unscientific) estimate, about 80 percent of us do it. That includes you. To quell any immediate anxiety this new diagnosis might cause, I should say that I think I've suffered from email apnea ever since my family bought our first Packard Bell desktop, and I'm a relatively healthy person. Email apnea also isn't really a medical condition, at least not one that a doctor will give you medicine for. It does have medical effects, though—so listen up.
The term "email apnea" was coined in 2008 on the Huffington Post by Linda Stone, a former Apple executive who's done extensive work on the physiology of our relationship with technology. Like me, Stone noticed that she unconsciously held her breath while staring at a screen. She spoke to some doctors and, sure enough, holding your breath is pretty bad for you. From there, her blog post slides pretty quickly into pseudoscience, including an open-ended question about whether email apnea explains America's obesity problem.
But why do we do it? I reached out to Stone, who's continued to research the phenomenon, and she offered a couple of hypotheses.
Hypothesis number one: it's physical. If you've ever had HR walk you through how to make your desk space more ergonomically friendly, you'll know that most people have crap posture while sitting in front of a computer. "When our posture is compromised (arms forward, shoulders forward, chest caved in), it isn't even possible anatomically to breathe optimally," Stone told me. This isn't really science; it's common sense. Just try it: hunch your back and lean closer to the screen. Breathing is downright uncomfortable.