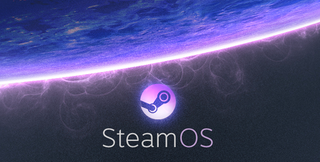 After a forever-long countdown to a three-tiered announcement, Valve has rolled out phase one of its plan to take over your living room: SteamOS.
What many thought was going to be a Steam Box console is for now in fact a Steam platform, one that will be available for hardware manufacturers to implement at will. Perhaps not surprisingly, the immediate focus is on gaming:
Finally, you don't have to give up your favorite games, your online friends, and all the Steam features you love just to play on the big screen. SteamOS, running on any living room machine, will provide access to the best games and user-generated content available.
What's not entirely clear right now is what a "living room machine" entails; presumably one of Valve's two remaining announcements this week will rotate around its own device, as well as those by third-party manufacturers like last year's Piston Steam Box. Valve's remaining announcements will take place this Wednesday and Friday, respectively.