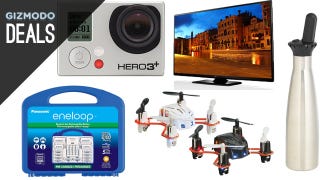 If you own any devices powered by standard batteries, and you aren't using rechargeables, you're basically throwing money down the drain. Eneloops are widely considered the best on the market, and there are two great options today to get you started.
The Super Power Pack is down to one of its lowest prices ever, and includes 12 AA, 4 AAA, 2 C and D spacers, and a charger for $51. [Eneloop Super Power Pack, $51]
The standard Power Pack cuts you down to 8 AAs and 2 AAAs, but it's a steal at $38. That price is pretty typical, but it's very frequently sold out. [ Eneloop Power Pack, $38]
---
Get these deals and more, and earlier on Deals.Kinja. Connect with us on Twitter and Facebook to never miss a deal, check out our Gaming and Movie/TV release calendars to plan your upcoming free time, and join us for Kinja Co-Op to vote on the best products. Got a deal we missed? Post it in the comments with a link and we'll share right to our Deals homepage.