Oh picked up a shiny new Google Pixel 2 or Pixel 2 XL did you? Not had to return it due to screen or audio issues? Wanting to dig a little deeper into the neat features that are available on Google's own-brand smartphone? Well, you've come to the right place—here are 10 tricks to do more with your Pixel 2 or Pixel 2 XL phone.

---
1) See your Now Playing history
You've no doubt noticed the Pixel 2 phones have a built-in, Shazam-style music recognition feature that appears on the lock screen (you can turn it on or off by going to Settings, Security & location, and Lock screen preferences).
You can do more though: Get a hold of Now Playing History from Google Play, and you've got an archived list of all the songs that have been identified. The app is free to use and lets you launch songs in your choice of music player too.
G/O Media may get a commission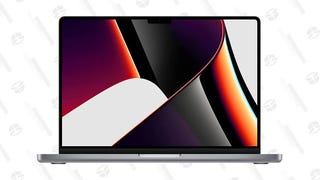 Save $300
2021 14" 1TB MacBook Pro
---
2) Configure the At a Glance widget
Right at the top of your home screen is a Pixel-exclusive At a Glance widget that shows weather details, upcoming calendar appointments, and more.
You get a limited number of customization options with this widget. Long press on a blank part of the home screen then choose Home Settings and At a Glance, where you'll find options for calendar events and traffic information. Unfortunately you can't turn it off for now, or reposition it, or really do much with it—unless you install an alternative launcher.
---
3) Turn off the always-on display
The always-on display feature that the Pixel 2 phones boast is neat but not necessarily welcome all the time—and it has an impact, albeit slight, on battery life.
You can have the monochrome widget only show up when you lift up your phone, or switch it off altogether. Go to Settings, Display, Advanced, and then Ambient display—there are options here for displaying info when you lift your phone, double-tap the screen, and when new notifications come in.
Toggle all of the switches off to turn the always-on display into an always-off display. You can still see notifications with a tap on the power button.
---
4) Take control over HDR+
The secret sauce inside the HDR+ mode on the Pixel 2 is what makes its camera stand out from the crowd, but if you think you know better than Google's algorithms, you can disable the feature or set it to activate manually.
Maybe you don't like the effect HDR+ produces, or maybe you want to create a particular look for your photos without software help—from the Camera app tap the menu button (three horizontal lines, top left), then Settings, then Advanced. Toggle the HDR+ switch to On to get a HDR+ option on the camera shutter screen.
Tap that new button and you can manually turn HDR+ off or on for each picture. The option labelled "HDR+ on" is actually an auto mode, while the "HDR+ enhanced" forces the HDR+ tech to be used.
---
5) Disable Motion Photos
Speaking of photo tricks on the Pixel 2 and Pixel 2 XL, you're going to want to have a play around with the Motion Photos feature, which captures a little bit of video around each snap (just like Apple's Live Photos).
If you tap the Motion Photos icon at the top of the camera shutter screen (it's the circular one in the middle) you can set the feature to on, off, or auto—presumably that last option only captures a clip if the conditions are right, though we haven't been able to definitively figure this out one way or the other.
View these images in Google Photos and you get a low-res video clip alongside your high-res image. Tap the motion button at the top to enable or disable video playback.
---
6) Replace the Google Assistant
If you're a Pixel user then you're probably a Google Assistant user, launching the Assistant app with a squeeze on the sides of the device or a long press on the Home button.
You can opt to use a different assistant if you want—specifically Cortana, though other apps might be added to the list in the future. Once you've installed Cortana, go to Settings, Apps & notifications, Advanced, Default apps, and Assist & voice input. Tap the Assist app button to select your Microsoft or Google helper.
This disables the Active Edge (squeezable sides) launcher but means Cortana comes up when you long press the Home button, ready to answer your questions.
---
7) Unlock the dark mode
The Pixel has a hidden dark mode you can activate, but it's not very easy to find and it doesn't offer anything in the way of customization options, at least for the time being.
To get at it, just apply a dark wallpaper with a long press on a blank part of the home screen and a tap on Wallpapers. The Marvellous marble one under the Living universe heading will do, a rotating shot of Earth from space.
Hey presto, the app drawer and quick settings pane go dark. Not everything changes though, and your notifications and Settings app stay looking the same.
---
8) Fix the display colors
We're not going to wade too deeply into the color and saturation debate that's happening around the Pixel phones right now, but we can give you a couple of tips for changing the display properties if they're not to your liking.
Head to Settings then Display then Advanced, and you'll come across a Vivid colors switch—turn this on to get colors that are less natural but more vibrant. A new option will soon be added to the Pixel 2 phones to increase color saturation further, according to Google, so look out for that.
This being Android, a third-party developer has stepped in to help as well: Oreo Colorizer lets you create a wider color gamut on your Pixel 2. No root is required, but you need to allow the installation of an app from outside the Google Play Store, which in Oreo is handled whenever you try and open an APK.
---
9) Tap into the power of Google Lens
Available now on the Pixel 2 phones and rolling out across the original Pixels, Google Lens shows off some of Google's latest image recognition AI.
It lives in Google Photos though, not the Camera app—open a photo, tap the little Lens button down at the bottom, and the app tries to identify what the picture is of and give you some helpful suggestions about what to do next. Use it to recognize text (like addresses), places, artwork, and media (like covers for books and movies).
If Google Lens works as intended, you might get some extra web links for related searches, related images, and so on. As the splash screens emphasize, the software is still in its early stages right now.
---
10) Explore the Pixel-ized Google app
If you've moved to the Pixel from stock Android, you'll know you can swipe right from the home screen to get to a stack of information cards provided by Google—it's essentially the Google app working in tandem with your launcher.
On Pixel Android, which is effectively the new stock Android now, the Google app works slightly differently. Tap the arrow button on the bar at the top to see all the available shortcuts, from nearby coffee shops to games you can play with the Google Assistant.
You also get four sections along the bottom: Home (with a list of relevant info cards), Upcoming (cards relating to the very near future), Search (exactly what it sounds like), and Recent (your recent activity). It's a great showcase for everything the Pixel phones can do, thanks to the latest Android Oreo update and all their extra bells and whistles.