Most people probably remember having a song, album, or band change our lives. It's a fairly common experience, even for those unfortunate beings who don't live and breathe music. It's a good thing to have happen to you (unless you've become too obsessed).
Still, anyone can get bored of the music they already know, or become disoriented in the sheer volume of what there is to listen to these days. New or otherwise undiscovered music is everywhere we look, on our computers, phones, televisions, cars, and public venues. Most of all, it's all over our internets. And unfortunately, most of us don't like most of it.
To help you and me cope with this "water water everywhere and not a drop to drink"-style problem, I collected a list of apps that can introduce us to our next musical obsessions. Some of these apps aren't new, which is not the point; it's the music that's supposed to be new. Have at them - and regardless of how we find it, let's all resolve to find and enjoy more music in 2013. We only have our fun to gain, or ourselves to blame.
Note: Quite obviously, this does not aspire to be an exhaustive list of every cool music app, but we promise you'll find some quality jams.
G/O Media may get a commission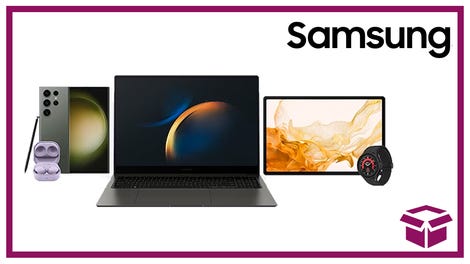 24 hour deals
Discover Samsung - Daily Deal
People Power
Sometimes a person knows what you might like. Maybe you should let them do the work.
8tracks (free; web, iOS, Android)
You might remember mixtapes, which sometimes functioned as symbols of friendship or love that we don't really have anymore. 8tracks, one of the most popular music apps on Facebook, puts a digital spin on the mixtape phenomenon by providing users with a platform to create and share playlists with other users, or the world at large - something you couldn't do with any mixtape, no matter how good it was. Submitters can only add up to eight tracks (hence the name), which helps playlists adhere to a fairly tight theme or mood, making it easy to find groupings likely to please your ears, after you search by mood, genre, or artist. If you find playlists you really like, you can follow the person who made it, so you'll see what they post in the future. And if you install the app on your Android or iOS device, it will sync to your account, enabling you to listen to mixes wherever you go - pretty awesome.
This Is My Jam (free; web, Spotify)
The secret to This Is My Jam is its simplicity. Even a child could grasp the concept: 1) Choose one song - the one you've had on repeat all week, annoying your roommates or family members with - personalize it with a background image and tweet-length commentary, and share with your followers; and 2) Explore other users jams by following other users and listening to their current jams as a playlist, or by searching through other users' jams. The key: Each user can only have one jam at a time.
Your jam expires after a week, or you can also change your jam before the week is up. The time limitation keeps content on the site fresh so that your followers always have a manageable playlist. Your past five jams are listed on your page, but people cannot listen to them (for that, you'll have to check out the Spotify Desktop app). To ensure you find exactly what you're looking for, the makers of this app (Super Music, which was incubated by The Echo Nest, publisher of Evolver.fm) encourage you to only follow users whose taste in music you like, so basically, your "friends'" love of music becomes a super-selective filter of music new and old alike. This sense of community with strangers feels a little like the early days of the web, when we frequented music-based chatrooms and befriended other music fans across the world. If you like discovering music from other people, but don't necessarily like your friends' taste in music, This Is My Jam should fit the bill.
---
Use the Past to See the Future
These apps help you find new music by extrapolating from what you already know you like.
Discovr Music ($1; iOS)
Discovr Music is a visually stunning app, with elegant musical maps that display relationships among artists. It not only gives you something nice to look it, but an easy way to jump from bands you know to bands you don't. To start, search any band or artist and a small circular image of the artist will appear on your screen. Tap the image to sprout a handful of related artists from your "seed" artist. Tap on any of those, and they become a new center of the map, and more artists will sprout. Lines will connect related artists, creating a map or web.
Once you've found an artist you want to learn more about – perhaps you've heard their name, but don't know much about them, or you've never heard of them at all – double tap the image, and you'll be sent to a dashboard where you can read their bio, listen to their songs, watch videos, read blog entries about them, and visit them on MySpace, Last.fm, iTunes and Amazon. (Discovr is powered by APIs from 7Digital, YouTube, and The Echo Nest, publisher of Evolver.fm). If you're "lost in music," as we all are, whether we admit it or not, perhaps a map will help.
Music Bloodline (free; web)
A music geek's dream, Music Bloodline lets you explore an artist's influences and "influencees," to help you expand your musical knowledge while also helping you discover stuff you'll like. After all, if you love My Bloody Valentine, wouldn't you like to listen to their influences, as well as the bands they influenced? Of course you would.
To begin, simply visit the web app and search any artist. The artist will be featured in the middle of the screen with their bio, top tracks (which you can launch and listen to in either Spotify or Grooveshark), and discography. On the left, you'll find a list of their influences, and on the right, you'll find a list of who they've influenced. Clicking an artist on either side lets you explore that artist's influences, so as with Discovr, you can use what you've found to find more.
This app was created during Music Hack Day Boston 2011 (using the Rovi API), but despite its rushed creation, Music Bloodline is fairly sophisticated both in look and in concept.
WhoSampled (free on the web; $3 for iOS)
You know that feeling when you're listening to a song and you know you've heard one part before, but you can't place where? You rack your brain, combing through your mental database for a match, but no dice. Don't worry, WhoSampled can help.
To discover what samples a song includes, simply search the track name, and WhoSampled will scan its database of sampled, covered, and remixed songs and produce a list of samples contained in the track. It will also give you lists of tracks the song itself was sampled in, covers of the songs, and remixes of the song. Alternatively, you can scan your entire music library (in the iPhone app only), and WhoSampled will generate similar lists for songs and artists in your entire library. Another cool feature: the ability to play a song and the song that sampled it side-by-side, by swiping back and forth in the iOS app.
---
New Findings
We Are Hunted (free for web, Spotify, Android; the iOS version, Music Hunter, only plays samples of the music)
Have you seen Microsoft's "Metro" design - the one that graces Windows Phone and Surface devices? We Are Hunted pioneered this "colored tiles" look. If you're sick of it all, We Are Hunted is sure to serve up something you have never heard of before. And that something will be fresh, because We Are Hunted scours the internets looking for buzz, and when it finds it, it serves you the songs in full.
exfm (free; web, iOS, Android)
This app used to be a Chrome extension, which we think might have confused people. Now, it's a full-fledged app for the web, iOS, and, yes, Google Chrome. Called by GigaOm "Like [Apple] Ping, but useful," Ex.fm lets you explore trending music in a number of genres, but its true power comes from an ability to follow your Facebook or Twitter friends, or anyone else, listening to what they listen to - as well as browsing through all of the music websites tracked by the service. Exfm says "sites are the new CDs," and it gives you the tools to treat them as such.
Hype Machine (free on the web; $4 for iOS)
As you probably know, the Hype Machine looks at around a thousand music blogs, grabs all of their music, and puts play buttons next to all of it. You can favorite stuff to hear it later, explore by popularity, genre, and other methods - and if you really get hooked, you can customize it to follow only certain music blogs. A blend of human and machine on a grand scale, The Hype Machine offers a fine antidote to the curse of music boredom, although as with the other entries in this category, you'll probably have to skip some stuff you won't like.
Mood Music
Musicovery (free; web, Android, iOS)
It isn't as pretty as the other apps on this list, but Musicovery offers a neat way to filter the world of music by mood and energy, which it represents on two axes. One ranges from Energetic to Calm, the other from Dark to Positive. My mousing over (on the web) or dragging your finger (on Android or iOS), you can trigger songs that instantly represent that intersection of energy and mood. Oh, and it also has a sweet artist radio feature, if you want to lean back and let the music play a la Pandora etc.
Stereomood (free; web, Android, iOS)
Tag clouds might be out of style among web designers, but nobody can deny that they can surface a bunch of words in a graphically-interesting way. This is basically how Stereomood works; choose a mood from the list, and the app goes to town. The app includes over a hundred mood-based playlists, and crowdsources the emotional nature of each song by letting users tag them. Are you into navel-gazing? This app also lets you discover your own "emotional profile," although the focus is clearly on finding new jams based on the mood you are in, or want to be in.
Songza (free; Android, iOS, Kindle Fire, Android tablet)
Songza, from the founders of Amie Street (a variable-pricing music store bought by Amazon), struck gold by integrating with Facebook Connect, which boosted its user base massively. In terms of music, though, that's not important. What you need to know, if you don't already: Songza plays radio based on your mood, or a variety of other factors. It even tries to play Steve Jobs' iPod.
Evolver.fm observes, tracks and analyzes the music apps scene, with the belief that it's crucial to how humans experience music, and how that experience is evolving.