For this week's Shooting Challenge, you got up close and personal with some terrifying creatures. And you made them look stunning...though still pants-wettingly terrifying.
Lead Shot
5D MK II, 50mm 2.5, life size converter, extension tube, and Manfrotto focusing rail. No artificial light whatsoever, just shot with light glowing from worm! ISO 4000, 30 sec exposure at f/3.2. I came home from work looking to shoot a few portraits of a fine lady friend of mine, and we just so happened to discover this guy in the yard. I really never knew we had these things in new jersey, but I guess we do! The shot that ended up being the keeper was like the second shot I took. I kept shooting for like a half hour, but nothing turned out as cool as this one.
-Robert Huber
Blue String
G/O Media may get a commission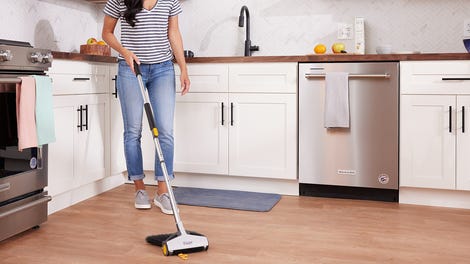 BOGO 50% Off
Flippr - BOGO 50% Off

This picture was shot while walking on campus at the university of Mzuzu in Malawi. There was a train of about 20 caterpillars, head to bottom, inching across the road.
Taken with Nikon D90
ISO 400
105 mm
f 5.6
1/250 sec
-Michael Heuchert
Mojave

Dragonfly. Mojave Desert. Canon 300D, kit lens, lens reverser. It was sitting on a cactus.
-Jamie Metzger
Red Death

Just after reading about this shooting challenge, I found this little guy lying in repose on the hood of my truck. I identified him as a male Eastern carpenter bee (Xylocopa virginica). I photographed him atop a rounded stone, illuminated by an amber-glass turtle lamp in the background.
Nikon D70s, 60mm Micro-Nikkor lens with 6T close-up lens, ISO 400, 2 seconds @ f/16.
-Mark Reddick
Death Noir

Taken with an iPhone 4, Processed to B+W on Photoshop Mobile App.
Hornet got stuck in my window, Sounded like a B-52 Bomber all night. This shot is to commemorate that sleepless night.
-Charlie Davis
Bwahahaha!

The subject is a blue mud dauber (departed) and mounted on a pin. Equipment used was a canon 5D mark II and a canon 65mm MP-E macro lens at 2x magnification. EXIF data was ISO 160 1/125 @ f/5.6 with a canon flash set to 1/8th power. The final picture is actually 18 seperate images merged together to achieve complete focus from the tip of the foot to the back of the head. A seperate program is used to isolate and compile these in focus pieces from the 18 frames, and then the image was midly edited and resized in photoshop CS5. This mud dauber flew into our lab and led us on a great chase from labs to offices before we finally caught him in a butterfly net. Weve noticed mud dauber nests on the outside walls of the lab so we knew some were around, but one flying into the lab was a rare occasion I decided to take advantage of. Though they are fierce looking creatures, they have yet to show any aggression or sting us. The irridescant colors on the body are difficult to capture with normal lighting so I used a bounce flash off a styrofoam cup
-Graham Snodgrass
Lady in Red

Canon 30D
68mm of Kenko Extension tubes,
Canon 100mm f/2.8 Macro lens
Aperture: f/8.0
Shutter Speed: 1/200
ISO: 100
FEC: -2/3
This is my usual macro setup. I focused by *very* slowly moving the camera closer to the ladybug until I get the right spot in focus. This shot was the best one out of 40+ attempts.
-Noah Gampe
Good to See You!

After running errands in town, I was walking past the front of our pickup truck, and noticed a grasshopper gracefully walking about the chrome bumper. I couldn't pass up this opportunity. The only camera we had was my old Olympus Camedia D-435 point and shoot digital camera. I flipped the lens open, put it in Macro mode and took a couple of shoots.
The rain spotted chrome provided a good reflective surface for my new friend. I think he was surprised at his own good looks judging by the actions made here. He has one 'hand' planted and appears to be waving with the other one at me. Either that or he was practicing 'wax on, wax off'
Olympus Camedia D-435
ISO 50
6mm
f/2.8
1/400
-Camillion McDonald
Fly

OLYMPUS E-420
50mm Macro Lens
ISO-200, f/4, 1/100 sec
Fat, ugly fly on the edge of handrail on my balcony turned out to be a truly beautiful creature from close-up
-Michael Baran
Peek-a-boo

Canon 7D
Canon 28-135mm f/3.5-5.6
Picture taken at: ISO 400, 135mm, f/5.6, 1/2500 sec
I noticed this dragon fly liked to hang out on a small garden fence near our pool. I situated myself as close as I could to his landing spot and waited for him to return. I kept at it for about an hour and towards the end he seemed to get used to me being there so I was finally able to snap a few shots with out him flying off at each sound of my shutter. The background was actually the water from my pool, which was a very light blue at the time because the sun was shinning right into it. I used photoshop to change it to black and white and then fiddled with the tone curve a bit until I was able to get the pool water to look like a flat gray background. I had a couple other photos to choose from but I liked this one the most because it kind of seems as if he is peaking out from behind the fence to look at me.
-Richard Lopez
Ant in Shadow

An ant messing with something weirdly wrapped in webs in my front yard.
Shot with a Canon T2i, 18-55mm kit lens, F5.6, 1/500, handheld.
Some tweaking and cropping on Canon DPP.
-Rafael Novaes Lemke
Orange

Shot info: Canon 20D, magnification of 3x with reverse mounted olympus 50mm 1.8 on 2 sets of extension tubes, ISO 400, F/11, built in flash at +2EV. Flash extender/diffuser used to make the flash reach the subject
A small fly, do not know ID. Cooperated for a minute or so while it was cleaning itself, this shot was taken right before it flew off. White background is from diffused flash blowing out the wall (which is actually light green) that the fly was sitting on
-Greg Moser
Strike a Pose

I took this image yesterday at a park close to my home in Louisville, KY with a Nikon D200. The lens is a Nikkor 18-200mm. Focal Length 200mm; ISO 200; Aperture f/8; Shutter Speed 1/250. No flash. I have taken numerous photos of dragonflys over the past few years and I am constantly entertained when one will start "posing" for you. It really does happen if you are patient.
-Joe Hale
Strike a Different Pose

I wasn't planning to enter this week, I didn't know where I would find any bugs to take a picture of. I met my wife by a beach one afternoon and this guy just happened to land on a flip flop in front of me. I used my point and shoot Canon PowerShot SD750 in digital macro mode to take the picture. It has CHDK on it, but no addition features were used. I edited the photo in GIMP to remove a blurry person that was in the background.
-Adam Bean
Oh, Hello

Nikon D40
Bellows
reversal ring
Nikon SB30 flash (connected with an off-camera cord)
35-70mm manual nikon lens
shot at f/16 ISO 200 in manual mode.
There is a large flowering tree outside my house. During peak pollination hours it hums (almost vibrates!) with bees and other various flies. I chose to photograph this guy because I liked the way his red eyes stood off of the green leaf. There were actually quite a few of these insects buzzing around and normally I would snap one or two pics before they decided I am too irritating and buzz off. This guy, however, liked the attention and let me snap away. He would turn to one side and then turn to the other making sure I had all the right angles. I decided to submit the front on version allowing you to get the most out of those big red eyes.
-Brett Streby
The King

I took this photo of a locust with my Kodak Z710 in Macro Mode, no flash. The colors were brought out using GIMP 2. My husband and I noticed a lot of locust as we walked around the complex (he took some pictures too). This one was an easy subject because he only had 5 legs (one of his hoppers was gone). If this angle doesn't freak you out, it makes him seem more "human", right?
-Bridget Malone
Baby

I shot this baby praying mantis with a Canon Rebel T1i and its kit lens. While out cleaning the barn one day, I grabbed the pitchfork and the little guy just happened to be on the end. I coaxed him onto my arm and ran in the house to grab my camera. I proceeded to take a bunch of photos of him as he meandered across my arm and leg, contorting myself into some pretty interesting positions. The images turned out neat, he was so small that my body looked like a landscape. I chose this image because he was looking directly at my lens as if to say "Do you mind?" I took him back out to the barn to release him once I was finished; no praying mantii were harmed in the shooting of this picture.
-Emily Hart
Curls

I am shot this photo with available light in the morning...hope to get great natural tone.
a little bug 3 mm not more do activity on the purple flower in the morning.
eiff data for this photo :
F : 9, Speed : 125, ISO : 320,
by Canon EOS 40D, 100 mm F/2,8 macro lens, No Flash and Filter
-Andiyan Lutfi
Dressed to Match

Taken at a family reunion using a Casio EX-FH25 point-and-shoot in "super macro" mode. I was bored and needed something to do to kill time at the reunion, so I took out my camera and started snapping away at every bug I could find in my Uncle's garden.
-Alec Sparks
Extreme Close-up

I snapped this bee portrait the other day. I'm not sure what type of bee this is. The ID still eludes me. The bee was hanging around a butterfly bush actively feeding. My first attempt to shoot it caused it to fly away but luckily it returned again. I took a moment to observe it's movements before shooting. It didn't stay still at all and flew toward me twice warning me to stay away. This photo was shot on a Canon 1D Mark IV, MP-E 65mm f2.8 1-5x macro lens, and MT-24EX Macro Twin flash with custom made diffusers. The camera was set to manual with the shutter synced at 1/250th of second and f13 with a magnification of 3:1. With those settings I have roughly.4mm of depth of field making it very difficult to focus on a critter that moves as frequently as this one. This particular shot took about 15 exposures to nail. The flash acts as a virtual shutter in a photo like this due to the extremely low lighting conditions. If you calculate the effective light loss as an f-number it's about f52 which done by 1+mag(actual f-number). Thanks for taking the time to view my image and reading my story!
-Tice Lerner
New Skin

I settled on this shot of a freshly-molted Acanalonia conica. I've seen them as nymphs and adults, but never in this state - waiting for its wings to fill out - so I was delighted to stumble across this scene on a plant in the woods today. Sat my butt down in the dirt and shot till I was satisfied that ONE of all those shots had to be good enough. Then it had to beat out the cute jumping spiders, dragonflies, and a funky orange leafhopper nymph, but I liked the composition, lighting, and subject of this one the best.
My equipment is a Canon S5 IS with a Raynox DCR-250 macro lens and a Canon Speedlite 430EX II flash on a cable. I had manual settings so I could achieve maximum DoF, which on this camera is f/8. Exposure time was 1/200, at ISO 80.
-Ashley Bradford
WINNER - 'Dunk'

Canon EOS 7D, Canon 100mm f/2.8 USM Macro, Exposure time: 1/250 sec., F-stop: f/5.6, ISO: ISO-100
Just went outside without even thinking about the photo challenge. It was one of those things where I just wanted to step outside with the camera. Saw a bee in one and managed to catch him dunking into the flower. Had to improve some of the contrast and saturation in Photoshop.
[Ed note: With all the incredible, clinical photos above, I found myself most struck by the candid shots of living insects. There's just so much character in this simple bee butt. Love it.]
-Viet Nguyen (Jon)
Thanks to the all of the photographers who entered this week's challenge. This series of photos is one of my favorites to date, and I'm sure I'm not alone in that. For the full resolution photos (wallpaper versions) hit up our flickr page.
Galleries compiled by Ryan Salerno.
Gallery 1 (click this text to see gallery on one page)