Believe it or not, there's less than a month left in summer. Luckily, for this week's Shooting Challenge, Gizmodo readers took some amazing photos that will keep us warm all year.
Winner: 10AM Dream
After falling out of bed at 3AM to catch the sunrise at the Philosopher's Tree we began the days's drive toward the northern end of the Daisetsuzan national park. 10 minutes into the 2 hour drive I caught a seemingly endless hill of sunflowers out of the corner of my eye. Something so surreal it had to be a dream - an endless sea of yellow, orange, blue. Unfortunately, the signage said getting near the field was prohibited; but, at certain times of the day my ability to read Japanese drops off completely ;) I assume signs like this are due to certain types of tourists pushing into the fields to have their picture taken among the flowers. As we had no such intent, I felt if we scrambled to get our shots, we would still slide into base before being tagged out. D800E
Apeture Priority EV-0.3, AF-S NIKKOR 14-24mm f/2.8G ED @19mm f/5.6, ISO 100, Shot handle held with arms extended due to the shear height of the sunflowers
-Jason Arney
Rainbow Halo
I was in a resort in Punta Cana in the Dominican Republic. I looked up as I was swimming and noticed a Rainbow halo "floating" around the 12pm sun. I jumped out of the pool and boltedtowards to my room - almost slipped from running too fast - grabbed my camera and rushed back to the pool area. I snapped a few dozen pictures by positioning several items such as the palm trees featured in the photo to hide the sunrays. I think it came out pretty good at the end...Nikon D5000, f/14, 1/800sec., ISO200
-Amine Ouardighi
G/O Media may get a commission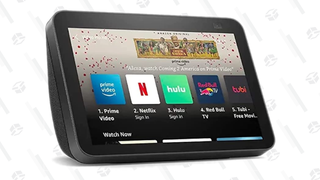 Dog Dreaming
This is after we were at the dog park for about a hour and then walked around the park for about 20 minutes. Plus there was some kind of Puerto Rican festival so all the people made him quite a happy dog! At this point he's so exhausted that every time we stop walking he sits down. There were kids running around, adults drinking an assortment of beverages from lemonade, to beer, to margaritas. Vendors selling hotdogs, pizza, ice cream, etc. Happy couples holding hands and single men and women looking around just in case today is the they meet that special someone! It truly was a perfect summer day. Out of all the pictures I took, this one is what summer is all about; spending time with the people that matter. And for me, that's my dog! This was taken on Sunday evening at Piedmont Park. Camera used was a Canon G11 on full auto. Adjustments with Snapseed.
-Danny Brown
View From Above
I took this shot looking down from the John Hancock Tower Observatory. Canon T2i, 70-200mm f/2.8L IS lens, ISO: 800, f/8, 1/2000
-David Runneals
Venice Red
Took this photo while on vacation in Venice with my family. Oddly everything in the scene was a little red. She looks a little sunburnt doesn't she? Nikon D70, ISO 200. Kit Lens
-Ricky Sahu
Sailing
Shot this photo on my brothers sailboat on the Columbia River in Portland Oregon/Vancouver, Washington. My friend Kelly came to town and we took her sailing along with many, many other fun things like wine tasting at local vineyards. Horizon is slightly tilted from the boat keeling in the wind. Used a Canon 7D with my newest everyday lens, a 15-85mm f/3.5 Canon Lens. Photo was shot at 1/1600, f/4.5, ISO 250, edited in Aperture.
-Michael Orrantia
Seat Available
I was fortunate enough to vacation on the Big Island of Hawaii last week when this shooting challenge was announced. I was just about to submit a shot I took of a beautiful sunset during our last night while at the luau but decided with on this shot. To me, it simply exudes summer: a nice, relaxing chair, under a palm tree on a secluded tropical beach. What could be nicer to just take a nap or read a book or stare out at the beautiful blue Pacific? When its the middle of winter, I will pull up this photo and remember that warm Hawaiian beach and forget about the cold fog outside. Canon EOS REBEL T1i, Canon EF 50mm f/1.8 II, 1/320, f/8, 50mm, ISO 100
-Matthew Johnson
Surf Herd
I originally intended to capture a few surfers at a local spot near my house, but got lucky and came across this scene while on my way to the beach. I think it fits the theme even better than my original idea. You can see the heat coming off the pavement, and I like how there's a kid carrying a surfboard with a herd of loose cattle in the background. In Dakar it's not uncommon to see both surfers and herds of cattle or sheep wandering the roads. Coincidentally this shot was captured about a 5 minute drive from the beach where Bruce Brown filmed part of "The Endless Summer" back in the 1960s, starting a pretty strong surfing tradition here in Dakar that has lasted to this day. Taken in Dakar, Senegal. Olympus E-PL1 with 40-150mm lens and a bit of processing in Aperture.
- Matt Sweeney
Incredible entries everyone—the winner was an impossibly tough call this week, especially given the gorgeous halo shot (read more about that phenomenon here). Enjoy the full gallery below and the mega sized shots on flickr. Now stop looking at your computer and go enjoy some of the great outdoors while we still have some summer left!