Father's Day is speedily approaching, and while your pops might normally expect a new tech toy from you, why not try something new? This year give him something he can always use—the gift of sartorial intervention. Flip through the gallery above to see our picks for the best summer looks from Old Navy to help the old man get geared up for the season. You'll finally be able to sleep easy knowing that he won't be wandering around the beach sporting the dreaded sandals/socks look.
The "Happy Hour"
A classic plaid button down is a perfect way for your dad to head out with his work posse without feeling over- or under-dressed. It shouts "BBQ casual" but still carries enough authority that no one will ask him to partner up for a three-legged race or other awkward team building exercise.
The "Company Picnic"
For some reason when Dad thinks about shorts, his mind immediately goes to jorts and that one John Cougar Mellencamp show his brother dragged him to in 1986. Let him know that with the help of a pair of basic khaki shorts, his pasty gams can get some sun without flirting with Farm Aid chic.
G/O Media may get a commission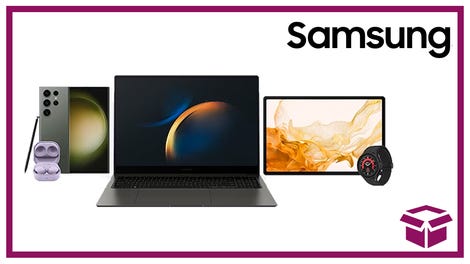 24 hour deals
Discover Samsung - Daily Deal
The "Date with the Girl Next Door" (a.k.a., Mom): Pants and Footwear Edition
Rumor has it that if your second toe is longer than your big toe, it's a sign of intelligence. Your dad can show off his years of accrued wisdom and the rest of his little piggies, when he matches a pair of lightweight pants with some durable flipflops.
The "Date with the Girl Next Door" (a.k.a., Mom): Shirt Edition
You're probably thinking, "A white button down? Isn't that a little basic for a Father's Day gift?" No! This isn't just about a shirt—it's about the ideal the shirt embodies. Imagine your dad in a nice crisp white oxford, the top button undone, a nice chilled glass in his hand, a cool summer breeze gently mussing his hair. Can you picture it? Doesn't he look happy? Don't you want your dad to be happy?
The "Pool Party"
Has your father been acting a little differently lately? Has he developed any new hobbies or interests? Bartending lessons? Wakeboarding? Did he just buy ringside seats to the big boxing match, perhaps? Summer is the perfect time for trying new things and it's time you encourage Dad's experimentation the same way he encouraged yours. A good hat, a pair of shades and a simple t-shirt says, "I'm done with suiting up and ready for the unknown." Let's just hope he doesn't finally get that tattoo he's been jokingly threatening to get.
Head here now for more lessons on how you and your dad can dress like a guy, but not that guy. And don't forget all menswear at Old Navy is on sale through June 19, with an additional 25% off in-store.