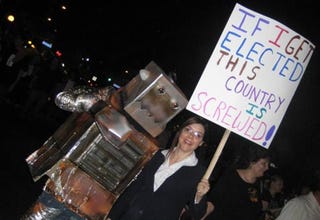 We're sorry, fellow humans. As of last Halloween, our reign as supreme beings of the Earth has ended. Robots, cleverly disguised as our readers, documented the first stages of robotic upheaval. And to those with weak stomachs, we simply cannot recommend reading on.Second Runner Up, Uyen Thai
We think the horror of this image speaks for itself. First Runner Up, Jesse Clark
"After the Robots destroyed their homes, these humans have to huddle around old Macintoshes to keep warm. They live in consent fear that the Robot overlords will discover what they are doing with their ancestors." Winner, Jeff Rames
Not the most original take on the theme, but these guys sent us a whole storyline worth of robotic brutality. We were promised there were more pictures if we needed them, but we passed because we assumed the inclusion of puppies and kittens.
More photos sent to us by readers:
Thanks to everyone for participating. Jeff, write mark@giz to claim your prize!