The Day of the Dead celebrates, not only those who've passed, but our own mortality. And for this week's Shooting Challenge, you adopted its powerful symbol: The human skull.
Winner: Ciana


In the spirit of Dia de Los Muertos, my friends and I did a photoshoot in an old graveyard with our faces all painted up in honor of the holiday. I got this beautiful close up of my friend, Ciana, the makeup design I had painted on her face and all the beautiful trinkets she had wrapped up in her hair. We'd done a lot of shots this day but this particular picture stood out to me. I love the bright colors against the slightly drearier backdrop of the graveyard grounds. It kind of resonated with me what Dia de Los Muertos is. Bringing beauty and celebration, remembrance and honor to those we have lost. Camera is a Canon 60D, lens 18-135mm. ISO was set to 800, all natural lighting. I edited the photo in Lightroom 4 to boost the contrast and make the colors pop.
- Mailani Souza
---
Museum of the Weird
Shot at the Museum of the Weird gift shop in Austin, TX. It was pretty dark so I shot it with my NEX-7 with a 1969 Nikkor f/1.2 55mm lens via a MetaBones SpeedBooster adapter which speeds the lens to roughly f/0.85, turning night into day at ISO 800.

- Patch Eudor
---
Tear
G/O Media may get a commission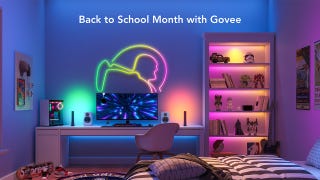 Back to School
Back to School Month with Govee Sale
My girlfriend's department at work had a Dia de los Muertos theme today. Shot with my Nikon D7000, Nikor 50mm lens. Her left eye kept watering, causing her to have to continuously fix the blue makeup all day. I told her I'd shop it out, but I suck at Photoshop, so I left it.
- Jason Hilt
---
Pilsen


Chicago is fortunate to have a few neighborhoods that have a very strong Hispanic heritage. My buddy has been thinking about moving to Pilsen, on the near Southwest Side, so I asked him to tag along with me while we looked around the neighborhood and took in all of the memorials for Dia de los Muertos. The transition from the South Loop to Pilsen was gradual, until we came upon this memorial outside of an art gallery. The colors were almost explosive, even on the rainy and cold Saturday afternoon. I took quite a few other photos of some other memorials around the neighborhood, but this one was the unanimous favorite. Thanks for this challenge; it forced me outside of my little cocoon into some neighborhoods I've always wanted to check out but never had a reason to visit! Shot with my NEX-C3 at 18 mm, 1/80th at f/3.5 and 400 ISO.

- Jordan Boulger
---
Skeletal Monotony


When I saw the challenge I thought it would be pretty cool. However, I did not know where I was gonna find any "muertos" in Miami. So I just started searching for 'Dia de los muertos" & sure enough there's a yearly festival in Fort Lauderdal, FL. So I made plans to attend. It was a photog's dream - colorful, willing subjects all over the place. I took many pictures that I'm actually found of. It got kinda monotonous.
- Javier Valencia
---
Hypnotic
My girlfriend and her friends were taking photos and asked me to take a few shots for them. This one stood out in particular, and I find it to be quite hypnotic in a way. Canon 60D 18-135mm iso 800.
- Michael Otineru
---
Ajijic
This is the story behind the shot: Ajijic is an small town by the lake Chapala in México with a large expat community comprised mostly by American, Canadian and European artists. Foreigners participate in the community by giving free art and languages lessons, performing live and either helping with the celebration of traditions or by creating parallel celebrations. This year several of the local schools presented a collection of 'Catrinas' made by students in the lake's malecon. Expats performed music and exhibited altars to the the dead In the town's main plaza in front of the church until a heavy storm washed every altar away and forced locals and foreigners to cram together in the plaza´s small kiosk for hours in a festive mix of laughter and unintelligible expressions in multiple languages. In this picture, a Catrina in the sunset with no signs of the storm to come. Specs: ISO 125 125 mm f/ 6.3 1/100 sec Handheld shot with some exposure manipulation in post. Equipment: Panasonic Lumix GH3 with a lumix vario 12-35mm (24-70mm equivalent in 35mm format) lens.

- Joel Salazar
---
Fidget


Well, after this makeup and photo shoot I'm officially calling my girl Fidget. She couldn't sit still for 3 minutes straight without having to move and walk around while I painted her face. Either way she was an awesome sport for participating in it. Shot with a Canon 7d, Tamron 17 - 50mm, f 2/8, 1/30 sec, 1250 ISO.

- Dino
---
What a fantastic week of portraiture! Kudos to all of you who spent a large chunk of your free time handling makeup and lighting, and an equal nod to those who explored local festivals. Find the full-sized images on flickr.