On the anniversary of its catastrophic 1985 earthquake, Mexico City has been hit by another powerful seismic event. No reports of casualties have been reported, but videos posted to social media suggest that damage is widespread.

The 7.1 magnitude tremor struck at 1:14pm local time, its epicenter located about 76 miles outside of Mexico city in the state of Pueblo, according to the US Geological Survey. The earthquake shook buildings, cracked walls, and caused people to flee from shaking buildings.
This horrifying video shows an entire building collapsing:
G/O Media may get a commission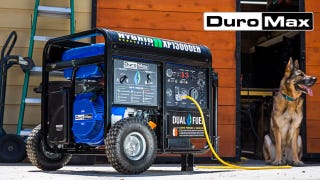 Black Friday Sale
DuroMax Generator Sale
There were no immediate reports of casualties, but unconfirmed video taken from high elevations show plumes of dust and debris rising up from ground level. It doesn't look good.

The quake was reportedly felt up to 560 miles (900 km) away. The force of the tremor was made visible in several nauseating videos on social media, including this one:
The quake comes less than two weeks after a massive 8.1 magnitude earthquake struck off the nation's western coast, killing at least 90 people. It's not immediately clear if the two events are seismically related, but this part of Mexico is particularly prone to earthquakes. The region is home to the meeting of the Cocos and North American tectonics plates.
In 1985, 10,000 people were killed by a magnitude 8.0 earthquake in Mexico City. In a cruel twist, residents across the city held drills on the anniversary of the 1985 quake earlier today.
Update: 4:10 pm ET: There are now reports of deaths, and people trapped inside of buildings. Mexico's international airport has suspended operations in light of the quake (Via BBC and Associated Press).
Update: 5:20 pm ET: New photos, some horrifying, have been released by Associated Press. (Warning: Some images are of a disturbing and graphic nature):
Update: 5:25 pm ET: CNN is reporting that at least 42 people were killed in Morelos state.

Update: 6:09 pm ET: Drone footage just released on social media offers more heartbreaking perspective on the wreckage.