The strongest earthquake to hit Mexico in a century has struck off the nation's West Coast, shaking buildings for hundreds of miles and triggering tsunami warnings. At least 16 people have been killed, but officials are expecting the death toll to rise.
As the US Geological Survey reports, the quake struck at 11:40 pm local time on Thursday. Unverified accounts suggest the tremor lasted for an agonizing three minutes. Severe damage has been reported in Oaxaca and Chiapas states, including crumbled buildings and heavily damaged streets. Alarmed residents fled their homes in pajamas as the earth shook and lights flickered. The M8.1 quake—the strongest to strike the planet so far in 2017—caused buildings to sway in Mexico City, which is more than 650 miles (1,000 km) away.
"You could hear loud cracks in the concrete. It sounded like a giant wooden branch being just broken open violently," reported BBC journalist Franc Conteras, who was on scene in Mexico City.
At least 10 people were killed in Chiapas, including a baby who was killed when power was cut off to its respirator. Several schools and hospitals were also damaged by the unusually strong tremor. Dozens of aftershocks have been reported, ranging from 4.3 to 5.7 in magnitude, most of them detected closer to Mexican coast. Experts say there could be more tremors in the coming hours and days.
G/O Media may get a commission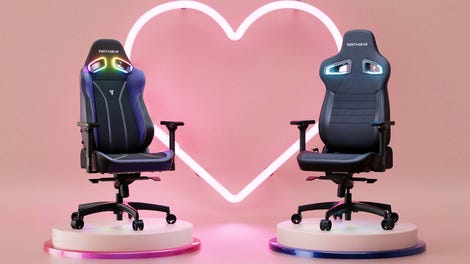 Up to $150 off
Vertagear Gaming Chairs
The quake triggered tsunami warnings and evacuations, all of which have been canceled at this point. A tsunami measuring 3.3 feet (one meter) was detected off Salina Cruz, Mexico. Smaller waves were observed elsewhere. There's no threat to Hawaii and the western and southern Pacific regions.
The epicenter of the earthquake was located about 102 miles (165 km) west of Tapachula in Chiapas near Guatemala. The US Geological says the slip was deep, around 43 miles (70 km) underground, which may have eased some the shaking directly above. There were also unverified reports of so-called earthquake lights, which may or may not be triggered by the electrical properties of certain rocks.
This part of Mexico is particularly prone to earthquakes. Here, the Pacific plate is moving under the Mexican peninsula, creating a subduction zone. This fault is very flat, resulting in strong tremors. Known as the Cocos tectonic plate, it's moving towards Mexico and Guatemala at a rate of three inches (75 mm) per year. Every once in a while this giant slab of rock makes a tremendous plunge into the Earth's interior, causing violent shaking on the surface.
This earthquake bring's Mexico's devastating 1985 earthquake to mind, in which 10,000 people were killed, although officials don't expect that kind of death toll or the same level of physical destruction on account of the latest quake. The states affected are located in some of Mexico's poorest and least developed regions.

Oh, and as if Mexico doesn't already have enough to worry about, Hurricane Katia is set to make landfall on the nation's east coast around 1:00 am local time on Saturday.
[USGS, Associated Press via The Globe and Mail, BBC]