Whether launching the criminally-underexplored paleocyber genre, exploring the underrated plot spinning abilities of chimpanzees, or just issuing spoiler alerts to the universe, these very short science fiction stories do a lot with a little.
We asked you to tell us some six word science fiction stories today and now we've collected a dozen of our favorites right here. Read on!
Wait! Don't press ... sserp t'noD !tiaW -- TimeIsABigBallofWibblyWobblyTimeyWimey...Stuff, with a palindrome!
Life's true meaning is .... SPOILER ALERT!!! — CucumberCheeseSandwich, who is following all the recap rules.
G/O Media may get a commission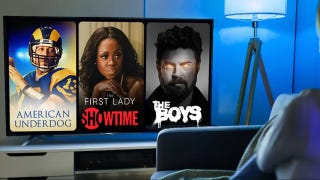 UNDER $1
99¢ Prime Video Channels
"Your head?"
"Last year's model."
"Nice." — mekki, revealing the secret conversations of fashion-conscious robots.
"A GENIE?! I'll be damned!" "GRANTED." — richardrae1, with a joke!
"You're next' was his cookie's fortune. — Trader Daja Kisubo, cornering the unexplored homicidal cookie market.
Zombie brains actually are surprisingly tasty. — Fauxcused, who flipped the usual zombie script.
You say "parasite". I say "accessory". — angusm, striking an optimistic note.
Infinite Shakespeares type works of monkey. — angusm, exploring one of the writing techniques of the future.
Reanimated skeletons made surprisingly good assistants. -- JennyGirlr, who is looking on the bright side.
Clones made terrible roommates, after all. — Dolemite, on the very toughest person of all to live with.
"You can be anyone, little clone!" — mikec25, from the clone-parenting handbook.
Stone spear sharpened! Destroy all cyber-mammoths! — ernestolube, in the soon to be popular paleocyber style.
Image: New York Zoological Society