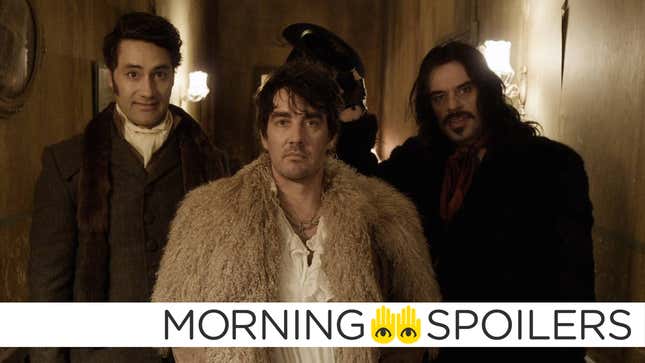 Robert Zemeckis is creating a new scifi saga. Get a look at one of Mission: Impossible - Fallout's wild new stunts. The Charmed reboot is finally looking for its new witches. Plus, new looks at the return of iZombie and Ash vs. Evil Dead, and a whole host of DC villains coming to the Harley Quinn animated show. Spoilers now!

Boogeyman's Director Talks Working on Bigger Budget Horror



Steel Soldiers

Robert Zemeckis is producing a "multi-platform" sci-/action project in conjunction with STX and China's Alibaba Pictures. According to Variety, "the film follow a disgraced Special Forces officer being forced to train a new team of high-tech, but imperfect android soldiers, turn them into elite military officers, and lead them in a deadly mission to rescue the robot's creator."
---
Venom
The eyes have it on the first poster from Coming Soon, which takes chiaroscuro to its logical conclusion.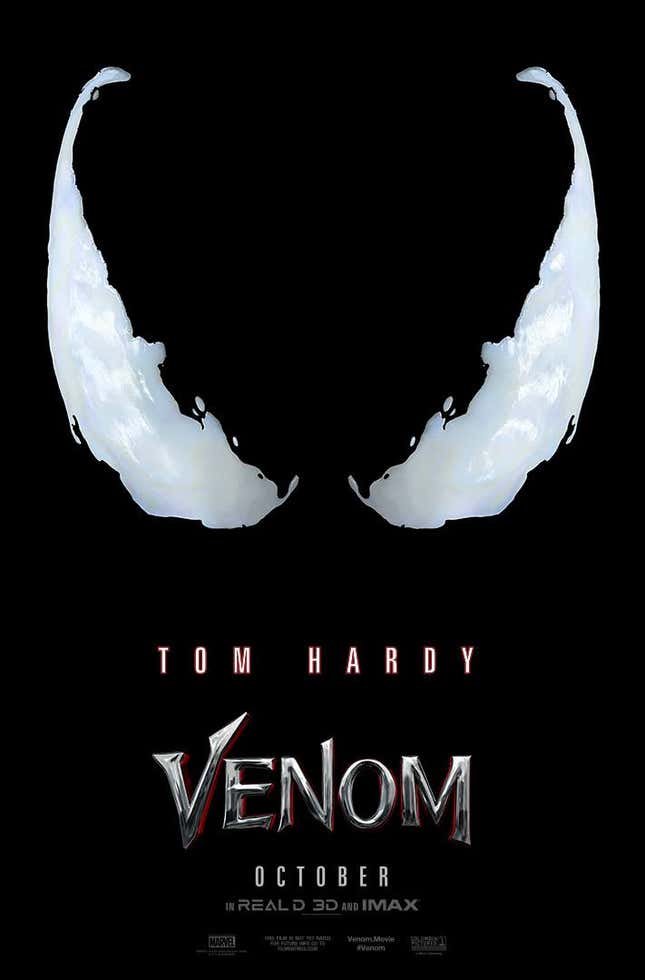 ---
Mission: Impossible — Fallout 
A new featurette takes us behind the scenes of the film's show-stopping helicopter stunt.


---
What We Do in the Shadows
Star Trek: Discovery and Shape of Water star Doug Jones, Beanie Feldstein, Jake McDorman and Mark Proksch have joined the cast of FX's previously announced What We Do in the Shadows pilot. Their roles are currently undisclosed. [Bloody-Disgusting]
---
Amazing Stories
Bryan Fuller has stepped down as showrunner on Apple's reboot of Amazing Stories due to "creative differences," according to THR. Sigh.
---
Charmed
TV Line has casting calls for the incoming witches of the CW's Charmed reboot, who will replace Piper, Phoebe, Paige and Prue.
MACY | A witty, intense science nerd, Macy — who is in her late 20s — is a Ph.D. in quantum physics who's moving with her boyfriend Galvin to Hilltowne, Michigan, to work in the university lab. Macy has reason to believe that she is the sister of Mel and Madison. Her power is telekinesis.

MEL PRUITT | A strong-willed feminist, she feels deeply and is a bit controlling. Mel — who is in her mid 20s and a lesbian — is the sister of Madison. In the wake of a tragic accident, the grieving Mel becomes angry, defiantly unkempt, even violent, pushing away those who might help her, including her girlfriend, Detective Soo Jin. Mel's power is time-freezing.

MADISON PRUITT | Mel's younger sister (she's 18-ish), an athletic (pilates, cheerleading) college student pledging a sorority, Madison is the opposite of her feminist sister with a desire to fit in. Madison is horrified to learn she is a witch. Her power is hearing people's thoughts.
---
Harley Quinn
That Hashtag Show claims to have casting calls for DC's animated Harley Quinn streaming series — which will include such surprising characters as Dr. Psycho, Clayface, Malice Vundabar, King Shark and Syborg - as well as Harley's besties, Poison Ivy and The Joker.
[DR. PSYCHO](Mid-40s) An angry misogynist dwarf with telekinesis. He was a major villain until the "incident" ten years ago when in the midst of losing a battle against Wonder Woman he became frustrated and called her the C-word. In front of hundreds of camera phones. Even other villains were disgusted. Disgraced, the only one who'll have him is Harley. A woman. He can't stand it, but he'll do anything to get back into the villain community. (SERIES REGULAR)

[CLAYFACE](Mid 30's) A large, humanoid mass of clay, Clayface was a struggling, trained actor until a terrible pottery accident turned him into the shapeshifting villain he is now. His aspirations for stardom and his ability to transform his appearance to look like anyone should help him land some roles but he's such a terrible actor that the only work he can get is with Harley's crew, pretending to be whoever they need him to be help with a heist. He still holds out hope that he'll land one of the many auditions he fruitlessly goes on. (SERIES REGULAR)

[MALICE VUNDABAR] Early 20s, pretty, but over it. She's an alien (but looks human) and her family is crazy rich and powerful, she's interning with Harley's gang for college credit. The only thing she cares about is her demonic shadow cat named Chessure that she carries around in her designer purse. It's a friend and fashion item and it destroys everything it sees. (SERIES REGULAR)

[KING SHARK](30) His lower half is human, but his upper half is the body of a great white shark. Even though he looks incredibly fierce, he's a gentle soul who just wants to be normal. That is, until he smells blood. And then he goes into a frenzy and literally eats everyone around him leaving death and carnage everywhere. Then feels bad about it. (SERIES REGULAR)

[SY BORGMAN] (90's) Once upon a time, Sy used to be a suave, super spy. Now in his 90s, he's a wheelchair user with most of his body replaced by creaky 50s era bionic parts. Crotchety, difficult and longs to become relevant again. He's also Harley and Ivy's landlord, and insists they take him on their heists so can get back into the action – or else he won't repair the plumbing. (SERIES REGULAR)

[DR. PAMELA ISLEY (AKA "POISON IVY")] (LATE 20's) Sarcastic and incredibly smart, Ivy is Harley's best friend and now roommate. Very much a loner (she prefers plants over people), Ivy is sometimes the voice of reason but always a true friend to Harley. Ivy soon becomes her reluctant partner-in-crime. (SERIES REGULAR)

[THE JOKER] (40) Equal parts homicidal and charismatic, he's been Harley's longtime awful boyfriend, but when Harley breaks up with him, she vows to take his cherished number-one spot on the Most Wanted list. The Joker thinks of Harley as his creation and, as she grows in power, does everything he can to stop her. (SERIES REGULAR)
---
Jessica Jones
There's no filter, or chair, in the latest poster from Coming Soon. If you missed the trailer yesterday, that's here.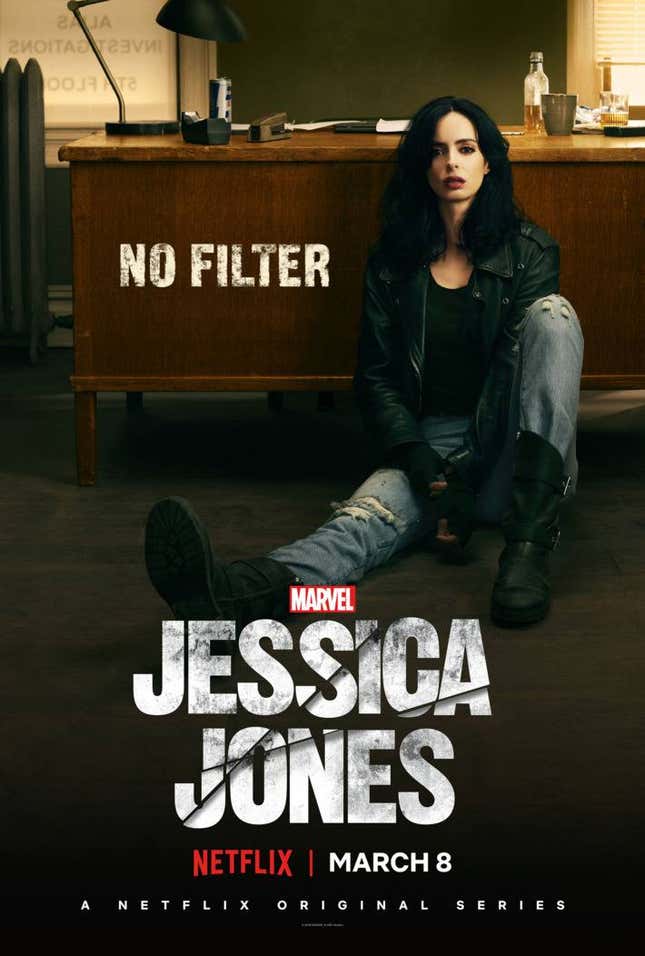 ---
Ash vs Evil Dead
Bloody-Disgusting has several new photos from the latest season of Ash vs Evil Dead. Click through for more.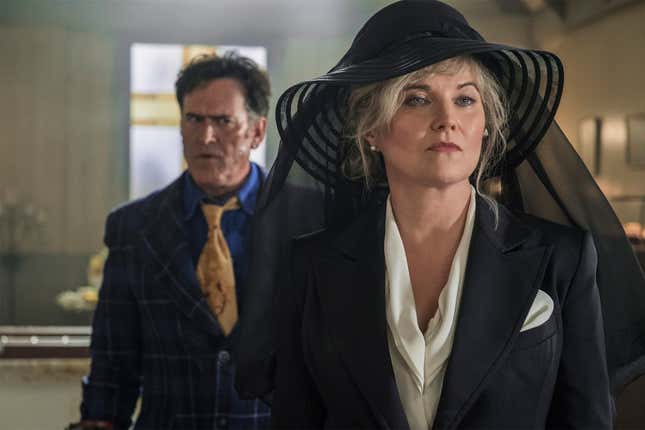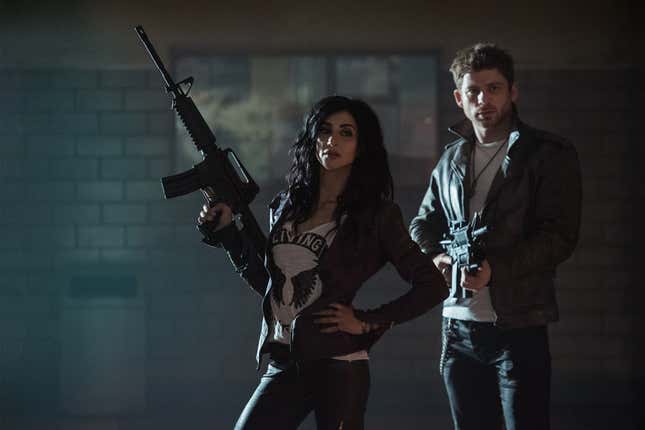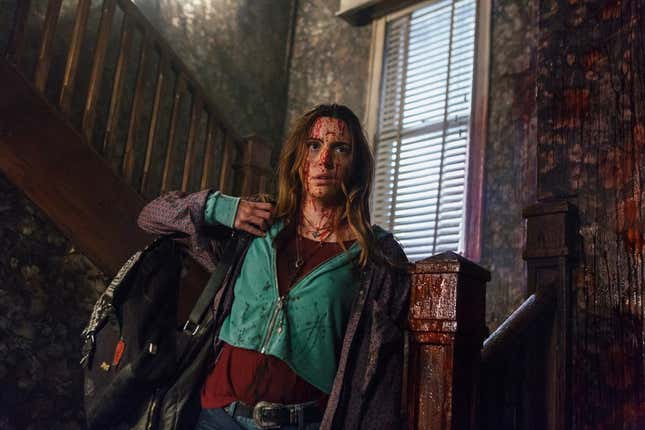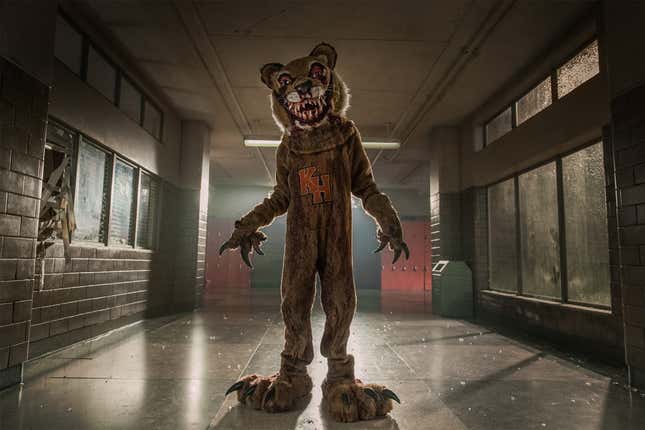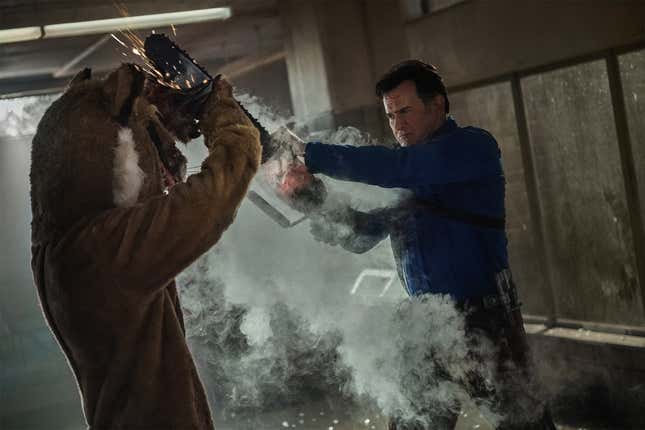 ---
iZombie
TV Line has pictures from the season four premiere, "Are You Ready for Some Zombies?" premiering February 26th. More at the link.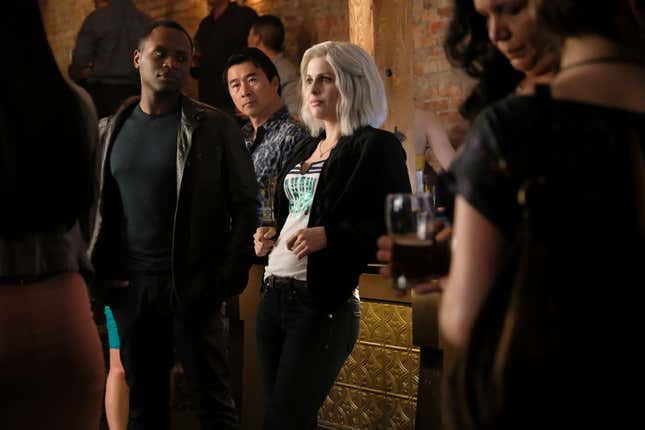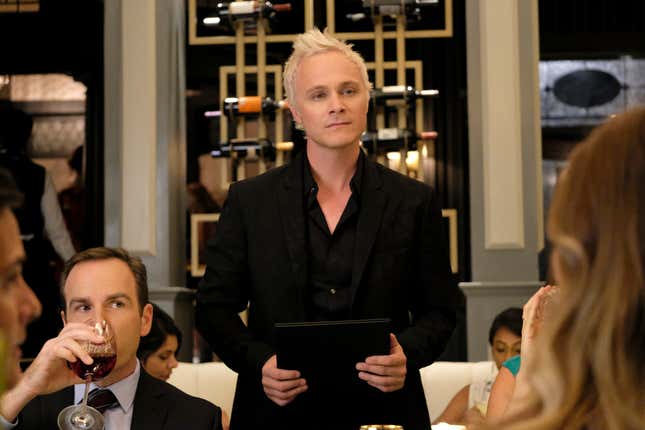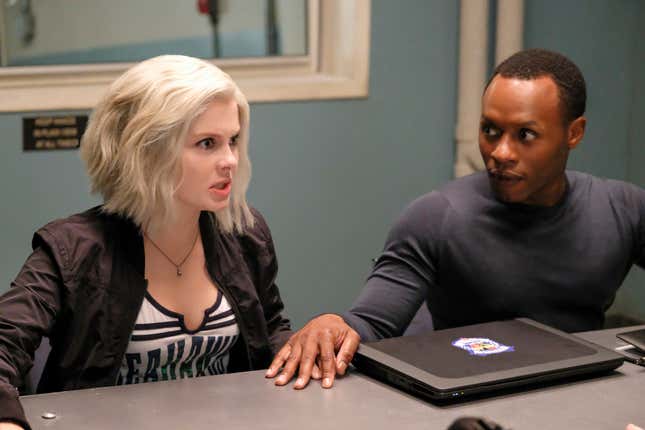 ---
The Flash
The Flash introduces its country-western take on The Fiddler in the trailer for "Subject 9," airing February 27th.
---
The X-Files
Finally, Mulder & Scully take on deadly drones and the robots from Runaway when The X-Files returns for cyberpunk shenanigans in three weeks.
---
Banner art by Jim Cooke.