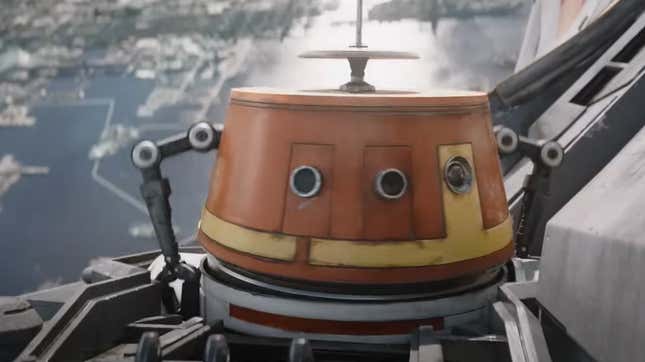 What we've seen so far of Ahsoka seems promising, especially for fans of Star Wars Rebels waiting to see just what is up with those characters after the events of the show. But something has been missing: a spark, an energy, a little frisson of silliness and personality. That something is Chopper, and, at long last, a new clip shows just how much he's been missed.

A new clip released today through Rotten Tomatoes ahead of Ahsoka's earlier-than-planned arrival tomorrow night doesn't feature the titular former Jedi at all—instead it's a spotlight on Rebels' Hera Syndulla (played in live-action by Mary Elizabeth Winstead), and her trusty droid co-pilot Chopper (beeps and boops provided, as they were in Rebels, by noted man-in-a-hat David Filoni, I'm sure he's done some other things).
It's short and sweet but really the thing here is that it's... it's funny? Banter! Chopper ruffling through his junk to find a specific piece of junk! Chaos! Anti-air flak! Okay that bit is less fun for Hera and Chopper specifically, but still. A lot of what we've seen out of Ahsoka so far is relatively somber, as befitting a battle to prevent the return of the Empire should perhaps be. But its titular hero embodies that by being the more reserved, emotionally distant figure we saw in The Mandalorian, one struggling to connect to her past identities and friendships when she needs them for the conflict to come. That makes sense for Ahsoka, but it also means that she's not exactly going to be all-singing, all-dancing, all-lightsaber spinning for the most part.
I've said before Chopper's gremlin energy was part of what made Rebels so much fun, and that even as the transition to live-action has seen some of Star Wars' animated characters become, well, less animated beyond a change in mediums, maintaining that would be key to Ahsoka's tone as well. That goofy chaos it just as much intrinsic to Rebels' charms as the big sweeping story or all the stuff with Ezra and Thrawn was—and it's good to see that, even in this tiny clip, that chaos seems to have made it over intact. Even if Chopper's stuff isn't entirely intact, it seems.
We'll see more of Chopper and his friends when Ahsoka begins on Disney+ tomorrow, August 22.
---
Want more io9 news? Check out when to expect the latest Marvel, Star Wars, and Star Trek releases, what's next for the DC Universe on film and TV, and everything you need to know about the future of Doctor Who.