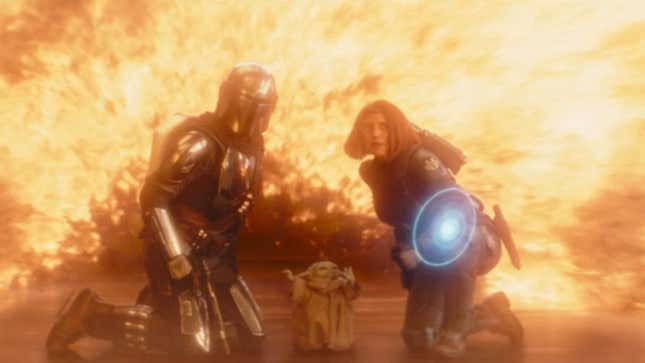 When it was announced at Star Wars Celebration earlier this month, Dave Filoni's "New Republic vs. Imperial Remnant" movie was teased as a culmination of plot threads woven throughout the "universe" of The Mandalorian and its connected TV series. But it seems like the director and producing partner Jonathan Favreau want to reach far, far beyond just those shows for characters to play with.
'I Started a Yoda Fan Club'
Speaking to Entertainment Weekly, Filoni and Favreau touched upon their plans to integrate as many Star Wars characters as they can into the film—and seemingly not just from Mandalorian, Ahsoka, and Skeleton Crew, the primary shows we have set in this period of the Star Wars timeline already. Instead, they want to go big. "We're in the right area code," Filoni said of the process. "We are definitely in the right space. I think it's going to be a clamoring of characters saying, 'How do I get in this picture?' And that's what Jon and I have been figuring out."
"We joke that it's like we're playing with action figures," Favreau added. "Like, 'What's in the box? Let's play with what's in the box!' And that's what you do when you're playing and you're a kid."
It's an oft-repeated mantra from the duo, and one we've already seen play out in part in The Mandalorian and The Book of Boba Fett already, with characters as grand as Luke Skywalker and Boba Fett to ones as deep-cut as Captain Pellaeon and Cobb Vanth appearing throughout the series, drawing in elements from the Star Wars movies, animated TV shows, and books from in and out of continuity. Think Avengers: Endgame, but with the portals being windows into Rebels' World Between Worlds, but then don't think that, because it would be very silly. But at least, according to Favreau, they're prioritizing the story before they get too wild with that Star Wars toy box.
"When I was younger, we didn't have movies, but there were comic books, there were novels, things that are encompassed in the [expanded universe] or Legends," Favreau concluded. "Clearly, there are decisions that have to be made to fit it all together, but for us, I think one thing we're in agreement about is that the characters—as special as they are—the story has to drive what characters are.
"As we are getting deeper and deeper into this, you start to have to really map things out and figure out what that story is, and then have those characters fulfill what their growth cycle is and what their mythic hero's journey is," he continued. "Those things have to fit together well. Otherwise, it won't feel like Star Wars."

Filoni's Mando-verse movie is currently rumored to be scheduled after Sharmeen Obaid-Chinoy's New Jedi Order film with Daisy Ridley premieres in 2025.
---
Want more io9 news? Check out when to expect the latest Marvel, Star Wars, and Star Trek releases, what's next for the DC Universe on film and TV, and everything you need to know about James Cameron's Avatar: The Way of Water.