As Google and Apple (and Samsung) scramble to build the smartest, do-anything personal assistant for your phone, Amazon and Microsoft have elected to take a different route: They're working together rather than competing. The news arrived in the form of a joint announcement from both companies, and the New York Times is reporting that Amazon and Microsoft have spent the last year integrating Cortana into the Alexa ecosystem and vice versa.

"I want them to have access to as many of those A.I.s as possible," Amazon founder and CEO Jeff Bezos told the New York Times. Bezos believes each digital assistant fills a particular niche and that, in the future, one should be able to route a user to the best AI for a specific question. "That would be best for the customer."
Microsoft CEO Satya Nadella is similarly eager to play up the interoperability of the two digital assistants. In the Amazon press release he said, "Ensuring Cortana is available for our customers everywhere and across any device is a key priority for us. Bringing Cortana's knowledge, Office 365 integration, commitments, and reminders to Alexa is a great step toward that goal."
According to the Microsoft press release, interoperability will be available later this year. If you want to check your Outlook calendar or email—two of the few things Cortana excels at, you'll say "Hey Alexa, open Cortana." And if you're at your Windows 10 laptop and want to...I don't know...order some detergent without just navigating to Amazon.com like a normal person, you'll say "Hey Cortana, open Alexa," and order as you would on an Alexa-enabled device.
While the New York Times is reporting that Amazon has nearly 70 percent of the smart speaker market (and that will likely increase as Alexa comes to Sonos speakers later this year) and Microsoft has 145 million active Cortana users thanks to Windows 10, both are still trailing behind Google and Apple. Earlier this year Fortune noted that Apple has over 700 million iPhone users—each with Siri inside. Meanwhile Google has billions of Android users who could potentially use "Ok Google" or the new Google Assistant. By comparison, users of Amazon's and Microsoft's digital assistants are a drop in the bucket.
G/O Media may get a commission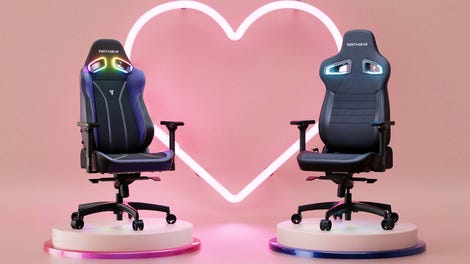 Up to $150 off
Vertagear Gaming Chairs
So don't expect Apple or Google to jump on the cooperation bandwagon any time soon. "There's no reason Google or Apple would offer it because they're trying to drive their own ecosystems," Jan Dawson, of Jackdaw Research told the New York Times.
If Alexa and Cortana don't want to be remembered fondly by nerds in a few years, these digital assistants need to get aggressive, and working together to chip away at Google and Apple is a smart move. Now if only they could get a digital assistant that works great on the phone to work with their computer and smart speaker AIs. Anyone know what Samsung's Bixby is up to?