There has been an awakening, Star Wars fans—one that threatens the structural integrity of your wallet far more than it does the galaxy far, far away. That's right: it's Force Friday II, meaning that from 12:01 am tonight, September 1, the very first toys from The Last Jedi are going on sale. Get a look at everything we know will be available—and we'll be adding more all day.
3.75-Inch Action Figures
Star Wars and 3.75-inch action figures have gone together like peanut butter and jelly since the very first movie 40 years ago, and The Last Jedi is no exception. The first wave of figures from Hasbro ($8 each) have five points of articulation, and features major heroes and villains from the new film, including Rey, Luke Skywalker, Finn, Poe Dameron, newcomer Rose, Kylo Ren, General Hux, and many more.

G/O Media may get a commission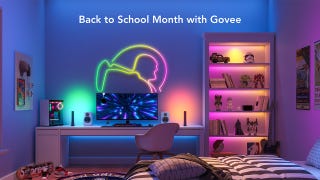 Back to School
Back to School Month with Govee Sale
Two deluxe two-packs ($15 each) will also be available: One based on the new movie featuring Rey and an Elite Praetorian Guard, and another based on The Empire Strikes Back including Han Solo and Boba Fett, the latter of which you can see above.

Black Series Action Figures
If you're looking for something a little fancier, the 6-inch Black Series figures ($20) will also feature new characters from The Last Jedi: Specifically Rey, Luke, and Kylo Ren.

Joining the trio is a New Hope Storm Trooper, Darth Vader, a realistic version of Hera from Star Wars Rebels, and Grand Admiral Thrawn.
If that wasn't enough, Toys R Us will have an exclusive 6" two-pack of Admiral Ackbar and a First Order officer ($40) to duke it out too. You can head on over to THR to see more pictures, but you can see even more new Black Series figures—including Snoke, Obi-Wan Kenobi, and a ton of the new Praetorian Guards—exclusively on io9 here.

Ships, Vehicles and Creatures 
Joining the 3.75-inch figures is an accompanying line of speeders and spaceships from the new movie as well, each coming with its own special figure. Kylo Ren comes in his sinister new ship the TIE Silencer (lower-left, $50), Poe Dameron pilots one of the speeders seen on the planet Crait in the first teaser trailer (lower-right, $40), a Resistance A-Wing comes with its own pilot, a young woman named Tallie (top-left, $30), and finally a Canto Bight police officer gets his own police speeder (top-right, and also $30).

If the weird droids and creatures of Star Wars are more up your street, there's also a deluxe range of 3.7-inch two packs including plus-sized extra characters. Two will be available—one based on Empire Strikes Back, featuring Darth Vader and a Probe Droid, and another based on The Force Awakens, including Guavian Death Gang leader Bala-Tik and a Rathtar ($20 each).

If you want something a little fancier, there's also two new Black Series scaled vehicles ($60 each), although neither are for The Last Jedi. From A New Hope, there's farmboy Luke with his Landspeeder, and from The Force Awakens, Rey comes with her own speeder.

Force Link Wristband
The big gimmick of Hasbro's 3.75-inch line this year is the Force Link—remember when the Phantom Menace figures came with those little chips you put in a communicator toy to play sounds and lines from the movies? The Force Link is like that, but it instead gets activated by RFID chips secretly planted inside each figure, playset, and vehicle, sensing whichever one you're holding to play a thematically-appropriate sound or voice line from the movie, whether it's Kylo Ren threatening you or an A-Wing swooshing around firing its lasers. The $25 starter set comes with the band itself to wear on your wrist and a Kylo Ren action figure to test it out with.
BB-8 Mega Playset
You've brought your 3.75-inch action figures, now you need a playset to put them all in—and this humongous, $180 set ($200 for a version that comes with the Force Link wristband, too) is perfect for doing so. On the outside, it's shaped like a giant BB-8. But then, you crack BB-8 open to transform it into a massive Star Destroyer playset, featuring multiple levels and three Force Link areas to play sounds and dialogue. On top of all that, it comes with two exclusive 3.75-inch action figures, Supreme Leader Snoke and an Elite Praetorian Guard.

If those prices are a bit too rich for you though, little ones can also get a BB-8 playset as part of the Playskool "Galactic Heroes" line ($80). This set, also shaped like BB-8 when closed up, opens up to reveal an adventure base for included Rey and BB-8 figures to mess around with, with everything from a jail cell to projectile launchers.
Hot Toys
Some of Hot Toys' most popular figures are based on characters in the Star Wars universe, so it's no surprise the toy maker will be miniaturizing new characters from The Last Jedi starting with this sixth-scale, First Order Executioner Trooper. Hot Toys claims this new figure has a newly developed body and undersuit designed to improve its articulations and range of motion, but what's more important is that one of its many accessories is that cool electric axe, complete with simulated electric arcs. Expect it to ship sometime in 2018, with a price tag of at least a few hundred bucks. [Hot Toys]
Lego
If "some assembly required" just isn't enough assembly for you, Lego's introducing models for vehicles making their first appearance in Star Wars: The Last Jedi including a Resistance Transport Pod (294 pieces, $30), a First Order Heavy Scout Walker (554 pieces, $50), Kylo Ren's TIE Silencer (630 pieces, $80), Resistance Bomber (780 pieces, $110), a First Order Assault Walker (1,376 pieces, $150), and a First Order Star Destroyer (1,416 pieces, $160). Lego's also got four new buildable figures available on store shelves tomorrow morning: an Elite TIE Fighter Pilot (94 pieces, $20), Rey (85 pieces, $25), an Elite Praetorian Guard (92 pieces, $25), and a surprisingly great-looking Chewbacca (179 pieces, $35).
The best addition to Lego's The Last Jedi lineup, however, is the 1,106-piece, $100 BB-8 which features a rotating head that can be controlled using the circular accent on one side of the droid, and a hatch that opens in the front to reveal an extending and retracting welding torch.
Oh yeah, there's also a massive 7,541-piece Millennium Falcon you can drop $800 on starting October 1.
[Lego]
Disney Elite Series Die Cast Figures
The Disney Store-exclusive line of metallic, poseable 6" action figures is making a return for The Last Jedi, giving us new figures for Luke, Rey, R2, Kylo Ren, and the Praetorian Guard. Interestingly, there's also one extra new character: a First Order Executioner, who carries one of those nasty spiked axes we saw in a recent behind-the-scenes reel from the movie.
Figuarts
If you find the limited articulation of Hasbro's The Last Jedi figures disappointing, and don't mind paying a premium for a highly-posable six-inch figure, S.H. Figuarts will have a handful of new offerings available for pre-order tomorrow. They'll ship sometime between September and December, later this year, and include a Praetorian Guard with whip ($51), a Praetorian Guard with heavy blade ($51), a Pratorian Guard with double blades ($51), Jedi training Rey ($57), Kylo Ren ($57), First Order Executioner ($51), Captain Phasma ($59), and a First Order Stormtrooper Special Set ($51).
Interatech Kylo Ren
This 12-inch figure of Kylo ($30) has 65 light and sound effects that activate based on how you play with him. Wave him around to hear him swing his lightsaber around, or put his helmet on to hear him threaten you in a muffled voice, or even hold him upside down to have him admonish you—it's like having a whiny Sith lord of your very own!

Funko Pop! Vinyls and Plushes
You thought Funko would miss out on the new Star Wars movie? Think again! A full line of cutesy bobbleheads ($12 each) will be available, covering every character you can think of—Rey, Luke, Leia, Snoke, Poe, Finn, Rose, Chewie, and so much more. Also available will be a line of plush toys ($10 each) featuring Rey, Porgs, new little evil BB droid BB-9E, and more. [Funko]

Sphero Robots
Everyone needs an arch nemesis; Luke had Darth Vader, Rey has Kylo Ren, and now BB-8 has the First Order's rolling BB-9E droid. Looking very similar to BB-8 and Sphero's RC version from a few years ago, BB-E9 rolls around a room controlled by a touchscreen smartphone app. Aside from a menacing dark color scheme, Sphero's $150 BB-9E improves upon its BB-8 with functional LED lights in its dome powered by a tiny wireless induction coil so the head doesn't need to be charged separately.
Sphero also introduced a miniature $180 RC version of R2-D2. For more details on this amazing toy, definitely check out our full hands-on review of it here. [Sphero]
Porgs, Glorious Porgs
Just like BB-8 was the cute little thing to watch out for in the Force Awakens toys, the Porgs—adorable little furby-esque creatures native to Ahch-To, the planet Luke is hiding on—are the toy to look out for this year. You can get a Funko Pop version ($12), sure, but if you want something even bigger, Hasbro has a full on electronic version of the delightful critter. The $40 plush squawks, flaps its arms up and down, and can even scurry forward, waddling all the way.

If you want something a bit more on the cuddlier side of the force though, Northwest has an adorable plush pillow Porg that comes with its own throw to snuggle up in—or you could just get a throw that has Porgs and Chewbacca on!

Roleplaying Toys
Do you walk out of the theater after a Star Wars movie feeling like you could take on the First Order all by yourself? Best get the right equipment. Nerf's got a trio of new weapons including the Glowstrike Poe Dameron blaster ($25), the Glowstrike Captain Phasma blaster ($45), and the Glowstrike First Order Stormtrooper blaster. Each contain battery-powered lighting and glow-in-the-dark darts meant to look like phaser blasts.
If a more elegant weapon is your preference, there's a new Bladebuilders Path of the Force lightsaber ($50), allowing you to align with the Light or Dark sides of the Force, and the Kylo Ren Deluxe Lightsaber ($70) which features sound and pulsating blade effects inspired by the movie. And if you want to hide your identity in battle, the First Order Stormtrooper Voice Changer Mask ($35) will disguise both your face and voice.
If accurate cosplay is more your thing, the Black Series Poe Dameron Electronic Helmet ($80) boasts movie-accurate details on the outside, with surround sound speakers inside to simulate flying an X-wing into battle against a TIE Fighter, including BB-8 on board as your co-pilot and second set of eyes.
Jakks Pacific Big-Figs
When a four-inch tall action figure costs you somewhere between $8 to $10, there's a strong case to be made for Jakks Pacific's $20 Big-Figs, which tower in comparison at 18 to 20-inches tall. You're getting five times the figure for just twice the cost, and while articulation is limited to around seven points, the detailing on these over-sized figures is fantastic, including real fabric capes and costumes. [Jakks Pacific]

Hot Wheels
Maybe you prefer to collect tiny versions of your favorite characters morphed into four-wheeled vehicles? Then you'll probably be happy to hear that Hot Wheels is expanding its $4 character cars line to add The Last Jedi vehicles including Jedi training Rey, Elite Praetorian Guard, BB-9E, Finn, a First Order Executioner, and new version of Captain Phasma. Hot Wheels is also introducing new $5 Starships based on the movie's new vehicles including Kylo Ren's TIE Silencer, the First Order Heavy Assault Walker, a Resistance Bomber, a Crait Speeder, and the return of the Resistance A-Wing fighter.
Hot Wheels has also turned the upgraded Millennium Falcon into a $40 Character Cars trackset where kids can try to repair the freighter while launching vehicles from the ship's secret smuggling bay. We're going to assume this isn't exactly how this scene plays out in The Last Jedi, unless Luke Skywalker has become an enthusiastic tuner during his exile.
Spinmaster Star Wars Hero Droid BB-8
After a couple of false starts, Spin Master's Hero Droid BB-8, first announced at Toy Fair 2016, is finally available for anyone who thought Sphero's rolling BB-8 toy was just too tiny. At 16-inches tall, this version of BB-8 features working lights, built-in sound effects, and an impressive top speed. It can be controlled using voice commands, or an included remote that allows the droid to also autonomously follow whoever is holding the controller. So it's no surprise it will set you back $230. [Spin Master]
littleBits Droid Inventor Kit
Envious of Anakin Skywalker's ability to just throw a droid together in his spare time? littleBits new $100 Droid Inventor Kit won't have you building another C-3PO, but using six electronic components and a collection of 20 different droid parts, you can cobble together a robot companion that probably reminds you of a certain R2 unit. By using an accompanying smartphone app, the droid can be programmed to complete 16 different activities and missions, or just left to wander around your desk in its self-navigation mode. [littleBits]
And that's just going to be the tip of the iceberg when it comes to new toys and merchandise from the Star Wars galaxy—there'll be much more on the way between September 1 and The Last Jedi's release on December 15. Are you planning to pick up any of the new Star Wars toys tomorrow? Let us know in the comments.