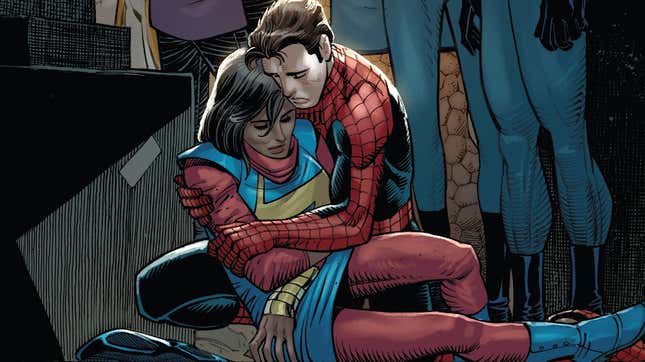 Ever since early leaks confirmed Marvel's plans to kill off one of its most influential new creations of the 21st century, fans have feared the worst for Kamala Khan in this week's Amazing Spider-Man #26. And yet somehow her exit is even hollower than we could've predicted, laying bare the awkward artifice of superhero comics with none of their spectacle or cleverness.

io9 Interview: Oscar Isaac Was 'All In' on Moon Knight

As previously and regularly mentioned whenever a major comics publisher teases that Everything Will Change with the death of one of their prominent characters, death means startlingly little in the world of superhero comics. Long gone are the days when the prophecy of a hero's fall actually shocked people enough to check out a new book—there's a reason people remember the death of Superman, and not the times Superman has died in various capacities in the years since that iconic storyline. Instead, superhero comics have, in the wake of losing that shock effectiveness as their audience becomes more and more familiar with the wrestling-esque kayfabe of it all—the unspoken artifice and understanding of Just How Things Work—had to lean on dealing with death in many other ways. Take a look elsewhere in Marvel currently, for example, and you'll see the Krakoan Age of the X-Men, where death is as meaningless as it is metatextually within the text itself; mutantkind has figured out the process of resurrection to establish itself as a sovereign state flourishing at a height the oft-persecuted group has never seen the likes of in decades of publishing history. When death no longer has to mean anything in the narrative, the potential for stories about death becomes much more varied and interesting.
This artifice has evolved even further with the advent of the superhero movie boom, especially at Marvel, as the MCU reigns ascendant (more often in spite of itself lately, compared to the halcyon days of its meteoric rise). As Marvel's comics have become not just their own tales, but incubators for adaptations that will be seen by audiences much larger than the size of the current western superhero comics market, so it has come an even wider audience understanding of that aforementioned kayfabe. That character's about to be in an MCU movie or a Disney+ show? Odds are you can expect either a series relaunch in the months around its release or, if anything particularly status-quo-changing has happened in their storytelling recently, it'll be all back to normal by the time audiences are sitting down in front of TVs or movie screens to see what their cinematic counterpart is up to. So, for example, when Marvel heralded "The Death of Doctor Strange" in the months before Doctor Strange in the Multiverse of Madness, as a reader you can be pretty sure that Stephen Strange is going to be a-okay in the comics just in time, in case anyone seeing Benedict Cumberbatch on the big screen wants to walk into their local comic store after and pick up some new Doctor Strange books.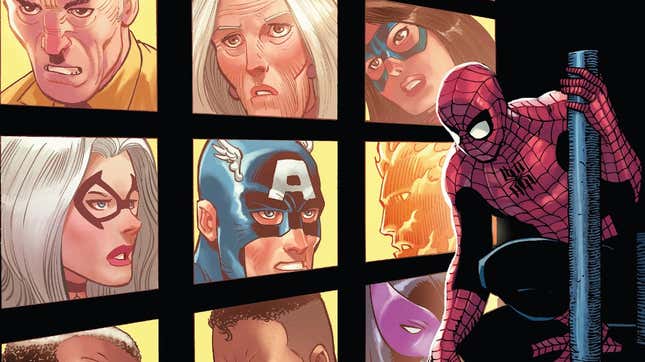 All that then, brings us to today's release of The Amazing Spider-Man #26–by Zeb Wells, John Romita Jr., Scott Hanna, Marcio Menyz, Erick Arciniega, and Joe Caramagna—and the now-advertised Death of Ms. Marvel. While it's safe to say that Marvel Comics would've preferred to announce that it was killing off one of its most popular young characters of the century on its own terms, for the past few weeks we've already known coming into this issue that Kamala would end it lying dead in Peter Parker's arms. And so she does indeed on the final page of the issue, but instead the surprise here is how hollow the whole thing feels, not just within the story itself, but in that greater context of the kayfabe behind superhero comics.

It's not really much of a spoiler to say that Kamala dies at this point, and it's not really much of one to tell you that her death does not feel particularly well justified to go through the aforementioned controversial news cycle of revealing that you're killing off a young, female South Asian character lauded and beloved as one of the best additions to the world of superhero comics this side of the year 2000, either. Kamala's presence in Amazing Spider-Man so far has been on the fringes of its story, an intern at Oscorp using her geeky passions as a cover to keep an eye on Norman Osborn as he becomes the anti-hero Gold Goblin. She's been kept away from Peter and Mary Jane's tussle with the sinister Ben Rabin, also known as the Emissary, a pan-dimensional threat that, having previously trapped Peter and MJ in an alternate world, now desires to come over to Marvel's main reality and evolve into the avatar of the Mayan god Wayeb' in a prophetic turn that requires killing Mary Jane. Suffice to say, it's been a lot, and Kamala hasn't been much of a part of it.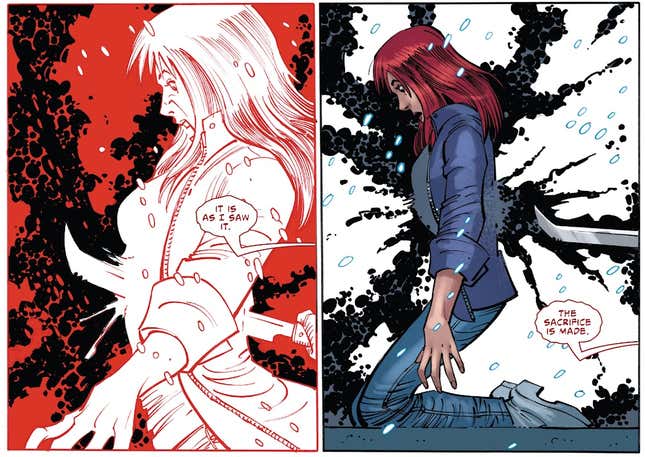 So when the Emissary finally arrives in this week's issue, and Kamala—alongside Gold Goblin, Spider-Man, and the Fantastic Four—battles to keep MJ safe from his clutches (and more specifically a ritual knife he needs to stab her with), you can already see how things are going to go. To be at least somewhat fair to the issue, Kamala's sacrifice to save MJ from the Emisarry's prophecy is a simple, but clever usage of her powers. Kamala runs away from the battle with Mary Jane, but splits off from her to act as a distraction—using her powers to shapeshift into a facsimile of MJ, luring the Emissary into falsely stabbing her instead. And so, Rabin's ritual is broken, leading to Wayeb's spirit devouring him whole for his supposed attempt at deceiving it with a false sacrifice; Mary Jane is saved, and Kamala Khan pays the price, exposing herself as Ms. Marvel to her superpowered allies in the process.
But that is all about this tragedy that is in any way clever or surprising. Obviously there is more of Kamala's story to tell—and not just because, as soon as the leaks first dropped, Marvel began touting a special one-shot issue to mournfully celebrate the soon-to-be-fallen friend—beyond the pages of Amazing Spider-Man. But in the here and now, Kamala's death is not in service of her own story but the pain of others—the pain of people who barely know her. Currently without her own ongoing series at Marvel, Kamala has felt aimless in the periphery of the story being told for Spider-Man and Mary Jane Watson in this run of Amazing, amplifying just how little dramatic weight her death has beyond the naked attempt at shock value. Further hammering that home is that the shock of her death, had it not been revealed ahead of time, is primarily in the bait-and-switch of seeing Mary Jane seemingly killed before the reveal that it was a disguised Kamala, not in that it's necessarily Kamala herself perishing in that moment. Even her final whispered words—echoing the famous line from Kamala's debut run as Ms. Marvel, "Good is not a thing you are, it is a thing you do"—feel less like a poignant reflection and more like an awkward acknowledgement that Kamala wasn't even given the respect of dying for her own story.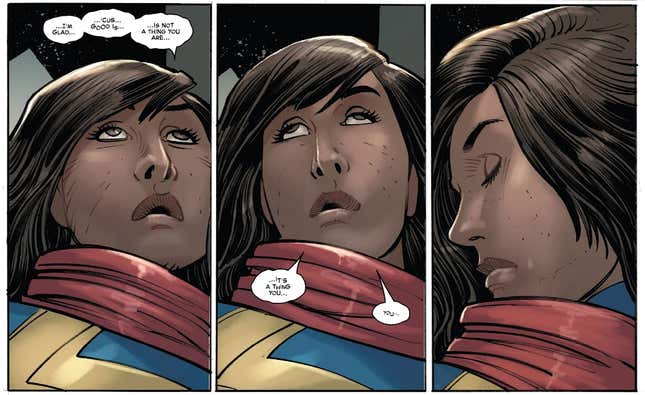 If all this feels as empty as it does already, that feeling is only amplified further by the elephant in the room: there are far more people in the world who are aware that Ms. Marvel is months away from being in a Marvel movie with Captain Marvel and Monica Rambeau (The Marvels, in case we had not said "Marvel" enough lately) than there are people who will purchase and read Amazing Spider-Man #26 this month. I know this, you know this, the creative team at Marvel Comics knows this, somebody at Marvel Studios certainly knows this. Iman Vellani, the comics-loving actress who plays Kamala in the MCU, is probably telling people this and other nerdy factoids as we speak. It is an unspoken and yet clear truth that Kamala will be alive in the comics, and hopefully relaunching her own solo series, by the time The Marvels is hitting theaters in November. You could even speculate further and wonder if her rebirth will tie her more closely to her cinematic counterpart by tweaking her Inhuman background from the comics to reflect her Mutant status in the MCU—because that happens in symbiotic relationship these comics and movies have with each other now, and has happened for decades (Peter getting organic webshooters in the comics because of the Raimi movies, anyone?).

So in the end, what was the point of all this if in five months it won't have mattered? What do we gain from the ire raised in killing off such a beloved character both in and beyond her source material, in a story that is barely about her, if it is going to be undone in half a year's time or less? We don't have the full story of the death and inevitable rebirth of Ms. Marvel just yet, but we know enough about how this all works at this point to make a reasonable guess: it's going to mean nothing more than artificial shock value. And a superhero comic that's all artifice just isn't a very interesting superhero comic at all.
---
Want more io9 news? Check out when to expect the latest Marvel, Star Wars, and Star Trek releases, what's next for the DC Universe on film and TV, and everything you need to know about the future of Doctor Who.