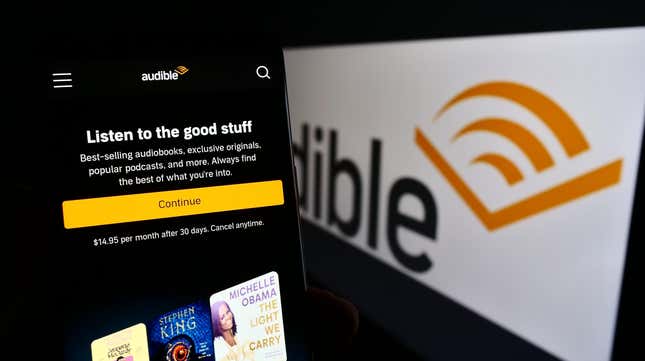 Imagine you're stuck in your daily commute and listening to a riveting audiobook, your mind far away and swimming with scenes of action and romance, only to be jettisoned back into reality when your listening is interrupted with an advertisement for, say, Pampers or Geico cutting in.
Well, it seems Audible is again testing how many ad breaks potential users are willing to sit through while listening to both podcasts and audiobooks. A page on Audible's help section titled "Why am I hearing advertisements in my audiobook?" details what seems to be a renewed effort on the Amazon-owned entity to put ads inside some audiobooks. This "limited testing" for ad-supported access is apparently limited to select titles on the platform, including some books, podcasts, and Audible Originals. Other titles without ads were able to "opt-out" of this test.
In the answer to the question of if Audible was planning for an ad-based subscription tier, the page reads: "We are currently conducting limited testing for non-members only that provides ad-supported access to a limited set of Audible titles."

An Audible spokesperson confirmed "The help center link referenced below is accurate" but did not answer Gizmodo's questions about whether the company is exploring an ad-based subscription tier. Ads in Audible podcasts have typically appeared in third-party podcasts, though in those case they're embedded in the audio by the creators.
It's still unclear which titles are included in this test, especially as it's only being conducted with "non-members." Most audiobooks on the platform ask those without an account to sign up for a free 30-day trial, which of course becomes a $14.99 monthly payment, or a $7.95 Audible Plus subscription. Audible does list some podcasts and audiobooks as "free," which just require an Amazon account, but it isn't immediately clear by each product page which have ads and which don't. You can also buy Audible books a la carte, and any books you buy using a membership credit remain on your account even after cancelling. It's unclear whether ads play on paid-for books.
There's a total of eight ads that can play within a 24-hour period when listening to these titles, though the company claims users won't hear ads "too frequently within a short time span."
The ads are apparently part of a new round of tests, which the company said was supposed to "gain knowledge about the evolving needs of our customers and partners." The company has reportedly been testing ads on and off for a couple of years.
Audible may be looking deeper into an advertising model as it's facing an onrushing competition from the likes of Spotify. Last year, the rival podcasting and music platform debuted its own, somewhat limited audiobook portfolio. The company then allowed audiobooks for purchase in the UK, Ireland, Australia, and New Zealand last November. Unlike its podcasts, Spotify said it was not planning for ads on audiobooks, at least for the time being.
And it makes sense why Audible is going with ads to make up some cash. The company's earning report last November showed how Amazon makes much, much more money through advertising than it does from subscriptions like Prime. Selling ads using the data the retail giant already has on its millions of users would let the company capitalize on users' precious listening time, at least for those who don't or can't pay for a full subscription.