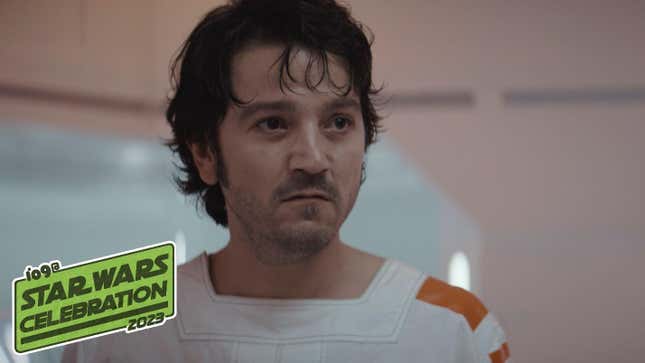 Star Wars fans will cosplay anything from the galaxy far, far away, especially at Star Wars Celebration, where you're going to be among an audience that will get any obscure reference. But just one day into the 2023 con, one look dominates all: Andor's prison getup.

'I Started a Yoda Fan Club'
From the official Celebration store to the hallways of fan-made costumes, you cannot take more than a few steps in the London ExCel center without spotting someone clad in all white, a strip of identifying orange running down their arm. Even among stalwart Imperial Stormtrooper costumes, Jedi, and many, many Mandalorians, it's become clear that Narkina-5's prisonwear is the hit of show. The irony is, at today's panel on the making of Andor season one at Star Wars Celebration Europe, costume designer Michael Wilkinson and Cassian Andor himself, Diego Luna, discussed how uncomfortable it was to wear the white uniforms imposed upon the prisoners of Narkina-5.
"When we weren't shooting? I wore sneakers!" Diego Luna told the audience of filming the Narkina-5 prison arc, which saw Cassian imprisoned and sent to a prison dominated by the sterile white smocks and shoeless prison garb of its inmates—a discomfort to accommodate the prison's electrified floors.
According to costume designer Wilkinson, that discomfort was an intentional aspect of designing the Narkina-5 wardrobe. White was selected as a primary color to be deliberately disorienting against the sterile white Imperial aesthetic of the prison, and the industrial fabric was—unlike a lot of Star Wars design— intended to feel less lived-in and well worn, and more easily disposable. The only acquiescence to color was the orange print that runs down one shoulder of the garment—intended in-universe, according to Wilkinson, as a way to identify individual prisoners quickly by the guards.
And yet, for all the discomfort intended as part of the design, Narkina-5's prisonwear has been a hit among fans looking for a quick and simple cosplay at Star Wars Celebration. The Running of the Hoods—the age-old fandom tradition of fans dressed as Empire Strikes Back's iconic ice cream maker-holding Bespin evacuee, Willrow Hood—is out. One way out, is in:
Andor's 'One Way Out' Chant Breaks Out at Star Wars Celebration
Andor's 'One Way Out' Chant Breaks Out at Star Wars Celebration
Andor is set to return to Disney+ for a second and final season in August 2024.
MORE NEWS FROM STAR WARS CELEBRATION

---
Want more io9 news? Check out when to expect the latest Marvel, Star Wars, and Star Trek releases, what's next for the DC Universe on film and TV, and everything you need to know about James Cameron's Avatar: The Way of Water.