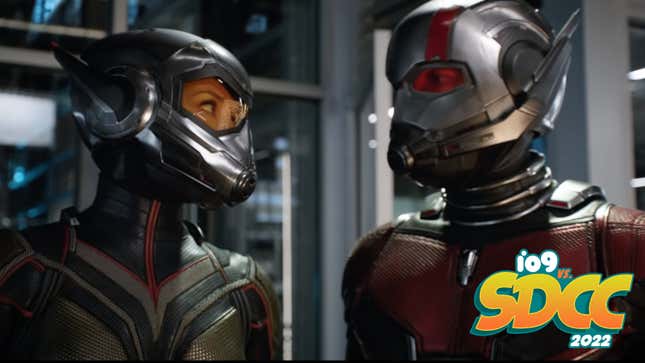 After Black Panther: Wakanda Forever, Ant-Man and the Wasp: Quantumania is the next on the Marvel Cinematic Universe's docket, so it should be no surprise the studio had something to show from the movie at this year's San Diego Comic-Con. Unfortunately, while it's not coming online, we got to see it—which means we got to see MODOK, the giant-headed goofball who'll now be appearing in the Marvel Cinematic Universe!

Honestly, MODOK is all we needed to see, but all the footage was good:
It began at the City Lights bookstore where Scott Lang is doing a reading of his new book Look Out for the Little Guy. The crowd is littered with kids dressed as Ant-Man and as he ends he gets a call on his cell phone: "Why is jail calling?" Turns out his daughter, Cassie (Kathryn Newton) is in jail. Apparently, she's been working with the Van Dynes but Scott doesn't want that life for her.
Both families sit around a dinner table and Scott mentions, for about the billionth time, that he saved the universe. "Oh, you've never mentioned it, you should write a book about it," Janet says. They all give him crap. "You're welcome for all not being dust," he says. They laugh. We see Scott and Cassie driving. Scott and Hope on a red carpet. It looks like life is good.
A voiceover then begins. It's Kang, played by Jonathan Majors, though we don't see him yet. "Time isn't what you think," he says. An experiment goes wrong and a blue light pops out of what looks like an Arc Reactor. It sucks all the Langs and Van Dynes into, we believe, the Quantum Realm. It looks like an alien planet from Star Wars. Lots of weird aliens and creatures... as well as Bill Murray. He remembers Janet from her time there.
Eventually, Kang emerges and Scott tells him "I don't know who you are, but I have to warn you, I'm an Avenger." Kang reveals himself and says "An Avenger... have I killed you before?"
Quantumania will kick off Phase 5 of the MCU, because that's where the villainous Kang not seen in Loki will make his debut. Since Kang is being touted as the main villain not just of the third Ant-Man movie but of Marvel's saga, so it seems he'll put a damper on any MODOK-based laffs and chuckles. But that should still make for an entertaining movie when Quantumania premieres on February 17, 2023.
Update 7/23/22 10:25 p.m. - We've added more detail now that the panel is over.
Additional reporting by Germain Lussier.
---
Want more io9 news? Check out when to expect the latest Marvel and Star Wars releases, what's next for the DC Universe on film and TV, and everything you need to know about House of the Dragon and Lord of the Rings: The Rings of Power.