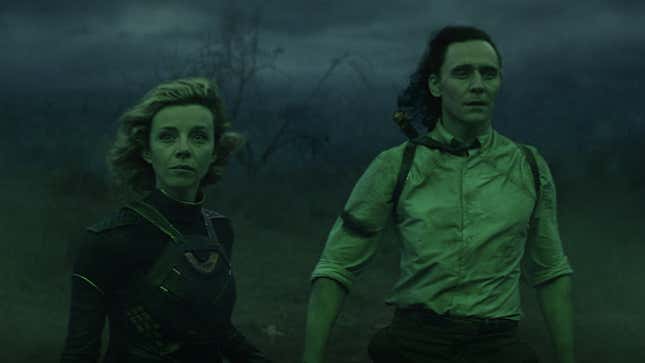 The era of Kang is upon us, just as He Who Remains (Jonathan Majors as Kang) promised at the end of Loki season one if Sylvie (Sophia Di Martino) and Loki (Tom Hiddleston) didn't agree to keep his sacred timeline intact.

Ms. Marvel's Directors Talk Embiggening the Show's Superhero Action
And sure enough, it all changed the moment Sylvie made her choice for chaotic revenge over Loki's love, resulting in a reset that would unleash more Kangs into the multiverse. So of course it built up to Ant-Man and the Wasp: Quantamania; there, we met Kang the Conqueror, who wants to be freed so he can fix the broken multiverse—which was made that way because of his variant's mistakes. See, Kang variants all seem to think they're the right one and the rest are wrong, which leads to all-out war.
Before we venture too far into spoiler territory, stop here if you haven't seen Quantumnania and its end credits or need to catch up on Loki season one.

The Nexus Events of the MCU
It's interesting that we got Quantamania after all the major incursions in the MCU—seen in Loki season one with Sylvie's choice, Spider-Man: No Way Home with Peter Parker's wish, and Doctor Strange in the Multiverse of Madness when Wanda and Stephen overpower their multiversal selves. It gives audiences reason to reflect on what Kang the Conquerer says about the multiversal war among all of the Kang variants, who he set out to destroy and prune for what they did. You get the sense that the Kangs are doing this for control, causing enough incursions to destroy the multiverse. It's a fate that could befall the MCU.
When variants are at war, everyone loses
Now I think He Who Remains set out to find worthy adversaries to himself... er—himselves, and found them with Loki and Sylvie. Think about it: the moment he realizes he's about to die he understands that all of the Lokis in the void worked together to get them to where he is, past even the Alioth which he created to destroy Kangs. Maybe at some point the Kangs might venture into the void in order to try to steal the Time Variance Authority seat, but could they get past themselves? And if one made it, could they get past the Alioth? It took two Lokis working side by side, with the help of other Lokis, to do this. Why? Because that's the power of love, which we see as the root of all multiverse troubles in the MCU: Sylvie, Peter, and Wanda created incursions for those they love. This is key because it's what ultimately defeats Kang the Conqueror in Quantamania. Unless of course, he did love before... love a certain woman by the name of Ravonna Renslayer (Gugu Mbatha-Raw), who has had some sort of memory wipe from who she was. Maybe Kang the Conqueror almost loved and that was seen as a threat to all Kangs, so he was exiled and befriended someone else who lost those they loved, like Janet Van Dyne.
But Kangs at their core don't trust each other. In the first end credits sequence when the big three Kang variants assemble, they barely take each others' word for the "death" of Kang the Conquereor and pretty much refer to the rest of their "lesser" forms as fodder to send out to take on the nexus threat of the Marvel heroes. One key thing I saw here was the appearance of the Kang in a suit known as Mr. Gryphon, CEO of QENG Enterprises, theorized to have been who bought Avengers Tower because we saw his name on the pruned tower in Loki. Maybe Gryphon is going to play a role as the corporate tycoon trying to get his hands on every piece of Stark tech to help the dynasty.
What does Victor Timely mean for Loki season 2?
The second end credits scene reveals an early Kang, Victor Timely, who in the comics went back to 1901 and founded the town of Timely, Wisconsin—ruling as mayor to make it an industrial competitor to Edison while ushering an early age of robots and computer science. In his presentation introducing himself as Victor Timely and his Astounding Temporal Marvels, we see him unveiling an early prototype of what could be a steampunk version of the temporal core's engine, seen in Quantumania, that allows him to move through the multiverse, and also maybe even be the start of the TVA's use of it, put in place by He Who Remains.
In the crowd we see our favorite Disney+ detective agents of chaos, Mobius (Owen Wilson) and Loki, dealing with the aftermath of season one. This places Loki on the precipice of his and Sylvie's role as they begin to stop Kang variants. He Who Remains did say they'd be seeing more of him and perhaps they'll be seeing more of Loki, because as Loki realized with his variants, they often fail but they do not die, a trait He Who Remains realizes upon his death. At their core they're chaos, and life is chaos and unpredictability, so it would make sense to have them ascend to timekeeping in the Multiverse Saga. We'll see how their journey plays out in season two of Loki when it releases this year.
---
Want more io9 news? Check out when to expect the latest Marvel, Star Wars, and Star Trek releases, what's next for the DC Universe on film and TV, and everything you need to know about the future of Doctor Who.