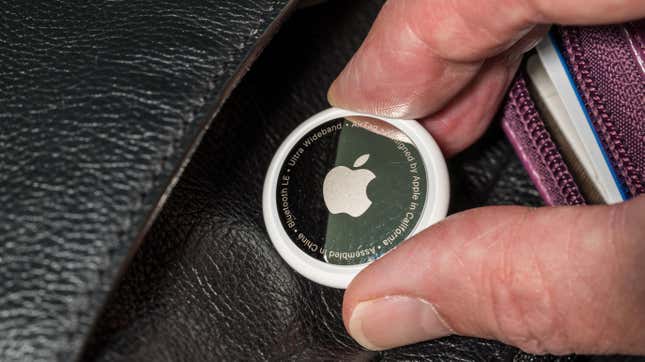 Apple AirTags can be useful for things like finding your keys or keeping tabs on luggage. But it's also well-established that the small quarter-sized tracking devices, can be employed in some less-than-savory ways. People have sued over AirTags being used to enable stalking. Police have claimed the devices have even popped up in murder cases.

How To Prep Your iPhone or iPad Before Selling
Yet a new report suggests that federal law enforcement might be applying AirTags for their own ends. The Drug Enforcement Agency used an Apple tracker to conduct suspect surveillance in at least one case, according to a report from Forbes published Thursday. A search warrant from May 2022 reportedly obtained and viewed by the outlet documented DEA officials placing one of the Apple devices inside an intercepted package from Shanghai, believed to be en route to an illegal drug maker.
Instead of simply going to the address on the package, drug enforcement agents opted to slip an AirTag inside a pill press contained in the box in order to follow the delivery's exact movements. "Precise location information for the [pill press] will allow investigators to obtain evidence about where such individuals store drugs and/or drug proceeds, where they obtain controlled substances, and where else they distribute them," wrote the federal officials in the search warrant, per Forbes.
Police often use GPS tracking devices—which AirTags aren't—in investigations to try to keep tabs on suspects. However, the DEA's AirTag gambit last year "appears to be the first known case of a federal agency turning Apple's location-tracking device into a surveillance technology," wrote Forbes.
It's not entirely clear why the agency would've opted for an AirTag over a different type of tracker, or how often law enforcement have used AirTrags. Gizmodo reached out to the DEA for comment, but did not immediately receive a response. Yet a retired Arizona detective, Brady Wilkins, told Forbes that maybe the Apple device proved more reliable or more easily hidden than the alternatives. If nothing else, the tech giant's Bluetooth-enabled AirTags are very well connected to the vast network of Apple devices. Access to that Apple web means AirTags can dependably transmit information from lots of different places.
Yet despite their compact size and well-connected nature, Apple AirTags are probably not the best tools for cops to be using. Apple has recently put a fair amount of effort to try and address concerns around misuse of its product. The company pushed firmware updates in December 2022 that provide automatic notifications when an unfamiliar AirTag is present in an iPhone user's vicinity. Previous security measures also mean that AirTags begin making a chirping sound after being away from their owner's iPhone for too long.
Gizmodo reached out to Apple for more information on if and how law enforcement might be able to circumvent those features, but the company didn't immediately respond.

As Forbes pointed out, it's unknown how well the AirTag worked for the DEA. The granted warrant allowed tracking for 45 days nationwide. "However, the intended recipient of the pill press has not yet been charged with any crime," the outlet wrote.

Regardless, the DEA's weaponization of an AirTag as a surveillance tool highlights just how prone to misuse such tracking devices can be. And Apple-product specific updates might not be enough to combat the problem.