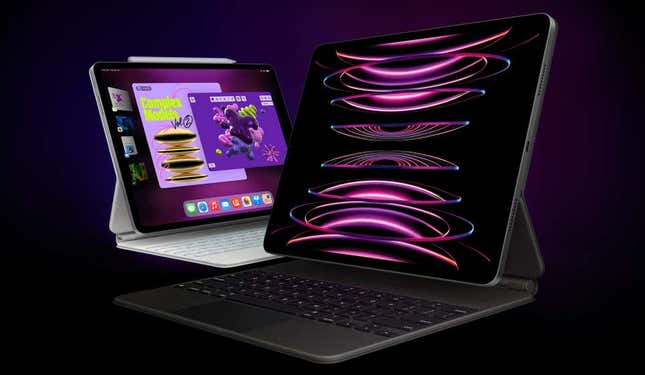 Apple hit us with new hardware last week—the MacBook Pro, the Mac Mini, the second-gen HomePod—and there's more to come this year in sprinklings. But what's next on the horizon might not be worth the immediate upgrade, reports Bloomberg's Power On newsletter. In particular, it will probably be a "light year" for the iPad in terms of feature upgrades across all models. 2024, however, looks exciting.

Can This iPad Replace Your Laptop?
Apple is planning to release an iPad Pro this year, despite last year's quiet release, but it will be next spring when it will likely finally introduce an updated design and OLED screens. This will undoubtedly complicate some buying decisions for 2023, especially for those thinking they would hold on to their cash from last year and upgrade this year instead.
But waiting until 2024 might reap massive rewards. The rumor mill has been churning over with reports in the last few years about what an iPad makeover would entail. The most recent rumblings are that Apple's tablet will be the first to usher in the OLED display revolution for Apple hardware, even before the MacBook Pro. There's speculation that the iPad Pro makeover will include larger displays than the ones currently offered—up to 16 inches, according to a report by The Information last October. The new iPad model might also have MagSafe on it, like the iPhone—though we thought it would debut with last year's iPad Pro launch. And the rumor that the iPad will adopt wireless charging due to a glass-back makeover is still strong.
Bloomberg also reports this isn't the year for "any major updates" to the iPad Mini and iPad Air, even though the former hasn't been updated since 2021. The iPad Mini will probably get a slight spec bump if it's refreshed this year, but only to the latest mobile processor. The current iPad Mini has an A15 Bionic chip, which powers up the iPhone 13 series. Ming-Chi Kuo, an analyst we've cited before who has been pretty spot-on with supply chain news, said last year that Apple is currently working on its newest iPad mini and is expected to ship by the end of 2023 or the first half of next year.