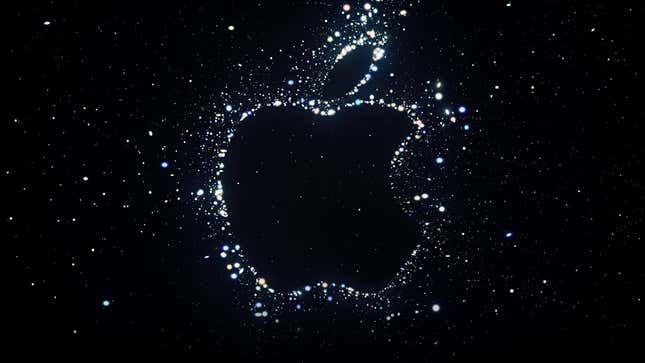 Apple's iPhone 14 event is only hours away . The "Far Out" event, as the company is calling it, will take place on Sept. 7 at 10 A.M. PT / 1 P.M. ET. in person at the Steve Jobs Theater at Apple's Cupertino headquarters. Apple will live stream it online for anyone who wants to watch it at home.
Is USB-C Finally Coming To iPhone?
We're expecting a heaping of new devices to be announced, including a new iPhone 14 and Pro-level Apple Watch. There may also be a new pair of AirPods Pro 2. Let's get into what to expect and how to tune in.
How to watch Apple's iPhone 14 Event
Want to watch Apple's event live from home? Tune in through YouTube or press "play" on the embed above. The live stream begins precisely at 10 A.M. PT / 1 P.M. ET. You can use YouTube to set a reminder for yourself to watch from wherever you are when it starts, whether you're at your computer or on your mobile device.
Apple's also offering a live stream option on its website and the Apple TV app for those who want to follow along on a TV screen. Be sure to follow Gizmodo elsewhere and on Twitter to see the headlines as they come in.
What to expect from the iPhone 14
We've been covering the rumors about this phone since they started earlier in the year. Supply chain reports have pointed to larger display options for both the Pro and regular iPhone 14 models, meaning Apple will offer the same size configurations for both tiers. There will supposedly be a 6.1 and 6.7-inch option for both Pro and standard models, so those who want a bigger screen won't have to pay for the extra bits inside they don't plan to use. However, there will reportedly not be a successor to the iPhone 13 mini, so if you want to keep things small, the iPhone SE is still your best bet for now.
The event does allude to something "far out," and we bet it has something to do with an iPhone camera that can see out into space! The Pro will have improved camera specifications, including what seems to be new telephoto and ultra wide-angle lenses and a 48-megapixel rear wide-angle camera sensor for the Pro's primary camera. All of these would help contribute to clear starry-sky shots. The iPhone 14 Pro is also expected to get a bump up in its processor—a faster A16 chip—and an always-on display, which was previously a marquee of many Android handsets.
You might see a bit of a design tweak in the next batch of iPhones, too. Apple is still working on bringing down the size of that front notch, which houses the front-facing selfie camera and its requisite Face ID sensors.
For those constantly switching carriers or who don't want to worry about managing a physical SIM card, Apple may be adopting the eSIM full force this time. It makes sense, since the rest of the industry is working toward fully adopting the standard.
Bloomberg's Mark Gurman expects the iPhone to go on sale relatively soon: Sept. 16, about a week earlier when compared to past years. But that early sale date will help Apple's bottom line and give its new flagship device some time to perform until Google's Pixel 7 debuts in October.
What about the new Apple Watch?
The next Apple Watch isn't entirely a mystery. We've heard that a new Pro model will launch alongside its refreshed Apple Watch brethren. The idea behind the Pro will be to compete directly with the athletic-tinged exercise watches that currently exist from brands like Garmin and Polar. With its Android-based smartwatch line, Samsung has also ventured into "pro" territory, so it seems a natural progression for Apple's lineup.
There was a leak of the Apple Watch Pro's design on 91mobiles, a site that has been pretty on-par with renders for upcoming gadgets. The particular Apple Watch Pro CAD renders show a larger display with slim bezels—slimmer than what you might be used to on the Apple Watch currently. The signature digital crown is still there, along with a microphone and multitasking button. But we'll have to wait and see if this look and feel will come to the rest of the Apple Watch Series 8 lineup or if this is only for the Pro.
We also expect the high-end Apple Watch to have a larger display for more fitness data and health-tracking stats, just like its competitors' models. And it will have a larger battery, so you don't have to worry about running out while on the trail.
As for the regular Series 8 update expected to be introduced at the "Far Out" event: it's likely to get a bump in its processor but not in its design. Its main features will supposedly include a new body temperature sensor akin to the one that's dormant in Samsung's Galaxy Watch 5 and new tracking features related to reproductive health and fertility.
What about the AirPods Pro 2?
Bloomberg's Mark Gurman said in this week's Power On newsletter, matter-of-factly, that a new pair of AirPods will be introduced alongside the new Pro models of the iPhone 14 and Apple Watch. These will be new AirPods Pro 2 earbuds. The rumors have mentioned built-in fitness tracking features and support for Apple's Lossless Audio CODEC (ALAC).
Will we see anything on Apple's VR strategy?
Probably not. According to Gurman, Apple will launch its first headset next year, with a "lighter-weight AR-only version" following in later years. There are currently "at least three Apple headsets in development" according to his newsletter, but they're all likely far from ready.
We'll find out everything we need to know—and more—on September 7. Gizmodo will attend with boots—or flats—on the ground, so be sure to head back here after the event.