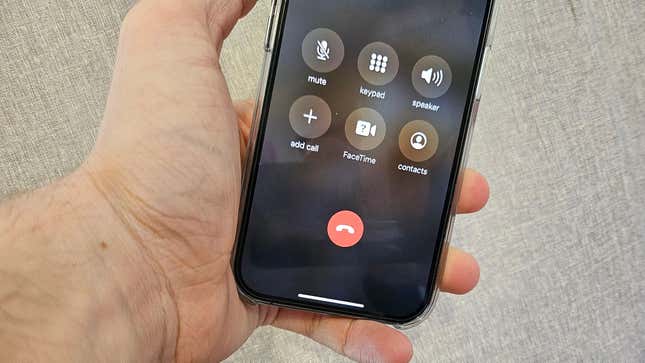 Do I actually use my iPhone to call people? Yes, yes I do, as it so happens. The thing about calls is that their function hasn't changed in any major way since the first iPhone started the whole smartphone craze, despite the addition of extra features like Facetime. Now Apple's latest iOS 17 beta has changed the location of the "End" call button, and I'm not a fan. If the function remains the same, why change the design?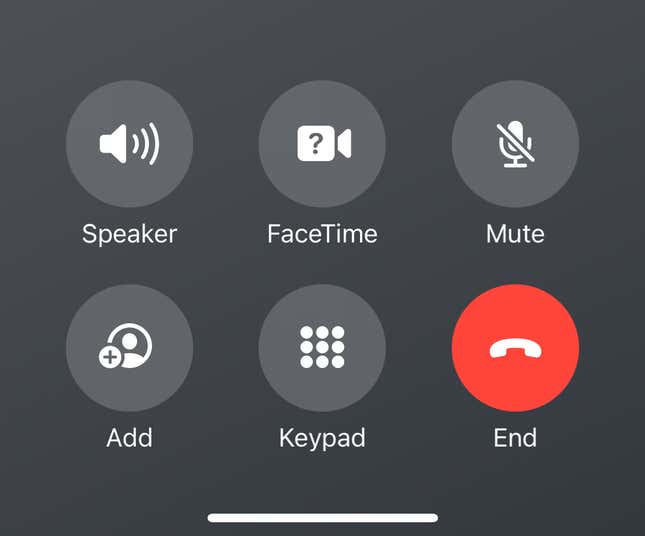 The latest iOS 17 beta 5 that Apple has allowed the legions of iPhone users to test out takes the large red end call button from the bottom-center of the screen—where it actually makes sense and has stood for years—shrinks it, and shoves it in the bottom right hand corner like a naughty child in time out. Most modern phones, including Android, use an end call button in the center of the screen. I'm predicting a swath of callers who will accidentally push the "Keypad" or "Facetime" buttons by accident.
Gizmodo reached out to Apple for comment on whether it will be sticking with this new call redesign in iOS 17, but we did not hear back. The new update coming to all phones should be available this September, around the same time Apple will share details on its iPhone 15 lineup. There's a whole smattering of sensible and fun features coming to the call function, including personalized contact posters, live voicemail transcripts, and video voicemails.
Now, this change might not stick around. As CNBC noted, Apple moved the browser bar in Safari from the top to the bottom of the app for its iOS 15 beta back in 2021, but by the time of release, the bar had been moved back.
The iOS 17 beta 5 also changed how the automatic voicemail transcriptions to use a more traditional "Your call has been forwarded to voicemail" response by default instead of the first four betas telling people on the other end "The person you are trying to reach might pick up." This does show that Apple is listening to feedback throughout this open beta process.
The next iOS version is making other small changes to the UI, like a new animation for AirDrop and the new ability to share contact posters by holding an iPhone next to another user's for a few seconds. There may be more in store for Apple's phone products, but we'll have to wait for the finalized version once Apple reveals what it's been up to with the iPhone 15.
---
Want more of Gizmodo's consumer electronics picks? Check out our guides to the best phones, best laptops, best cameras, best televisions, best printers, and best tablets. If you want to learn about the next big thing, see our guide to everything we know about the iPhone 15. Click here to save on the best deals of the day, courtesy of our friends at The Inventory.