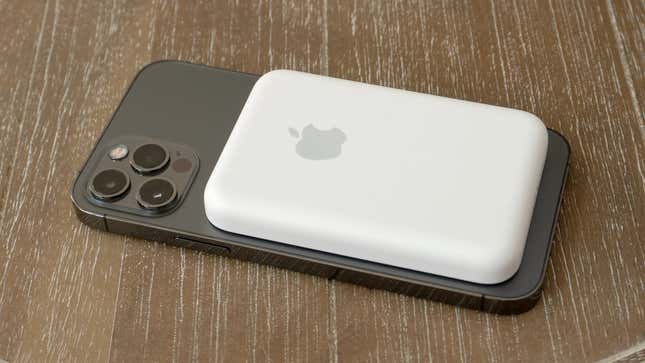 Batteries still suck, especially if you're trying to keep costs low and not weigh a device down with unnecessary lithium. That's a problem for Apple and its upcoming mixed-reality headset. In his latest newsletter, Bloomberg's Mark Gurman offered a few more hints of what could be coming down the pike with Apple's AR/VR headset, and it's becoming increasingly clear the device's long-rumored external battery could be one of the main weak points for a device expected to cost close to $3,000.
The iPad Air with M1 Is the Tablet to Buy
Though rumors from respected analysts like Gurman have speculated that the headset's battery will slip into users' pockets and connect via a wire to the headset, this latest report mentions the battery will be no larger than Apple's own MagSafe battery pack charger, about two-thirds the size of an iPhone and a bit thicker. The longtime Apple analyst said the Cupertino company wants to reduce weight and size, but that the battery will only be able to power the headset for "about two hours."
The headset is packing twin 4K displays and Apple M2 silicon, meaning it draws quite a lot of power. It's especially surprising from Apple, especially since a long battery life has been a main selling point of its other M2-based products like the MacBook Air and MacBook Pros.
But wait, there's more. The pack can only be charged with a USB-C connection, and the device will come with the same adapter as a MacBook Pro. According to Gurman, the new headset will have two ports, one for a USB-C connection and another proprietary charging port. That connection is meant to lock in to prevent unwanted disconnection while strutting around with the headset.
The battery pack reportedly includes a cable that cannot be separated from the charging pack. This doesn't necessarily mean users won't be able to hot-swap another battery pack to extend playtime, but that inseparable wire would make things more cumbersome than the ideal.
What Apple is reportedly doing puts a spotlight on the inherent inadequacy of modern battery design. Meta's $1,000 Quest Pro gets about 2 hours of time before charges, while the cheaper, less-capable Quest 2 can get around 2 to 3 hours of playtime. The upcoming HTC-designed Quest Pro competitor is supposed to be more lightweight with the same 2-hour battery life and no rumors of an external pack. Thing is, if you're going to force me to snuggle an external battery pack at my hip, I'd want something that offers more than its contemporaries. Hell, you'd be wise to give me something that can last at least as long as it takes to watch The Irishman.
Apple is likely to show off this headset at the upcoming WWDC 2023 conference, which means it needs to really wow the crowd with what's available on this $3,000 headset meant to combine altered and virtual reality capabilities. Gurman wrote it will come stock with multiple stock iPad apps redesigned for mixed reality, including Books, Camera, FaceTime, Mail, Music, Safari, and more. The company is also including a Fitness+-like wellness app that will probably incorporate some health and fitness features as well as separate applications for live sports and gaming.
Beyond if the headset has actual working eye and gesture controls or connection to other Apple products, the headset's success could depend on the available apps. When Apple first released the iPhone, it didn't come with an app store. It might take some time for Apple to figure out what users actually want for any new headset, or at least from all those with thick enough pockets to both pay and play its ultra-expensive AR device.