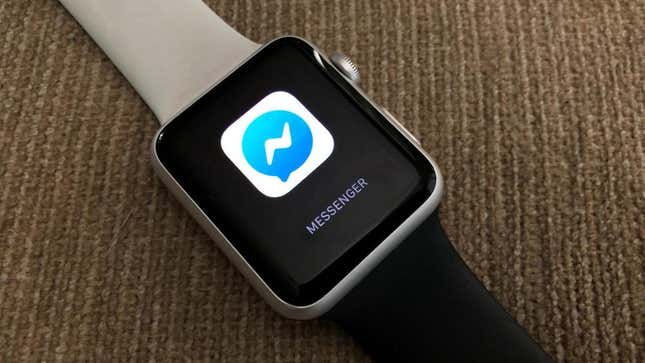 Meta's Messenger app is disappearing from the Apple Watch beginning May 31 although users will still be able to see incoming messages. The app's removal means that users will no longer be able to respond to Facebook messages on their watch and will instead need to defer to the app on their iPhones.
Making the Facebook Papers Public
"People can still receive Messenger notifications on their Apple Watch when paired, but starting at the beginning of June they will no longer be able to respond from their watch," a Meta spokesperson told TechCrunch. "But they can continue using Messenger on their iPhone, desktop, and the web, where we are working to make their personal messages end-to-end encrypted."
The Messenger app was introduced on the Apple Watch in 2015 with the option to send audio clips, stickers, and smartwatch response prompts but didn't allow the wearer to send text responses. But if you've used an Apple Watch, then you know trying to type a message on the little screen isn't a super fun or easy thing to do anyway. In recent years, more messaging apps have begun to shy away from their watch counterparts, including Slack, Twitter, Uber, and Instagram, which require users to access their phones to fully view and access the app.
People have taken to social media to vent their frustration that Meta would remove the Messenger app from their Apple Watch, questioning if they can't text on the device, then what's the point in spending money on it. "Why is Messenger leaving Apple Watch?" one person wrote on Twitter, adding, "Nobody wants an Apple Watch If you can't text on it. If that's the case going to getting a cheap one would be just as beneficial."
Yet some expressed it's mere nostalgia for the Apple Watch apps which makes them sad to see the app go. "This kinda sucks. The Messenger app was never great but I always hate seeing native Watch apps go away," another person wrote on Reddit.
The change comes as Meta's messaging app, WhatsApp, is creating a WearOS app that is compatible with an OS-based smartwatch. The addition will allow users to not only check their messages on their watch but will also have end-to-end encryption which WhatsApp is renowned for.
It isn't clear if the Messenger app's layout or accessibility was at fault for Meta's decision to remove it from the Apple Watch, or if the company is simply shifting its focus to the widely popular WhatsApp addition. Meta has also not explained why it's removing the Messenger app or if the change will apply to the Android Watch as well. Meta did not immediately respond to Gizmodo's request for comment.