When Nikola Tesla invented his coil in 1891, he probably never imagined the ominous structures taking the place of the violin or French horn. But with time, anything's possible. Music trio ArcAttack adds its own spin to Tesla's dream machine.
We gather around the group in a circle, about 8 or 10 feet away from the Tesla coils as the band performs. This is not some "don't want to dance in front of the stage" kind of teenage awkwardness—if you stand too close when the band plays, you might actually get electrocuted.
When the lights go down, a loud buzz generates, followed by streaks of lighting into the air. Then the music begins, followed by the sound of drums that are precise as can be. What follows is an overload of light and sound that is pure amazing, a melange of familiar melodies from our favorite video games (Mario and Zelda themes), TV shows (Airwolf) and pop songs ("Sexyback").
Once the band stops playing, we still can't roam freely. First, they must discharge the coils, ridding them of any stray lightning bolts that might be trapped inside.
G/O Media may get a commission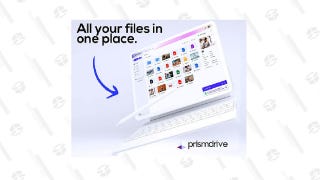 Save 97%
Prism Drive Secure Cloud Storage: Lifetime Subscription
/
Consisting of a pair of Tesla coils—plus a pair of LED-equipped robotic drums and an Open Labs sound console—the ArcAttack experience is largely automated, suggestive of a future era when a musical performance isn't about the people playing the instruments, but rather the technology involved.
ArcAttack hails from Austin, Texas and certainly don't fit the mold of what most consider a band should be. But that's a good thing.
John Di Prima is the man behind the boards, responsible for the execution of the live show. He controls the coils and drums, plus mixing in a few new sounds during the set. He's also responsible for most of the songwriting and drum programming.
Patrick Brown, aka Parsec, is the master of ceremonies, decked out in steampunk-esque attire consisting of a Faraday Suit with a string of lights that react with the Tesla coils, plus the requisite lightning-proof goggles. He's the link between the crowd and the show. He found the Di Prima brothers at an Austin Burning Man event and jokes that he's managed to not get kicked out yet.
Joe Di Prima designs, builds and maintains everything for the group, serving as the technician when the show is on the road. When they're composing and recording, he plays guitar. With a background in electronics repair, Joe eventually linked up with the engineering department at the University of Texas, where he first learned about the magic of Tesla coils.
I took a few minutes to interview ArcAttack—what makes them who they are—besides the Tesla coils, of course...
——-
Gizmodo: What does your setup consist of?
Joe: It would be two DRSSTC (Dual Resident Solid State Tesla Coil) units which are MIDI controlled. There's a fiber optic cable running to some digital logic boards that are in the Tesla coils.
John: The Open Labs MiKO MIDI console hosts the PC Software (Fruity Loops) that we use to actually sequence the music.
The MiKO is just a Windows machine with a bunch of nice MIDI interfaces, cased in metal—which is nice because we have a lot of EMF emitted from the coils. I actually used to run it off my laptop, but it would crash all the time.
Patrick: The drum machine has a solenoid for every drum, and they're MIDI controlled also...from the MiKO.
Gizmodo: How did you get the idea to create a musical show using Tesla coils? Had it been done before this?
Joe: When we did it originally, it was the first time it had been done in this manner. There are a few ways that you can audio modulate a Tesla coil—this way is known as PRM modulation. Now there are a few dozen people that picked up on it, but nobody does it to the scale that we do. It's still fairly new, and surprisingly still fairly unknown.
When I first saw a solid state Tesla coil in operation, I understood how it worked. After a few minutes of playing with it, I got the idea that, many years later, I put into practice.
Gizmodo: Who are some of your musical and tech influences?
John: Well obviously Nikola Tesla. For music, we all have pretty different tastes. But the cool thing with our project is that we can do anything from Pantera to the Chicken Dance and people would dig it. I listen to electronic rock, Kraftwerk, Daft Punk...if I could do a show with Daft Punk, you could shoot me afterward.
Joe: I didn't know what music was until three years ago. For tech influences, hard to say, but Faraday, all my mentors at all the repair shops, my dad (who was a biomedical engineer) and Steve Ward, the father of the DRSSTC, who I met at the University of Texas.
Gizmodo: What are some of the weirdest/favorite/disastrous shows you've played?
John: Joe had to tackle a cop once.
Joe: Yeah the cops had come shut down this rave we were playing at, and the Tesla coils were still running. He was coming over to shut our stuff off, not knowing exactly what it was, and he was walking straight into the Tesla coils. So I grabbed him and pushed him back. Amazingly he did not Tase me. He was actually kinda grateful. Funniest part is, after they kicked everyone out, they walked around and asked if we could turn the stuff back on.
Patrick: My favorite show so far was when we played DragonCon in Atlanta a few weeks ago. We did the Mad Scientist Ball. We had our big Tesla coils and a Faraday cage, and revealed our new stage show, which assisted people in transforming themselves into true joy...by being bathed in the Tesla coil rays.
During our stage performance, there were about 15 people that we put into the cage, and this one guy named Dr. Satan had big metal wings that he put onto his back. We get him up there, but the cage is kinda small, and he has metal sticking out all over his body. So we tell him "don't move." Soon the entire crowd started chanting along. That was pretty cool. [And obviously Dr. Satan lived through it.]
John: We were in the Netherlands for two weeks, and we played a heavy metal fest where they put us in front of this church that was lit all demonic looking. On our stage, there were these big glass viewing areas where you could see the deceased founders of the town. I think that's pretty much the most epic thing ever. Heavy metal music through lightning over visible graves.
Q: What is the one gadget you can't live without?
Joe: My iPhone.
Patrick: My Dell laptop.
John: The Open Labs MiKO console. If it was human, I'd marry it.
Gizmodo Gallery 2009
Groupe
267 Elizabeth Street
New York, NY 10012
Gallery Dates:
September 23rd-27th
Times:
9/22 Tuesday
Media Day by appointment only. For info please contact gallery@gizmodo.com.
9/23 Wednesday
12-8
9/24 Thursday
12-8
9/25 Friday
12-8
9/26 Saturday
11-8
9-? - Live Musical Performance
9/27 Sunday
11-6
Read more about our Giz Gallery 09 here, follow @gizgallery on Twitter and see what else we'll be playing with at the event.And special thanks to Toyota's Prius — without their sponsorship, there would be no Gizmodo Gallery.