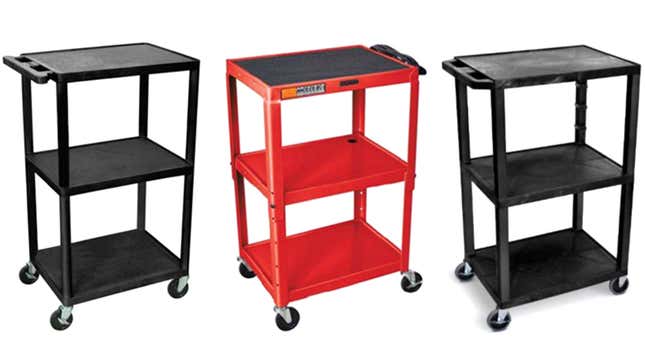 The only thing more attractive to 5th graders than snow days are the days when the teacher wheels an A/V cart into the classroom. Even educational videos are a welcome reprieve from a teacher lecturing at the whiteboard, but according to the Consumer Product Safety Commission, a new recall means there's now reason to fear even the beloved A/V cart.
The Boogeyman's Sophie Thatcher Reveals What Draws Her to Dark Characters | io9 Interview
Although modern schools are now equipped with TVs and even video projectors installed in every classroom, many older schools still rely on tall carts stacked with TVs, VCRs, DVD players, and laptops, which get rolled into classrooms as needed. They're supposed to be used to show educational content, but many of us probably (fondly) remember days, usually when the teacher was sick, when we were just shown movies.
But today, the Consumer Product Safety Commission shared details of a recall by Luxor Workspaces of 84,700 of its Luxor A/V carts, some of which were sold as far back as the early 1980s, because the "carts can become unstable when loaded with heavy objects, such as cathode-ray tube televisions (CRT TVs)." Tragically, between 2006 and 2016, there have been three incidents of children dying, and one being seriously injured, when the "recalled A/V carts carrying a "box" shaped television (CRT TV) tipped over and landed on them."
Schools, offices, and consumers are urged to stop using the A/V carts immediately, and the specific models that have been recalled are listed on the CPSC's website. Luxor Workspaces is offering free repair kits for the carts that include "metal ballast kits, which should be installed by the consumer to the lower shelf of the cart to add stability and weight." The kits will also include "warning labels cautioning consumers to place no more than 25 lbs. on each shelf." The recall also emphasizes that consumers should, "disregard any instructional or marketing materials related to the suggested weight limits for the products."

Update 4/14/2023 at 12:56 PM:

Luxor has released a statement clarifying that "there have been no recorded incidents involving these carts and children since 2016," although the company admits that the drop in incidents is likely related to CRTs falling out of fashion in favor of lighter TV sets. Luxor says that most of its carts are now sold to businesses and institutions, where children are not present.

The company also clarified that the recall is voluntary, and asserted that its carts have always been "safe when used as intended and in accordance with the company's operating instructions and warning labels."