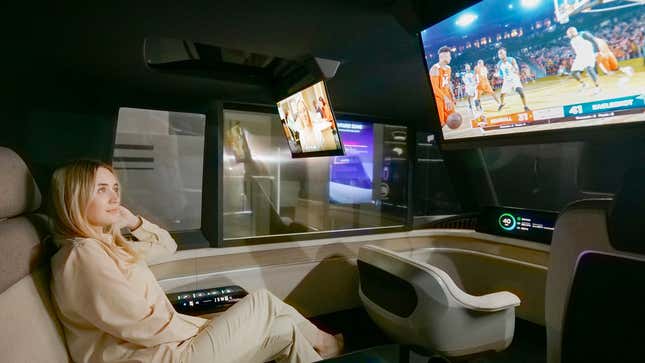 CES is a mixed bag of technologies you'll actually be able to buy in the coming year, and technologies you probably won't see realized for another decade. LG's display division really likes to let its imagination run wild at the show, and this year it's created a car of the future that leverages the flexibility of OLED displays to turn the backseat into a home theater away from home.
Samsung Shows Off First LaserSlim OLED TV
There are quite a few companies exhibiting at CES that seem especially excited for a future where autonomous cars are the norm, and a vehicle's passengers can instead focus on other distractions. Putting TVs in cars is far from a new idea—when I was a kid our family van had a beefy black and white set with a tiny screen mounted to a swivel on the ceiling—but today it's mostly limited to compact LCD screens in the dashboard, or mounted to the back of seats.
Last year, at CES 2022, BMW debuted a concept vehicle with a feature called the Theater Screen: a 31-inch, ultra-wide, 8K display that backseat passengers could use to watch two different movies side-by-side. The downside to the idea was that passengers don't always want a screen that size blocking their view, and the Theater Screen would flip up and out of the way into the BMW's padded headliner, at the cost of headroom in the vehicle.
At CES 2023, LG Display is proposing a better idea that seems like one of my childhood dreams come true. The company has taken the same flexible OLED technology found in its $87,000 retractable TVs, flipped it upside-down, and stuck it to the ceiling of a car.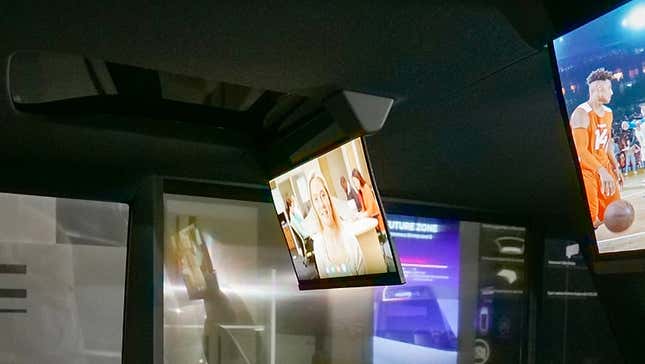 Its footprint when retracted and rolled up is much smaller than what's needed for a rigid LCD screen that flips out of the way, while still facilitating a generous 18-inch image that can be used for watching movies, TV, or even video calls. It's akin to those retractable sun shades you can suction cup to a vehicle's windows, but with the potential to make a two-hour drive feel like it's flown by in seconds.