If going to the theaters to watch The Killing Joke made you want to take a shower, Batman: Return of the Caped Crusaders will be more like a Mr. Bubbles bath. With toy submarines. And a puppy.

WB and Fathom Events announced that Batman: Return of the Caped Crusaders is getting a limited one-day movie release on Oct. 10, a few days after premiering at New York Comic-Con and one day before its digital release. This comes just a few months after Fathom Events held a theatrical release for The Killing Joke, the divisive R-rated Batman saga based on Alan Moore's comic.
Much like Batman '66 took us back to the nostalgic roots of the comic book series, Return of the Caped Crusaders pays tribute to Batman on TV. Adam West, Burd Ward, and Julie Newmar have stepped back in to reprise their roles as Batman, Robin, and Catwoman.
According to the plot description, the dynamic duo take on the Joker, Penguin, Riddler, and Catwoman in an epic but comical showdown to save Gotham City. The villains start a band. Our heroes are nearly killed by a TV dinner. Batman teaches Robin about the dangers of jaywalking. It's like a giant hug in movie form.
The showing also features a new featurette about the legacy of Batman's villains called "Those Dastardly Desperados." You can find out about times and theater locations here.
G/O Media may get a commission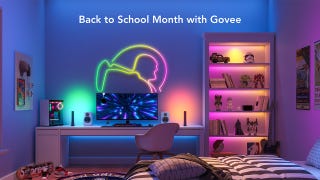 Back to School
Back to School Month with Govee Sale
After the mental and emotional exhaustion that was The Killing Joke, it'll be awesome to see some good old-fashioned campy Batman on the big screen again. The good kind, not the bat nipples kind.