Sure, we've seen a Japanese version of Spider-Man, but Wonder Woman artist Cliff Chiang has now created a Justice League straight out of 1970s anime and kaiju.
According to Chiang, this concept art almost became a reality a few years back. DC Comics did something sort of like this with The Super Young Team, but Chiang's art suggests something way more absurd. Racer X as Flash! Comedy!
This got a tiny bit of interest around the offices (this was a year prior to the Marvel Mangaverse) but it never went anywhere because they already had Chris Moeller's giant robot Justice League book in the works. Here, Batman is a wealthy but orphaned college student, the Joker is an insane visual kei rock star, and Superman is a giant robot controlled by the radio wristwatch of a young boy (the roles of Clark Kent and Lois Lane are filled in by the robot's nerdy creator and the boy's widowed mom). They're really shameless pastiches, but kinda funny too.
G/O Media may get a commission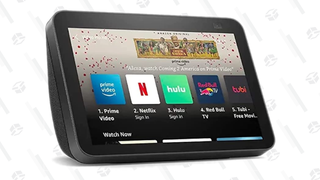 [Via Project Rooftop]