The "Troll's Tongue" is a spit of rock that hangs 2,300 feet above a lake in the Norwegian mountains. We started our journey there, backpacking into wilderness few people ever see. Here's how you can do it too.
I arrived in Norway two weeks ago to kick off an epic adventure around the world - wild camping wherever and whenever possible. I didn't have much of a plan for my time here, but on my first night in Oslo I met a couple of Irishmen at the hostel who had been backpacking and wild camping as well. They showed me a tattered, printed map with their loop around a massive fjord, and pointed to a marking labeled Trolltunga. It sounded cool, but I didn't know what they were talking about until they showed me printout of Trolltunga's Wikipedia page. "Oh. That's Trolltunga." Of course, I had to go.
My partner-in-crime, Daniel Bruce Lee (yes, that's his real name; yes, he is a martial artist) joined me in Oslo a week later and we didn't waste any time making our way out west to go explore what is more directly translated as "The Troll's Tongue."
G/O Media may get a commission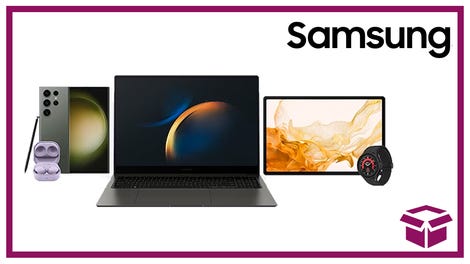 24 hour deals
Discover Samsung - Daily Deal
Why Go? Trolltunga is an epic natural monument to experience in person. If you do the day hike to it, you can take a photo out on the ledge that your friends will be jealous of and you'll have a new profile picture for the next year. However, if you want to experience something truly incredible, do a backpacking trip around its fjord. The surrounding high country is even more grand than the ledge itself.
I'm not entirely sure how I got there.

Day 0: Daniel and I traveled to Skjeggedal, the small town that Trolltunga is most closely situated to. A local bus dropped us off at its final stop, about 5km from the trailhead. By the time that we were walking up, the sun was starting to set so we continued until we found the first flat (flat is relative here) patch of ground around and cowboy camped on the side of the winding mountain road.
Finally out of the shrubs and into the high country.
Day 1: We woke around 8am, had a quick breakfast, and started hiking up an old pathway back to the road. I noticed that a car stopped at the bend just a couple hundred feet above us. We kicked it into high gear, not wanting to miss our ride. Daniel and I crammed into the back of the tiny SUV and rode with a telecommunications worker up to the trailhead; he dropped us off before heading to work.
Near the start of the hike, there's an action sports rental company (which I'd assume doubles as a gift shop,) a couple of parking lots, and a few bathrooms. There's also a water spigot, so we filled up before hitting the trail.
The hike to Trolltunga is 11km and begins with a steep climb out of the fjord. That section of trail reminded me a lot of climbing out of Yosemite Valley — specifically the hike to Upper Yosemite Falls. It was steep, rocky, and stepped. Even the vegetation looked similar. The climb however, was much shorter. Within an hour, we were leaving the shrubby plants and trees behind and entering the high country.
Along the way, we met an American couple from Nashville. The four of us hit it off pretty quick and we hiked together until reaching Trolltunga.
There's a nice ladder leading down to the ledge.

Trolltunga: From what locals told us, people will wait in a line that stretches back hundreds of meters for hours, just to get a photo out on the tongue. I can't really blame them — that is why most people hike to Trolltunga. However, that wasn't the experience for us. Maybe because it was the last week of the season, or because it was in the middle of the week — we didn't have to wait at all. There were a handful of people hanging out, taking pictures and admiring the view, but there was no queue. As soon as we were ready, we took turns going out onto the ledge doing poses and taking pictures. Then I climbed down to a lower ledge to photograph Daniel on the tongue from a different perspective.
Belay on! I was testing Daniel's trust.
As the sun set, the day hikers returned to their cars. Daniel and I had carried climbing gear and a rope with us on the trip, so we found a good opportunity to use it. I climbed back down to the lower ledge and set my camera up on a tripod, turned on my intervalometer, and started shooting. Then I climbed back up, went out onto the tongue, and set Daniel up on a belay, allowing him to lean out over the edge to get an epic shot. By this point, no one else was even around.
The Hyperlite Mountain Gear UltraMid 2 functions not only as a shelter, but as a work of art.
After getting what we wanted, Daniel and I set up camp near a small alpine lake a couple hundred feet from the tongue, on a bluff that overlooked the fjord below. Most epic campsite ever.
Daniel painted the Milky Way.
The sky was clear that night and the Milky Way was visible to the naked eye, so we seized the perfect opportunity to do some astrophotography. I wanted to capture a really unique image of Trolltunga, so I had Daniel stand out on the ledge in the dark and shine his headlamp up to the sky. He was painting the galaxy. We finally got to sleep around midnight.
Can't say I've ever had a more scenic campsite.
Day 2: We slept in, but rose before the sun crept over the ridge behind us. There were two other pairs of backpackers who had camped out the night before; all six of us were waiting for the first rays of light to fall upon the epic ledge. We were waiting…to pose nude. Once we got our final feel for the tongue Daniel and I went back to camp, made breakfast, packed up, and hit the trail.
Trolltunga rests on the rim of one side of the fjord. It's about 700m above the surface of the water below. The trail into the backcountry led us higher still.
Another realm? Nope, it's Norway.
We hiked over passes, descended into valleys, and crossed glacial plains — each one more stunning than the ones before. Daniel and I were constantly blown away by the grandeur of the landscapes we passed through. In a lot of ways, they reminded us of those seen in the High Sierra. In other ways, they were totally alien. It was amazing to witness past glaciers' dramatic effects on the landscape before us. Valleys that stretched for miles. Boulders strewn across the plains. We had never seen so many alpine lakes.
Even while carrying the gargantuan Gregory Denali 100L, Daniel was nimble as a ninja.
The first 11k of the Trolltunga loop was the most obnoxiously-marked trail I'd ever seen. Tourists had no hope of getting lost on their way to the tongue. Once we continued past that landmark however, it wasn't always the case. A good deal of our hiking would have been considered cross-country travel in the Sierra Nevada; yet we rarely used a map. This created a greater sense of adventure in our journey. Every once in awhile, we'd see a marker that let us know we were on the right track. We were okay with that.
Our hike eventually led us across a dam. Then to another. By this time, the sun was finally starting to set behind the next ridge, so we found a large alpine lake and camped on one of its peninsulas. Another starry night.
The new Jetboil MiniMo boils water quickly, can simmer, and packs down better than previous versions.
Day 3: Morning routine: breakfast of oatmeal. Break camp. Hike. To get to the lake, we traveled off-trail before crossing the second dam. We figured if we kept going straight, we'd link back up with the it eventually. In theory, our logic was correct. In practice, there was a 100m cliff blocking our way. I took off my pack and scrambled 30m down to see if we could climb to the valley below. We could not. Instead of going down, we went up. Up the side of a mountain. I figured the trail was on the other side; and the mountain was there, it was like a gravitational pull. This is "adventure travel" after all, right?
Daniel and I scrambled up a mountain, just because it was there.
The view from the top was incredible. We could see for miles in every direction, and I figured that we could probably find the trail up ahead too. With faith in our navigational skills, we hiked down the other side of the mountain; sure enough, we linked back up with the trail. Trail in this case meant hopping boulders for the next couple of kilometers. Once again, we were okay with that.
This guy was pointing to all of the mountains that he had already summited that morning.
It had been nearly two full days since we'd seen a single person. Deep in the Sierras, even in the off-season, you still see more people than that. So, we were surprised when a silver-haired Norwegian man and his dog came bounding down the trail behind us at a rate of speed that would best be described as purposeful. He stopped long enough to chat about the unseasonably-beautiful weather that we were experiencing together. His wife had dropped him off at the trailhead that morning; he and his dog had already summited three mountains by the time we met, and he was on his way back to the car. After our brief but welcome conversation, he bounded down the trail and before long was just a dot on the horizon. I swear he was actually the Dos Equis guy. Daniel and I both agreed that we wanted to be him when we grew up.
The fire kept Daniels hands warm, while the Adidas Outdoor Terrex Conrax CP Primaloft winter hiking boots did the same for his feet.
We made our way down into the valley below as the man and his dog disappeared from sight. They were replaced by a massive lake in the distance that would be our home for the night. Upon arriving at the lake, Daniel and I set down our packs and explored the area. From a bluff, we could see into the fjord below. The parking lot for the trailhead was within view, but we'd get there soon enough. While returning to our packs, we stumbled upon some decayed lumber that would fuel our first campfire on this trip. We set up shop near the water's edge and stayed warm by the fire, eating dinner as dusk turned to night.
The Brooks Range Mojave down jacket uses DownTek insulation, which allows down to maintain its loft and insulating properties, even in damp conditions.
Day 4: Strong gusts of wind shook the sides of our shelter, waking us before the sun did. We rose early and reveled in the lakeside view as the icy wind chilled us to the bone. Knowing that this would be our last day in the Norwegian wilderness for awhile, we took our time breaking camp before heading down the final stretch of trail into the valley below.
Summer had turned to autumn when we were in the high country, it seemed. On our hike up to Trolltunga, the leaves were green. Now, they were stunning hues of yellow, orange, and red. My favorite season was upon us.
Our descent was quick and we made it back to the valley in no time at all. We hiked around another dam to the place where our adventure began. After dumping our trash we started the 5km walk back to the village of Tyssedal, where we'd catch a bus. There would be no hitchhiking this time. Pavement pounding is the worst when you're coming from a trail, but at least the rain kept us cool.
The Outdoor Research Helium II rain jacket weighs just 6.4 oz, so it'll keep you dry without adding much weight or bulk to your pack.
What You'll Need to Bring: Backpacking gear. Being in the mountains in late-September, we knew that winter conditions could sweep down in a hurry, so we prepared for the worst. Full rain gear, double-puffies, and warm sleeping bags would protect us from the elements if conditions got rough. However, the weather was perfect throughout. Days were warm in the sun; nights were cold and crisp.
Because we were backpacking in Norway, we didn't need any permits or passes to wild camp.
There were tons of alpine water sources along the way. Lakes, streams, and waterfalls were never far off, so we didn't have to carry much. Use discretion as to whether or not you need to treat your drinking water. The man with the dog didn't; he just carried a small cup he had fashioned from a gourd.
I'm carrying my life around in the gargantuan, waterproof Mountain Hardwear BMG OutDry 105L pack for the next several months.
How Do You Get There? We traveled to Trolltunga from Oslo, where I met Daniel. These were our steps:
From Oslo S (Central Station) take the NSB Bergen Railway to Voss. It's reasonably priced; our tickets were about 200 NOK, roughly $30 USD each (some specific departure times are cheaper than others.) The cars have electricity and WiFi, and the views are stunning as you travel throughout Norway from east to west.
From Voss, take the local Skyss 990 bus from the train station (it departs from out front) to Tyssedal (depending on your timetable, there may or may not be a transfer in-between.) It cost us about 200 NOK each and you can pay with cash on board.
From Tyssedal, you can take another local bus (Skyss 995) farther up to Skjeggedal to save a few kilometers of walking, or try to hitchhike like we did. There's only one road going up there so chances are that anyone who passes is heading to the same place that you are.
What Should You Do While You Are There? Explore! The Hardanger region where Trolltunga lies is full of mountains, fjords, and lakes. An expansive trail system will take you almost anywhere within the region. If we had more time, we would have gladly lost ourselves in there for weeks. The landscapes were stunning, and I was dying to climb some of the glaciated peaks off in the distance.
There are several local guiding companies around Odda that offer ice climbing and glacier trekking tours, as well as a plethora of other adventure activities if you're looking for some more direction.
We hiked around the entire perimeter of the lake along the trail. Download a GPX route of the trip.
What We'd Do Differently: Stay longer. We already had flights booked for Iceland from the nearby city of Bergen, but if we had more flexibility we would have gladly spent another week or two exploring the Hardanger region.
Photos: Chris Brinlee Jr. and Daniel Bruce Lee. Follow along with their journey on Instagram: @chrisbrinleejr, @danielbrucelee.
IndefinitelyWild is a new publication about adventure travel in the outdoors, the vehicles and gear that get us there and the people we meet along the way. Follow us on Facebook, Twitter, and Instagram.