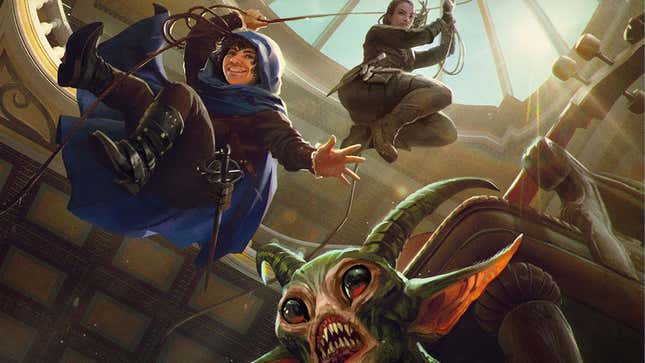 Today Dungeons & Dragons, a subsidiary of Wizards of the Coast, announced the next book in its quarterly publishing schedule: a heist-themed adventure anthology titled Keys From the Golden Vault. The book has been in production for years, and while its release date is unfortunately close to the controversy surrounding D&D's updated Open Gaming License, it's no surprise that the company is moving forward with the publication.
Gillian Jacobs Reacting to Her D&D Character Sheet From Community | io9 Interview
The book will contain 13 adventures that focus on stealing, burglary, and general item recovery. There will be adventures designed for characters up to level 11, and they can be played in order or as one-shots. This follows a recent spate of anthology adventures from Dungeons & Dragons, including Candlekeep Mysteries and last year's Journeys Through the Radiant Citadel. It will include maps and pointers for anyone
In this book, the clandestine Golden Vault is an ultra-secret thieves' guild that specializes in putting together crews for any heist, big or small. The game is set up so that it is world agnostic and can be in any D&D setting or homebrewed world. The adventurers will "emphasize player choice" within the format, and offer multiple ways to succeed.
The timing for this kind of book is pretty terrible, considering the fate of the Open Gaming License is still in the air, and there has been no more communication from Wizards of the Coast since it offered the OGL 1.2 up for community feedback last Thursday. Regardless, the machine must churn on.
Keys From the Golden Vault will release February 21; it is currently available for pre-order.
---
Want more io9 news? Check out when to expect the latest Marvel, Star Wars, and Star Trek releases, what's next for the DC Universe on film and TV, and everything you need to know about the future of Doctor Who.