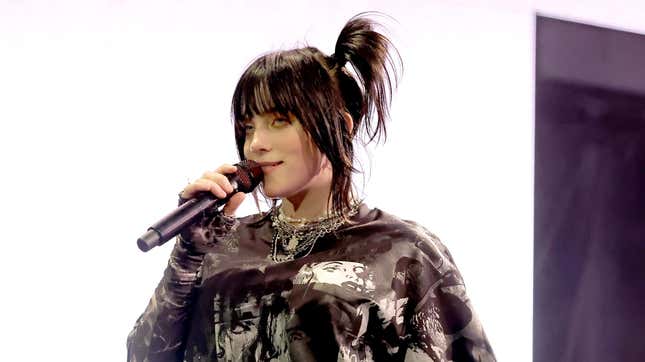 Pop superstar Billie Eilish's home address in Highland Park, California was reportedly leaked to thousands of people via a push notification from Citizen, an app that allows users to monitor crime and breaking news events in real time.

Andrew Callaghan on His Radical Approach to Interviewing
Last night, an incident in Highland Park, California was reported at 9:15 p.m. PST and a push notification was sent out on the Citizen app, after police received a 911 call of a residential burglary. A report from KTLA says that the call came from the home's housekeeper, who wasn't home but received an alert from a device that showed the suspect on camera. Fifteen minutes later, police apprehended the suspect who reportedly fought with law enforcement before he was taken into custody.
Shortly after that, the identity of the homeowner was revealed by police to be pop singer/songwriter Billie Eilish's family home. The buck didn't stop there, however, as, per Vice, the push notification included the exact address and was sent to over 178,000 people according to the app's metrics, with nearly 78,000 users actively viewing that notification.
But on Friday morning the Citizen app suddenly changed the address of the incident, removing the actual address and instead opting to only note the cross streets: "The address reported for this incident has changed to Meridian St & N Avenue 57," at 7:24 a.m. PST.
The ability for Citizen to reveal home addresses on its platform does raise some red flags, especially for a figure such as Eilish, who is a well known celebrity. The homes of celebrities like Sandra Bullock, Mariah Carey, Taylor Swift, and Simon Cowell have all been reportedly broken into, and in some cases these suspects have been alleged stalkers and/or carried weapons.
While celebrity addresses are usually not too hard to find on the Internet, there is something to be said about Citizen actively identifying the address of a popular celebrity and notifying upwards of 178,000 users of that address. Citizen's privacy policy does make mentions of location data with claims of storing personal data to "as short a duration as possible," but this only applies to app users, not those involved with crimes reported on the app.
Citizen did not immediately return Gizmodo's request for comment.