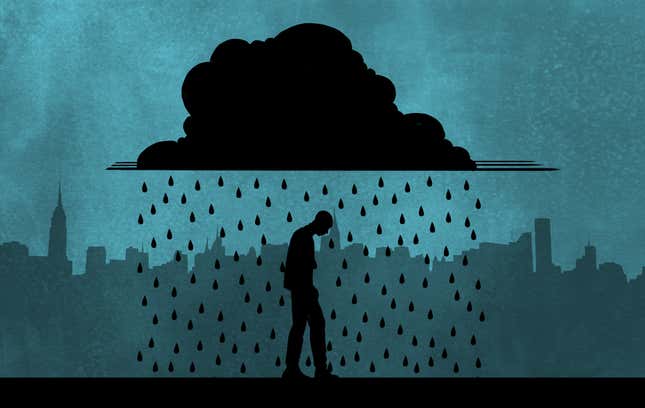 While sitcoms are full of New Yorkers gabbing about therapy, the reality is that many people in the city suffer from mental health issues that go untreated. Health data gathered by city mental health workers shows that one group is overwhelmingly neglected: black New Yorkers.

Vizio's Latest TVs Go All Quantum
Every year since 2002, New York's Department of Health and Mental Hygiene has conducted the Community Health Survey. Researchers call a representative group of people from all 34 neighborhoods in the five boroughs, asking questions about their habits, health and demographics. In one part of the survey, researchers asked participants whether they've ever been told by a doctor they have depression. In another, researchers ask participants whether they've received mental health treatment, whether it be medication or counseling, in the last year.
Many variables are at play when it comes to neighborhood access to mental health care. But what this data shows is that the racial makeup of a neighborhood is strongly correlated with residents' lifetime depression rates–as well as how often people in those neighborhoods get treatment.
The chart below reveals what statisticians call a "significant" relationship between the percentage of people of color in a neighborhood and treatment rate for depression over a 12-month period (A p-value less than .05 denotes a significant relationship, meaning that there is only a small probability that whatever you're testing happened by chance). As you can see, as the percentage of people of color rises, the rate of treatment decreases.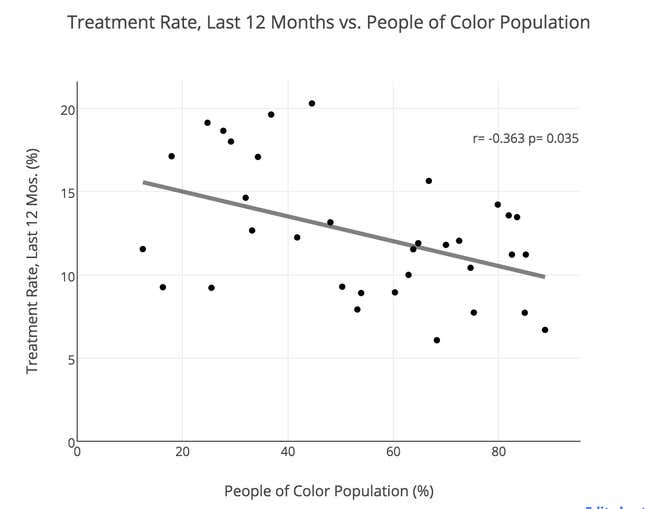 Full graph available here.
When comparing a neighborhood's people of color percentage to its lifetime depression rate, the data doesn't quite reach significance because the p-value of .065 is larger than .05, but there is a definite trend: neighborhoods with greater populations of people of color have lower lifetime depression rates. While an average of around 17 percent of people in the U.S. experience depression sometime during their lives, some of these neighborhoods with greater percentages of people of color, like Jamaica and Flatbush, have much lower rates that do not reach the double digits.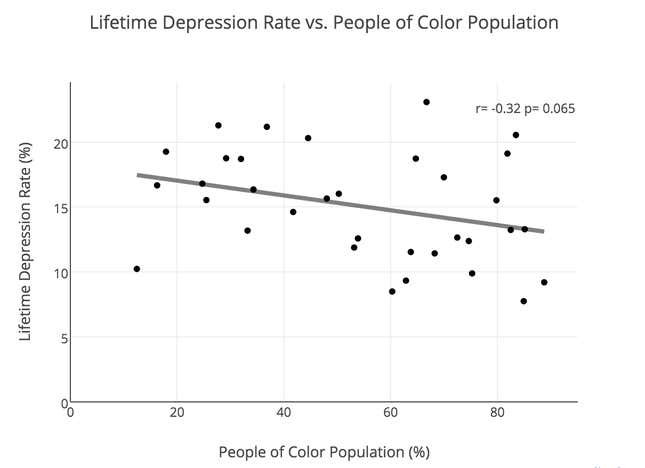 Because the p-value of .065 is greater than the significance cutoff of .05, there is not a significant relationship between the proportion of low income people in a neighborhood and the treatment rate in that neighborhood. However, a p-value of .065 shows that there is a trend between the variables. Full graph available here.
Black People Are Not Diagnosed
A neighborhood's specific ethnic breakdown also reveals how diagnosis and treatment vary. There is a significant relationship between the percentage of black people in a neighborhood and the percentage of people told by a doctor they had depression. Put simply: in neighborhoods with more black residents, fewer people had ever been diagnosed with depression.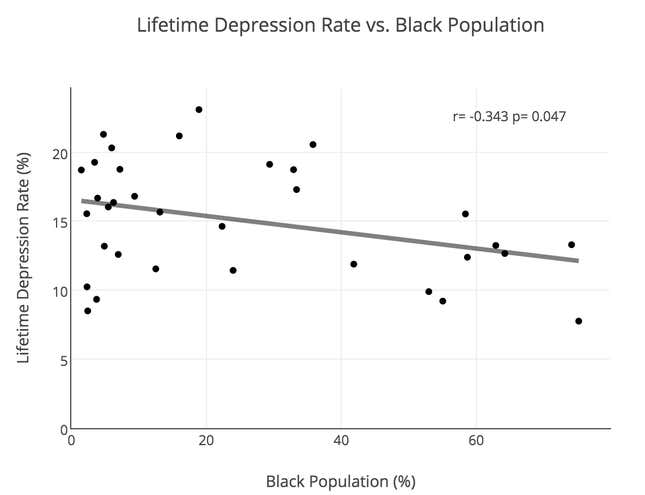 Because the p-value of .047 is less than the significance cutoff of .05, there is a significant relationship between the proportion of black people in a neighborhood and the lifetime depression rate in that neighborhood. Full graph available here.
Full map available here.
The same is true when comparing a neighborhood's percentage of black people and its treatment rate within the last year. In neighborhoods with greater proportions of black people, fewer people were treated for a mental illness.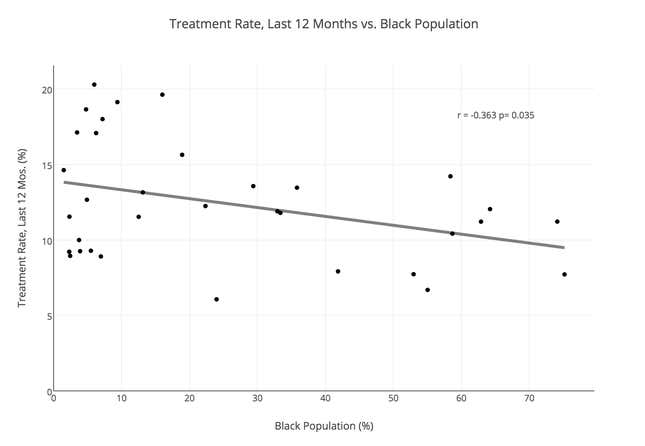 Because the p-value of .035 is less than the significance cutoff of .05, there is a significant relationship between the proportion of black people in a neighborhood and the treatment rate in that neighborhood. Full graph available here.
Full map available here.
When comparing recent treatment and lifetime diagnosis to a neighborhood's percentage of other ethnicities, however, a different picture emerges. There isn't a significant relationship between the percentage of Hispanic or Asian people in a neighborhood and its lifetime diagnosis or recent treatment rates. These lifetime rates seem to match those of the general population, with some exceptions by specific neighborhood.
Possible Causes
So what is causing these discrepancies? Are New Yorkers in neighborhoods with lower lifetime depression rates and treatment rates happier? Anything is possible, but probably not. It most likely means there is a lack of diagnosis occurring in these neighborhoods, which could be caused by the stigmatization of mental illness or a lack of treatment options.
One study of more than 78,000 people showed that people of all ethnic minorities - including black, Hispanic and Asian people - were not as likely as white people to believe that depression has a biological cause or that medication could treat it. They were more likely to believe that counseling or prayer are effective treatments and that antidepressants are addictive.
Another variable that affects mental illness is poverty. The scientific literature shows that as poverty increases, mental illnesses do, too. One 2011 meta-analysis of 65 studies showed that there is a strong relationship between indebtedness and mental health, with those who have the most debt having an increased risk for depression, psychotic disorders, neurotic disorders, suicide attempts and completions, as well as substance abuse.
And among adults who had a severe mental illness but did not receive treatment in 2012, almost 71 percent said it was because they could not afford it.
The data from the Community Health Survey shows that there is not a significant relationship between the number of low income or impoverished people in a neighborhood, and lifetime depression or treatment.
In fact, New York has many low-income health centers in impoverished areas. Government agencies in the city appear to have paid attention to those studies and have put more health centers in places with more poverty.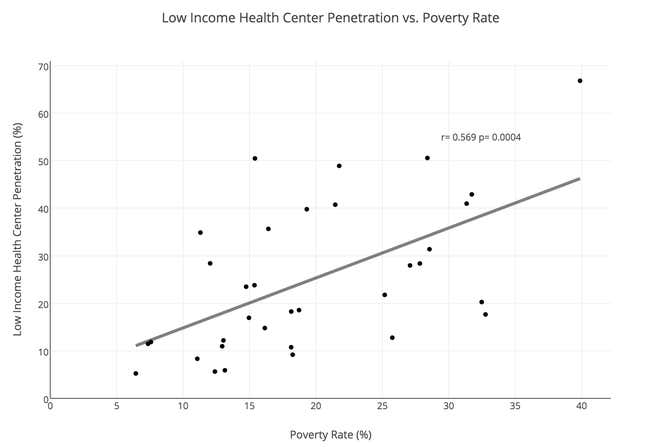 Full graph available here.
But this data overall shows New York has a distinct lack of adequate healthcare and outreach in neighborhoods with greater populations of black people.
For many disorders, there's a PSA campaign to raise awareness. For women with heart disease, it's American Heart Association's "Go Red for Women" campaign. For HIV/AIDS, it's the simple slogan "Get tested." It's harder to make an effective campaign when it comes to mental health.
Social Stigma
Partly that's because many people still believe that disorders like depression are "all in your head." If you just thought about happy things, you'd get better.
That idea is just one part of the social stigma against mental illness, and even though things are changing, it still prevents people from seeking diagnosis and treatment for depression. One study found that 70 percent of those who had self-reported symptoms of depression did not receive medication or counseling. Only half of the people who had severe symptoms did.
The higher rates of mental illness in these neighborhoods may really be a symptom of the historic governmental policies that have broken social bonds, according to Mindy Fullilove, a professor of clinical sociomedical sciences at Columbia University. She told us by phone that this is especially true within systems of segregation that create an unequal sharing of resources. Although people make strong social bonds within groups, across groups, the bonds are nonexistent, which further perpetuates inequality.
Co-director of Columbia's Center for the Study of Social Inequalities and Health Bruce Link agrees. He told us:
The multifaceted ways in which discrimination is exercised and the way people are put down and not given the same kind of opportunities in society can be chronically stressful to people. It's generative of symptoms of depression and anxiety and so on.
Fullilove points to the policy of urban renewal, practiced famously by New York City developer Robert Moses. Urban renewal condemned "undesirable" neighborhoods, often highly populated by minority groups, and forced its existing residents to relocate in the name of "higher uses." Fullilove gives the illustration of the West Side tenements that were bulldozed to build the Lincoln Center as an example of this policy.
"That disperses people and destroys all the things they had created in the community, churches and businesses, and creates a real diminution in people's wealth. You have destroyed the social integration that was the foundation of health and created a much more unstable situation," Fullilove said. "The people won't be as mentally healthy as they would be if you hadn't done that."
But the fundamental issue that needs to be addressed access to resources.
The Road Ahead
New York State Psychiatric Institute epidemiologist Myrna M. Weissman said, "Depression is an equal opportunity disorder. The disorder itself crosses all sorts of barriers. But treatment is not equal opportunity. "
The city is trying to address this problem with its Mental Health Roadmap Initiative. Since January of this year when the program was announced, the De Blasio administration and the Department of Health and Mental Hygiene have been examining the data and talking to people throughout the city to determine where mental health treatment services are needed. And at the end of July, Mayor de Blasio announced a $30 million public-private fund called the Connections to Care initiative that will use 12 community service providers to seek out and identify low-income residents who have substance abuse and mental health disorders. The administration says these new systems won't be in place until spring 2016.
Earlier this month, the administration released a report about the challenges facing New York City when it comes to addressing the pressing needs of those with mental health issues. Unfortunately, most of the content is in a list of statistics, based upon data unavailable to the public, and relies heavily upon national statistics to make broad generalizations about the state of mental health in NYC.
The accompanying press release for that report said that in the coming weeks, a program called ThriveNYC, which was the result of the city's past year of data crunching, will serve as a "comprehensive roadmap for promoting mental health in New York City."
And while this new data reinforces the issue but doesn't give specifics, the publicly available data shows that there is more need for mental health services in communities with greater proportions of black people.
Hopefully, the government will act so that it's not just high income white people who get the help they need.
Illustration by Tara Jacoby