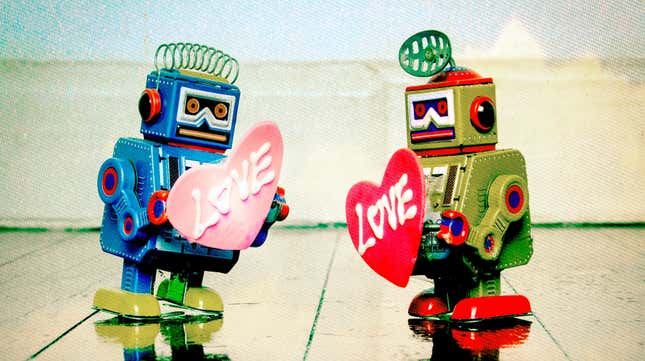 Artificial intelligence is a hot subject in tech, and with more AI "companion" apps hitting the marking, that's more true in multiple ways. The folks behind the AI friend replacement service Replika have a new app that wants to cover the growing demand for digital dating. Though Replika has tried to limit users' ability to make sexy talk with their chatbot, the "Blush" app is supposed to respond to your bad pick up lines and bad jokes as "practice" for the harsh world of real online dating.
This Giant Company Owns Almost Every Dating App
The app claims to be a tool for helping users learn how to talk and flirt in today's online-centric dating world, though knowing how Replika users can potentially treat their AI companion as more than just a friendly face, there's room for new users looking for love in all the wrong places. Blush is only available on iOS through the App Store, and the store page insinuates that users can "Let your desires take the lead" with more than 1,000 "AI Crushes" available to match with.
The Blush app first debuted in December of last year, and some early users on the r/replika subreddit initially reported it had a very similar experience to Replika, though it instead presented tries to simulate an actual dating app with a parade of supposed "matches."
That early release was confined to select users in different countries, and in a Wednesday release, the app maker Luka claimed Blush was entering an "open beta." Replika's chief product officer Rita Popova told Gizmodo via email that the app has been updated with more generative AI capabilities since Blush's initial release "enabling us to bring a new level of complexity and realism to the characters." The developer also claimed they worked to make the date interface more private and worked to protect user data.
Replika users were up in arms over supposed changes made to their favorite AI "friend" limiting the companion's ability to make sexy talk. Some of those users maintained that beyond the flirting, the AI offered a "refuge from loneliness." Italy had previously banned the personalized companion chatbot claiming it posed a risk to minors.
According to developers, the app is designed to be an alternative for Replika users seeking intimacy through AI. Popova told Fast Company, "We decided that it wouldn't be right to try and have it all in one app, to try and make Replika the everything friend, a companion for everything."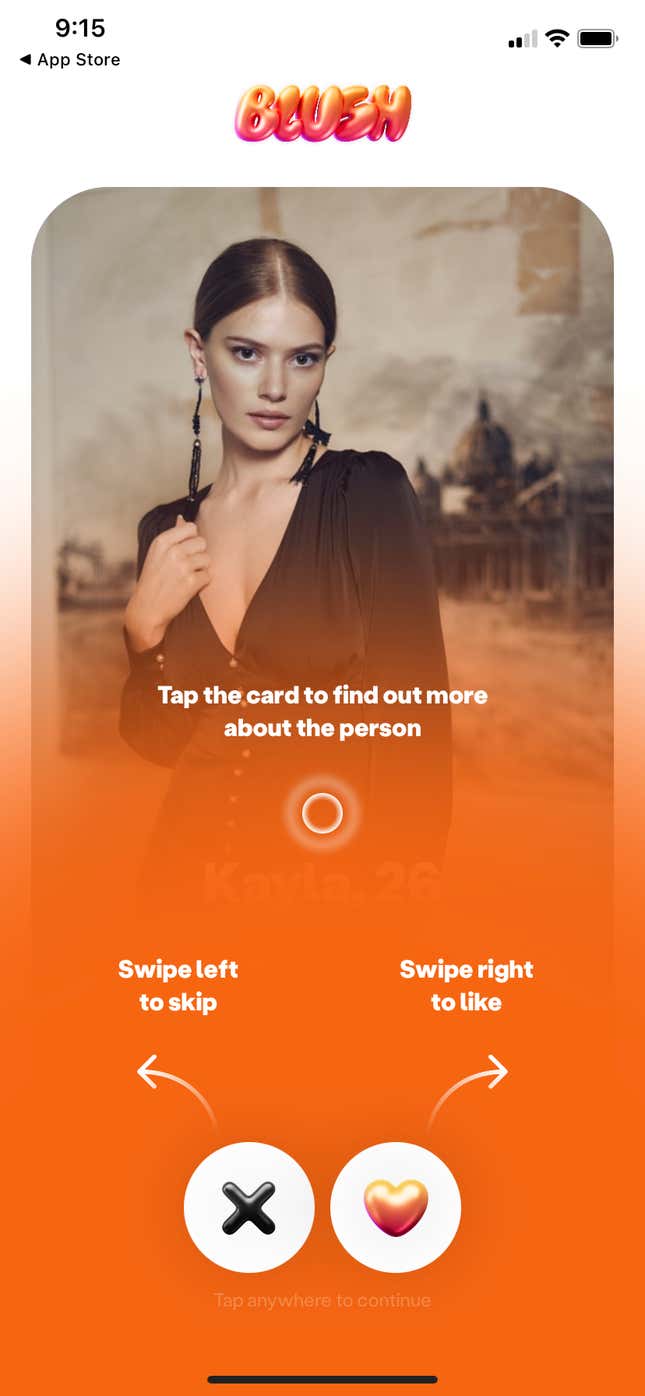 In her email, Popova said that matching and chatting with up to 10 characters is free. Users who want to have unlimited AI characters in their feed and the ability to go on "dates" with these chatbots can sign up for a free, three-day trial which becomes a $99-a-year subscript
When signing up, users are asked a few prompts about what kind of date they're looking for, including if they're seeking a more or less intimate dating scene, what kind of activities they like to do, and even if they want a dominant or submissive relationship. Inside the app, it doesn't seem much has changed since users first got their hands on it back in December. Before users start swiping and chatting with these fake AI personas, they're greeted with a stock image of a young woman and told they can swipe left or right on potential matches, and if they click on the main image they can learn more about that persona.
Once users swipe right on their first AI date, they're shown the message "Be aware that AI can say triggering, inappropriate, or false things" and are further warned not to share any sensitive or confidential info with the chatbot. When one Gizmodo staffer matched with the bot named Tim, it asked "So, what is such a nice person like you doing here?" as if he were the most boring person making the rounds at a company mixer. When she replied she was bored meeting people at bars, the AI replied "'Exactly. Meeting new people has gotten weird in real life, right? Talking to strangers at parties... awkward small talk in the street ... trying to strike up a conversation at the bar... How the hell are people doing that?"

There is certainly a market for companion-type chatbots, such as Inflection AI's Pi. In that case, the AI will actively restrict itself from intimating it's a stand-in for a real-life girlfriend or even a therapist. Meeting people in real life is indeed hard, and one could think a chatbot to practice getting into meaningful conversations with other users could indeed be helpful. What users don't necessarily need is something that wants to straddle the line between helpful partner and an actual replacement for human connection.
Update 6/7/23 at 2:50 p.m. ET: This post was updated to include additional information from Blush CPO Rita Popova.