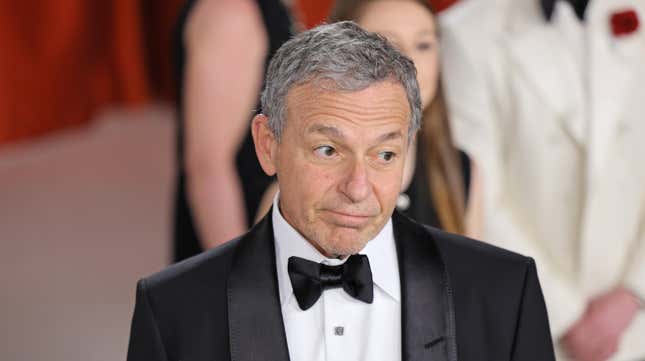 Bob Iger, the CEO of Disney, has had a lot of not-very-flattering press written about him recently, and the quotes and soundbytes he's given out to the trades have not helped matters. The oft-referenced quote that he gave to CNBC in mid-July about the WGA and the SAG-AFTRA demands remains particularly condescending.

"There's a level of expectation that they have that is just not realistic," he said, speaking about the actually incredibly reasonable demands that both guilds have asked for from the AMPTP. "And they are adding to the set of the challenges that this business is already facing that is, quite frankly, very disruptive."
First of all, strikes are supposed to be disruptive, so jot that down. Second of all, Barbenheimer made over 500 million in one weekend, so is the industry facing challenges or is Disney just spending way too much money on films that aren't that good? Something to think about, Mr. Iger!
Regardless, the Hollywood Reporter has done some great reporting that dives into the slew of quotes, comments, and just general foot-in-mouth moments that Iger has had recently. It also notes that Iger didn't get where he is now by fumbling his way through business meetings. He could be a few steps ahead of wherever we think he is, but from my perspective, he just seems to be another rich man with a lot of power who is entering his "find out" era.
THR reports that a close associate of Iger said that "he has never felt this level of stress in his career." Well, that makes sense; you don't get historic strikes every quarter. The Wall Street Journal also said that Iger's comments were "tone-deaf" and that's a kind way to put it. I think Fran Drescher, the SAG-AFTRA president, later improved the sentiment: "There he is sitting in his designer clothes, just got off his private jet at the billionaires' camp, telling us we're unrealistic. How do you deal with someone like that who's so tone-deaf? Are you an ignoramus?"
---
Want more io9 news? Check out when to expect the latest Marvel, Star Wars, and Star Trek releases, what's next for the DC Universe on film and TV, and everything you need to know about the future of Doctor Who.